Lana Clarkson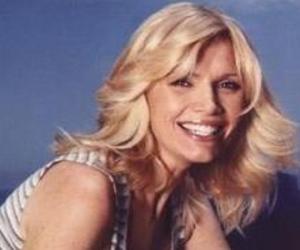 Quick Facts
Nationality: American
Died At Age: 40
Sun Sign: Aries
Also Known As: Lana Jean Clarkson
Born in: Long Beach, California
Famous as: Actress
Family:
father: James M. Clarkson
mother: Donna Clarkson
Died on: February 3, 2003
place of death: Alhambra, California
Cause of Death: Assassination
U.S. State: California
More Facts
education: Cloverdale High School, Pacific Union College
Continue Reading Below
Lana Clarkson was an American actress and fashion model who was found dead in 2003 at legendary record producer Phil Spector's home who was later convicted of killing her. Clarkson acted in several Roger Corman-produced sword-and-sorcery and fantasy films, including 'Deathstalker', 'Barbarian Queen', 'Wizards of the Lost Kingdom II' and 'Barbarian Queen II: The Empress Strikes Back'. She also had a major role in his horror film 'The Haunting of Morella' and Richard Gabai-directed crime-drama film 'Vice Girls'. She appeared in a number of commercials for brands like Mercedes-Benz, Kmart, Nike, Mattel and Anheuser-Busch. As a model, she travelled to countries like Japan, Italy, Switzerland, France, Greece, Argentina and Mexico. Clarkson also made several TV appearances, but was not cast in any steady role. She volunteered weekly at the AIDS charity, 'Project Angel Food', and delivered food to HIV and AIDS victims in Los Angeles. At the age of 40, she was murdered and Phil Spector was sentenced to 19 years in prison for killing her.
Recommended Lists:
Recommended Lists:
Continue Reading Below
Childhood & Early Life
Lana Jean Clarkson was born on April 5, 1962 in California, US. Her parents Donna and James M. Clarkson had two more children, son Jessee J. Clarkson and daughter Fawn. They family lived in Sonoma County, California.

She spent her early childhood in Northern California. She studied at Cloverdale High School before joining Pacific Union College Preparatory School. Following the death of her father, she relocated to San Fernando Valley with her family.

Recommended Lists:

Recommended Lists:

Career

While Lana Clarkson began working in films in the early 1980s, she got her first speaking role in the coming-of-age comedy 'Fast Times at Ridgemont High' (1982), for which she got her SAG (Screen Actors Guild) card. She subsequently had a couple uncredited film roles in 'My Favorite Year' (1982) and 'Brainstorm' (1983). She appeared as an extra, peeking into the frame behind Michelle Pfeiffer, in the 1983 movie 'Scarface'.

She got her first major role after being cast as Kaira, a female warrior and the love interest of the title character Codille, played by Richard Hill, in Roger Corman's 1983 fantasy film 'Deathstalker'. It launched a string of collaborations with the producer, who immediately cast her in the lead role of Amethea in 'Barbarian Queen' (1985), which enjoyed a bit of popularity due to its violent and explicit scenes.

She had a major role in the independent thriller 'Blind Date' (1984), also starring Kirstie Alley. During the next few years, Clarkson made several television appearances, and worked in shows like 'Three's Company', 'The Jeffersons', 'Night Court', 'Riptide', and 'Knight Rider'.

Following a small appearance in the 1987 film 'Amazon Women on the Moon', she reprised the role of Amathea in the 1989 sword-and-sorcery film 'Wizards of the Lost Kingdom II', also starring David Carradine and Mel Welles. The next year, she played a supporting role in the period horror film 'The Haunting of Morella' as the evil attendant to the lead character, played by Nicole Eggert.

In 1990, she starred in Roger Corman's 'Barbarian Queen' sequel, 'Barbarian Queen II: The Empress Strikes Back', in which she portrayed a new character of Princess Athalia. After that, she did not appear in films for a long time, but was often seen in guest roles on television, including 'Wings' (1992), 'Silk Stalkings' (1993-95), 'Night Stand with Dick Dietrick' (1996) and 'Land's End' (1996).

Her fifth and last collaborations with Roger Corman, 'Vice Girls', came in 1997, in which she played one of the three cops who pose as strippers to catch a serial killer. After that, she only worked in a handful of movies like 'Love in Paris' and 'Retroactive'; and TV series such as '18 Wheels of Justice' and 'Black Scorpion'.

When her film and television roles started dwindling in frequency, she set up a website to sell autographed DVDs, in addition to making a showcase reel titled 'Lana Unleashed'. In order to pay her bills, she had to take a part-time job at the music hall-cum-restaurant 'House of Blues' in West Hollywood, California in early January 2003.

Recommended Lists:

Recommended Lists:

Murder & Court Trial

In the early morning of February 3, 2003, Lana Clarkson met music producer Phil Spector while working at the House of Blues, following which they drove to his mansion in Alhambra, California in his limousine. His driver heard a gunshot about an hour later, and Clarkson was found dead in the mansion. Spector reportedly left through the back door with a gun in hand.

Spector was indicted for Clarkson's murder on September 27, 2004, and following a long trial, on May 29, 2009, he was sentenced to 19 years to life in prison. In February 2012, Clarkson's mother settled a civil lawsuit with Spector and his insurance company over her daughter's wrongful death for an undisclosed amount.

Recommended Lists:

Recommended Lists:

Trivia

Lana Clarkson loved horse riding as a child and was given a roan mare named Breeze on her 10th birthday. While filming for 'Barbarian Queen' in Argentina, she also trained in sword fighting.

Translate Wiki

to Spanish, French, Hindi, Portuguese

Article Title

- Lana Clarkson Biography

Author

- Editors, TheFamousPeople.com

Website

- TheFamousPeople.com

URL

-

https://www.thefamouspeople.com/profiles/lana-clarkson-43878.php

Last Updated

- March 05, 2019

---

---

---