Kobe Bryant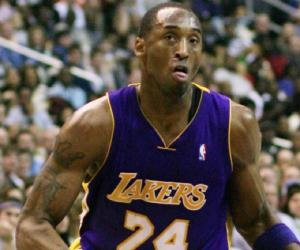 Quick Facts
Nick Name: The Black Mamba, Lord of the Rings, KB-24, Kob-Me, Mr. 81, KB8, The Dagger, Ocho, Three Rings, Kobe Wan Kenobi
Nationality: American
Famous: Millionaires African American Men
Age: 40 Years, 40 Year Old Males
Sun Sign: Leo
Also Known As: Kobe Bean Bryant
Born in: Philadelphia
Famous as: Basketball player
Height: 6'6" (198 cm), 6'6" Males
Family:
Spouse/Ex-: Vanessa Laine Bryant
father: Joe Bryant
mother: Pam Bryant
siblings: Sharia Bryant, Shaya Bryant
children: Gianna Maria-Onore Bryant, Natalia Diamante Bryant
U.S. State: Pennsylvania
City: Philadelphia
More Facts
education: 1996 - Lower Merion High School
Humanitarian Work: Player associated with NGO 'After-School All-Stars'.
awards: 2008 - NBA Most Valuable Player Award
2011
2009

2007 - NBA All-Star Game Most Valuable Player Award
2010
2009 - Bill Russell NBA Finals Most Valuable Player Award
2011
2010
2009 - NBA All-Defensive Team
2013
2012
2011 - All-NBA Team
2010
2008 - Best NBA Player ESPY Award
1996 - Naismith Boy's High School Player of the Year
2008
2003
2002 - BET Award for Best Male Athlete of the Year
2006 - Under Armour Undeniable Performance ESPY Award

Continue Reading Below
Kobe Bryant is one of the most popular and successful basketball players of recent times. His father is a retired professional basketball player of America and his father is probably the inspiration behind his fondness for this game. He started playing from an early age and even represented his school in many matches. He helped his school register a victory after fifty-three years which was a great moment for the school and Bryant both. After completing high school, this player decided to pursue a career in basketball and did not continue further studies. He was one of few players who were inducted into the 'NBA' directly from high school. He was made a member of his long-time favourite team 'Lakers' and since then this talented player has never looked back. His performance improved with every game and he added a new feather to his crown. He has experienced many upheavals during his career like injuries and allegations, but this sports personality faced every challenge that came his way and emerged successful. He has set several records and even broke many old records. He has apparently, turned into an asset to his team, the 'Los Angeles Lakers'. To know more about his life and works read on.
Recommended Lists:
Recommended Lists:
Continue Reading Below
Childhood & Early Life
He was born to former NBA player Joe Bryant and Pamela Cox Bryant, on 23rd August, 1978, in Philadelphia, Pennsylvania. He has two elder sisters named Shaya and Sharia.

He played basketball and football from a tender age, and he was a fan of 'Lakers' team of basketball and 'AC Milan' team of soccer.

When he was six years old, his family shifted to Rieti, Italy. In 1991, his family travelled back to Philadelphia and Kobe enrolled at the 'Lower Merion High School'.

His participation in the basketball match won the 'Lower Merion High School' a state championship after fifty-three years.

Continue Reading Below

Recommended Lists:

Recommended Lists:

Career:

In 1996, he was included in the 'National Basketball Association' (NBA), by the 'Charlotte Hornets' team, before he was traded to play for the 'Los Angeles Lakers' team. So he did not join college and embarked on his sports career.

In the 1996-97 NBA season, Bryant played well and created a record by becoming the youngest player ever to play in an NBA game.

In the 'All-Star weekend' held in February 1997, he won the 'Slam Dunk Contest' and registered his name as the youngest player to win this championship. His remarkable performances during the year got him a place in the 'NBA All Rookie' second team.

In 1997-98 NBA season, he performed better than the previous season and was voted the 'NBA All-Star' starter. He was the youngest NBA player to receive this honour.

In the following season, Bryant played exceptionally well and established himself as a premier guard in the league. During the same time, he entered into a contract with the 'Lakers' team which extended for six years.

In 1999, the former American basketball player, Phil Jackson was appointed as the coach of the 'Lakers' team and this helped Bryant improve his skills in basketball. He excelled as a shooting guard in the league and played with the 'All-Star', 'All-NBA' and 'All-Defensive' teams. This popular basketball player led his team to victory and they became champions during 1999-2002.

In the following season, the 'Lakers' could not make it to the finals after their loss to the 'San Antonio Spurs' team.

Continue Reading Below

Kobe could not take part in the initial matches of the 2003-04 NBA season, but when he resumed, he led his team to the finals and even won the 'Pacific Division' title. However, they lost to the 'Detroit Pistons' team.

The same year, Rudy Tomjanovich was appointed as the new coach of the 'Lakers' team and this player re-entered into a contract with the 'Lakers'. The season which followed was not a successful one, both for the team and Bryant. 'Lakers' lost the playoffs which had not happened in years. Moreover, coach Rudy too resigned from his post.

In the 2005-06 NBA season, was a season of renewal for the 'Lakers'. The team was again under the guidance of coach Phil Jackson, and the two Lakers', Kobe and Shaquille, made peace with their differences. The team was back into the playoffs.

In December 2006, this player scored 81 points in a game against the 'Toronto Raptors' team. He also scored well in the following four games which created a record of being the first player to score 45 points or more in four consecutive games. His team too improved in comparison to the earlier season, although they did not win the season.

In the 2006-07 NBA season, he performed well, and even got selected to the 'All-Star Game' for the ninth time. He also got the 'All-Star Game MVP Trophy' for the second time. However, his team lost the playoffs to the 'Phoenix Suns' team with a 4-1 score.

In December 2007, he created a record of being the youngest player to reach 20,000 points. The following year, he represented the 'U.S. men's national basketball team' and won a gold medal at the 'Olympics'. He was also bestowed with the 'NBA Most Valuable Player' award.

In the 2007-08 NBA season, the 'Lakers' reached the finals but lost to the 'Boston Celtics'.

Continue Reading Below

The 'Lakers' had a good start at the 2008-09 NBA season, and Bryant's performance won him 'All-Star Game' as a starter and was also made the 'Western Conference Player of the Month' for December.

The 'Lakers' registered a win at the '2009 NBA Finals', and this sports personality won his first 'NBA Final MVP' trophy.

In 2009-10 NBA season, he played exceptionally well and broke Jerry West's record and became the all-time leading scorer in the history of the Los Angeles Lakers team.

The 2010 NBA Finals was also won by his team 'Lakers', and this talented player received the 'NBA Finals MVP Award' again.

In the '2012 Summer Olympics' he won a gold medal. This sportsperson has been entitled the top NBA player of the 2000s by the 'Sporting News and 'TNT'.

In December 2012, he reached 30,000 career points becoming the first player in NBA history to reach this milestone.

Recommended Lists:

Recommended Lists:

Awards & Achievements

This remarkable player has been named the 'NBA Most Valuable Player' in 2008, and is a recipient of the 'NBA Finals MVP' twice.

Continue Reading Below

He has led his team to victory in the NBA finals five times till date. Bryant has also been the 'NBA All-Star' seventeen times, and also named four times 'NBA All-Star Game MVP'.

Personal Life & Legacy

In 2009, he married Vanessa Laine and the couple is blessed with two daughters named Natalia and Gianna.

He was accused of sexual assault by a hotel employee, and this affected his reputation, and made him lose endorsements contacts. However the prosecutor dropped the case when the accuser denied to appear before the court.

Popular rappers Lil Wayne and Sho Baraka worked on songs named after this basketball player.

He owns a company named 'Kobe Bryant Inc.' which invests in various emerging sports brands. One of the first investments of the company was in a sports drink brand named 'BODYARMOR'.

Net Worth

According to Celebrity Net Worth this basketball player has a net worth of $260 million.

Trivia

He had been associated with the rap group 'CHEIZAW' and has even released a song 'K.O.B.E.'.

Translate Wiki

to Spanish, French, Hindi, Portuguese

Article Title

- Kobe Bryant Biography

Author

- Editors, TheFamousPeople.com

Website

- TheFamousPeople.com

URL

-

https://www.thefamouspeople.com/profiles/kobe-bryant-3958.php

Last Updated

- July 20, 2017

---

---

---