Ken Caminiti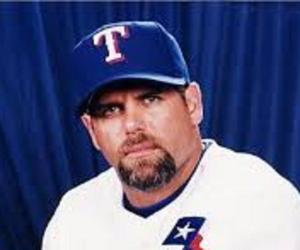 Quick Facts
Nationality: American
Famous: Baseball Players American Men
Died At Age: 41
Sun Sign: Taurus
Also Known As: Kenneth Gene Caminiti
Born in: Hanford, California, United States
Famous as: Baseball Player
Height: 6'0" (183 cm), 6'0" Males
Family:
Spouse/Ex-: Nancy Smith (m. 1987–2002)
father: Lee Caminiti
mother: Yvonne
siblings: Carrie, Glenn
children: Kendall Caminiti, Lindsey Caminiti, Nicole Caminiti
Died on: October 10, 2004
U.S. State: California
Continue Reading Below
Kenneth Gene Caminiti was an American baseball player who was named the National League's Most Valuable Player in 1996 while playing with San Diego Padres. Despite being a brilliant player, his bright career came crashing down under the burden of drugs and legal problems, and he died of a cocaine and heroin overdose on October 10, 2004 in New York. He had played 15 seasons in major league baseball with the Houston Astros, San Diego Padres, Texas Rangers, and Atlanta Braves. Honored with an induction into the Padres Hall of Fame, he had gained the respect of his teammates for his accomplishments as a player and for his passion for the game. Kenneth broke into the major league with Houston in 1987 and was traded to San Diego in 1995. His best season was in 1996, when he led the Padres to a National League division title while achieving his career highs with a .326 average, 40 home runs, and 130 R.B.I. He also coached the Padres minor-league players, and helped them to get to the World Series in 1998. He finished his career in 2001 with the Atlanta Braves. He was in and out of the jail for drug abuse and often failed drug tests. After his retirement, he honestly admitted to using steroids while playing matches in the 1996 season.
Recommended Lists:
Recommended Lists:
Continue Reading Below
Childhood & Early Life
Kenneth Caminiti was born on April 21, 1963 in Hanford, California, to Yvonne and Lee. He had a brother, Glenn, and a sister, Carrie.

He graduated from Leigh High School in San Jose, California in 1981. He used to play football and baseball. After his successful senior football season, he was invited to play in many All Star Games. He also attended San Jose State University, where he played baseball for the Spartans in 1983 and 1984.

Recommended Lists:

Recommended Lists:

Career

In 1984, the Houston Astros signed Ken Caminiti as a third round pick in the amateur draft. In 1985, he started playing professional baseball beginning with the Osceola Astros of the Single-A Florida State League. Following this, he would play for 15 seasons.

In 1987, he received a call-up to the Double-A Columbus Astros, a minor league baseball team based in Zebulon, North Carolina. He also played third base for the Puerto Rico's Indios de Mayagüez along with Major League baseball player Wally Joyner in the Puerto Rico Winter League.

In July 1987, when he was 24, he made his major league debut with the Houston Astros. In 1988, he returned to the minor leagues, and played with the Triple-A Tucson Toros of the Pacific Coast League. During his tenure with Houston, he was injured several times, yet he hit 18 home runs in 1994, which earned him his first All Star Game selection. He was also selected for All Star Game in 1996 and 1997 as well.

After completing six seasons with Houston, he was traded to the San Diego Padres in 1994 in a 12-player trade along with Steve Finley, Andújar Cedeño, Roberto Petagine, Brian Williams, and another player for Derek Bell, Doug Brocail, Ricky Gutiérrez, Pedro Martínez, Phil Plantier, and Craig Shipley.

With the San Diego team, he achieved several milestones and reached his career highs at that time by hitting .302 with 26 home runs and 94 RBI in 1995, which increased to .326/40/130 in 1996. Despite playing most of the 1996 season with a severe injury, he had given a brilliant performance and earned the National League Most Valuable Player Award.

In 1998, he led the Padres to the 1998 World Series, but they lost to the New York Yankees by 4-0.

In 1999, he signed a $9.5 million contract with Houston and returned as a free agent to play for two more seasons. During his second tenure with Houston, he could not give his best due to several injuries. He, in fact, struggled throughout the first half of 2001 with the Texas Rangers, where he hit just .232. He finished his career with the Atlanta Braves.

Continue Reading Below

He retired in 2001 after a 15-year career that included two stints with the Houston Astros, four years with the Padres and brief tours with the Texas Rangers and Atlanta Braves. A switch-hitter, he had a career batting average of .272 with 239 home runs and 983 runs batted in.

In 2004, he returned to baseball as a spring training instructor with the Padres. He told his lawyer that he wanted to mentor young players and make them aware of the impact of alcohol and drug abuse, and help them to avoid the mistakes he had made.

Awards & Achievements

Ken Caminiti had won three Gold Glove Awards during his stint with the Padres from 1995-98.

He was selected as the National League's Most Valuable Player in 1996.

In 2016, he was posthumously elected into the San Diego Padres Hall of Fame.

Personal Life

Ken Caminiti married Nancy Smith on November 14, 1987. They divorced on December 10, 2002. They had three daughters—Kendall, Lindsey, and Nicole.

He met Maria Romero, a mother of three, in 2000 when both were patients at the Smithers Center, a drug rehabilitation facility in Manhattan. According to Romero, she was engaged to marry Kenneth. However, following his death, his friends talked about the violence in their relationship and denied that the couple was engaged.

Drug Abuse & Death

Throughout his career, Ken Caminiti struggled with drug abuse problems. In 1994, he was admitted in a treatment center due to his alcoholism; in 2000, he was again admitted in a rehabilitation center. He was also arrested a number of times with drugs in his possession.

A year after his retirement in 2002, he admitted that he had used steroids during his Most Valuable Player season in 1996, and for several other seasons thereafter. He admitted to abusing alcohol and painkillers early in his career. He disclosed that in 1996, when he had a shoulder injury and still wanted to play, he drove to Mexico and bought steroids and self-administered it, not aware of the cycles and how to use them. While on steroids, he hit more runs in the second half of that season than he had ever done in any season prior to that.

After his honest revelation, the Senate Subcommittee on Consumer Affairs, Foreign Commerce and Tourism called a meeting, and 50 days after that, the baseball players were asked to test for steroids and drugs—first time in their history. Till 2001, baseball players were free to use any performance-enhancing drugs they wanted.

He was arrested in March 2001 for possession of drugs, and was sentenced to probation. While on probation, in February 2003, he again tested positive for cocaine, and was ordered to attend the Texas Department of Criminal Justice-operated treatment program, which he did.

In September 2004, he tested positive for cocaine, and on October 5, 2004, just five days prior to his death, he was taken to a Houston court for violating his probation. Since he had violated probation three times before, he was sentenced to 180 days in jail, but was released as he was given credit for the time he had already served.

On October 10, 2004, while he was at his friend's apartment in New York City, he took a speedball of cocaine and heroin, and immediately collapsed on the floor and suffered from a massive cardiac arrest. He died at Lincoln Hospital the same day. His remains were cremated and were interred at the Cambo Ranch in Sabinal, Texas, which he co-owned along with his friend and former teammate Craig Biggio.

Translate Wiki

to Spanish, French, Hindi, Portuguese

Article Title

- Ken Caminiti Biography

Author

- Editors, TheFamousPeople.com

Website

- TheFamousPeople.com

URL

-

https://www.thefamouspeople.com/profiles/kenneth-gene-caminiti-2068.php

Last Updated

- December 11, 2017

---

---

---