Jim Parsons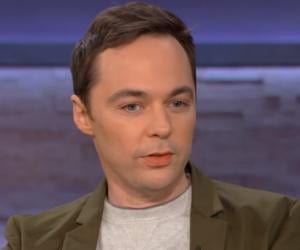 Quick Facts
Nationality: American
Age: 45 Years, 45 Year Old Males
Sun Sign: Aries
Also Known As: James Joseph Parsons
Born in: Houston, Texas, United States
Famous as: Actor
Height: 1.86 m
Family:
Spouse/Ex-: Todd Spiewak (m. 2017)
father: Jack Parsons
mother: Judy Parsons
siblings: Julie Parsons
U.S. State: Texas
Net worth: $70 million as of June 9, 2017
Continue Reading Below
James Joseph Parsons, popularly known as Jim Parsons, is an American actor best known for his role as Sheldon Cooper in the popular comedy series 'The Big Bang Theory'. This role has not only earned him international prominence but also won him several prestigious awards. The show, which airs on CBS, is directed by Mark Cendrowski, and is centered on four geeky characters living in California whose lives change after a waitress and an aspiring actress move into an apartment across theirs. Born in Houston, Texas, in the United States, Parsons developed an interest in acting at an early age. Inspired by shows such as 'Three's Company' and the 'Cosby Show', he was soon determined to be an actor. After completing his graduation from the University of Houston, he soon moved to New York, where he initially worked in theater. After playing supporting roles in the show 'Judging Amy' and the film 'Garden State', he reached the peak of his career with his role in 'The Big Bang Theory.' He has won several awards throughout his career which includes four Emmy Awards, one Golden Globe Award, and one Teen Choice Award.
Recommended Lists:
Recommended Lists:
Continue Reading Below
Childhood & Early Life
Jim Parsons was born on 24 March 1973, in Houston, Texas, in the US. His father was Milton Joseph Parsons and his mother is Judy Ann. He has a sister Julie Ann Parsons, who later became a teacher. He attended Klein Oak High School. He played a role in a school play at the age of six after which he became quite determined to pursue a career in acting.

After he completed his high school graduation, he attended the University of Houston, from where he received a bachelor's degree. He later went to the University of San Diego, where he attended a special two-year course in classical theater. According to an interview, he really enjoyed learning, and would have even pursued a doctorate had he been given the opportunity to do so.

Recommended Lists:

Recommended Lists:

Continue Reading Below

Career

In the early days of his career, Jim Parsons mostly appeared in theatrical productions. He appeared in the films 'Garden State' (2004), and 'Heights' (2005) where he played supporting roles. He also played a supporting role in an American drama series named 'Judging Amy'.

He auditioned for the role of Sheldon Cooper in the series 'The Big Bang Theory.' Though he didn't feel any sort of a connection with the character, he felt that the role would really suit him after going through the script. He cleared the audition and started playing the character in the show in 2007.

The series was about four geeky men and a woman named Penny, who works as a waitress and is also an aspiring actress. It became hugely popular and Parsons gained fame on an international level.

Over the years, he appeared in several TV movies, such as 'The Big Year' (2011) and 'Wish I was Here' (2014). He has also played voice roles in episodes of TV shows like 'Eureka' (2011) and 'Who Do You Think You Are?' (2014). He has appeared in several stage productions as well, playing important roles in 'A Normal Heart' (2011) and 'An Act of God' (2015-16). He played a significant role in the 2015 American horror film 'Visions'.

Major Works

One of Jim Parsons' early important works was in 'Judging Amy' an American legal drama TV series, which aired on the CBS Network. He appeared in a few episodes, playing the clerk of the lead character who replaces the former one after her departure. He manages to prove his worth when his knowledge of Spanish becomes useful in a case. The show also featured actors Amy Brenneman, Dan Futterman, Richard Jones, and Jessica Tuck. He portrayed this role from 2004-05.

The CBS sitcom 'The Big Bang Theory' which started airing from 2007 has been the most important role in Parsons' career so far. The show, directed by Mark Cendrowski, became a huge success upon its premier. It starred Parsons in a lead role, as a genius named Sheldon Cooper who earned his PhD at the age of sixteen. The series became a huge success and won several awards such as the UK'S National TV Award and the People's Choice Award, both in 2016.

Awards & Achievements

Jim Parsons has won several awards throughout his career. He has won the Emmy Award for Outstanding Lead Actor four times, for his role in 'The Big Bang Theory' (2010, 2011, 2013, and 2014). Other awards he has won include one Golden Globe Award (2011), a Satellite Award (2016), and a Screen Actors Guild Award (2017).

Personal Life

Jim Parsons, who is homosexual, has been in a relationship with art director Todd Spiewak for over ten years. They got married in May 2017.

Continue Reading Below

Net Worth

He has an estimated net worth of $70 million.

1. Hidden Figures (2016)

(Drama, Biography, History)

2. Garden State (2004)

(Romance, Comedy, Drama)

---

3. The Muppets (2011)

(Adventure, Family, Musical, Comedy)

4. Heights (2005)

(Drama, Romance)

---

---

5. Wish I Was Here (2014)

(Comedy, Drama)

6. 10 Items or Less (2006)

(Drama, Comedy)

---

---

---

7. The Big Year (2011)

(Comedy)

8. School for Scoundrels (2006)

(Comedy)

---

---

---

---

| | | |
| --- | --- | --- |
| 2011 | Best Performance by an Actor in a Television Series - Comedy or Musical | The Big Bang Theory (2007) |

| | | |
| --- | --- | --- |
| 2014 | Outstanding Lead Actor in a Comedy Series | The Big Bang Theory (2007) |
| 2013 | Outstanding Lead Actor in a Comedy Series | The Big Bang Theory (2007) |
| 2011 | Outstanding Lead Actor in a Comedy Series | The Big Bang Theory (2007) |
| 2010 | Outstanding Lead Actor in a Comedy Series | The Big Bang Theory (2007) |

| | | |
| --- | --- | --- |
| 2017 | Favorite Comedic TV Actor | Winner |

Translate Wiki

to Spanish, French, Hindi, Portuguese

Article Title

- Jim Parsons Biography

Author

- Editors, TheFamousPeople.com

Website

- TheFamousPeople.com

URL

-

https://www.thefamouspeople.com/profiles/jim-parsons-32324.php

Last Updated

- June 29, 2017

---

---

---