Jerry Quarry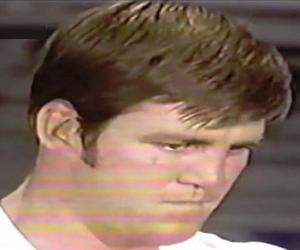 Quick Facts
Nick Name: Irish
Nationality: American
Died At Age: 53
Sun Sign: Taurus
Also Known As: The Bellflower Bomber
Born in: Bakersfield, California
Famous as: Boxer
Height: 6'0" (183 cm), 6'0" Males
Family:
father: Jack Quarry
mother: Arwanda Quarry
siblings: Bobby Quarry, James Quarry, Mike Quarry
place of death: Templeton, California
U.S. State: California
Continue Reading Below
Jerry Quarry was an American boxer, also known by the nicknames "Irish" and "The Bellflower Bomber." In the peak of his career, in the late 1960s, he was known as one of the most popular boxers in the world. He was born in Bakersfield, California, into a family of boxers. His father and older brothers had been associated with the sport. Jerry started boxing at the age of 5, and by the time he was in his late teenage years, he had started participating in professional boxing matches. After he began his professional boxing career, toward the mid-1960s, he fought some of the biggest names in international boxing, such as Floyd Patterson, Ken Norton, and Muhammad Ali. In the 66 fights that he fought in his professional career, he holds an amazing win:loss ratio of 53:9. Four of those matches were draws. What stands out is the fact that out of the 53 wins that he secured in his career, 34 were from knock-outs. He has also acted in TV series such as 'Adam-12.' In January 1999, he died of a cardiac arrest, after suffering from pneumonia.
Recommended Lists:
Recommended Lists:
Childhood & Early Life
Jerry Quarry was born on May 15, 1945, in Bakersfield, California, to Jack and Arwanda Quarry. He was one of the eight children of his parents. The family moved to Bellflower, California, when Jerry was still a young boy.

His father, Jack Quarry, was a professional boxer. His brothers Bobby and Mike were boxers, too. Boxing was sort of a family profession for them, and Jerry's fascination with the sport at a tender age was natural.

When he was 5 years old, his father gave him his first pair of boxing gloves. Soon, Jerry began his training. Jerry had spent most of his childhood moving around different towns of California. He had attended 30 different schools, from second to eleventh grade.

He had lived in places such as Washington, Porterville, El Cerrito, and Dominguez. He showed his boxing skills at an early age, and proved he had the potential to turn into an extraordinary boxer someday.

However, what seemed like a promising prospect soon turned out to be a nightmare. Jerry was highly prone to illnesses and accidents. He suffered from nephritis in his late teenage years, which weakened his body considerably. Despite that, he came back into the boxing ring and never let his sickness come in the way of his fights. He is thus considered remarkable by many experts.

Recommended Lists:

Recommended Lists:

Career

Jerry Quarry was first noticed after he participated in the 1965 'National Golden Gloves' championship, which he won. He won all his fights in the tournament by knocking out his opponents. Nobody else had achieved this feat in the history of the tournament. He was 19 years old at that time, and this title win was a promise of a successful professional career.

Jerry began his professional boxing career in 1965, and in the first year, he played 14 matches. Most of the matches were held at the 'Olympic Auditorium' in Los Angeles, and Jerry developed a huge fan base there. He became the reason the auditorium was almost full during his matches. He did not lose a single fight in 1965.

He also worked as a tire changer at the 'Greyhound Bus Terminal.' This was due to the low remuneration he received for his boxing matches.

He faced his first loss in 1966, in a fight against an experienced boxer named Eddie Machen. Jerry had realized that the wins that he had secured were mostly against third-tier boxers. He worked harder after his first loss and ended up knocking out many second-tier heavyweight boxers in 1966.

Jerry got a huge break when he was named among the boxers selected to compete in a tournament held by the 'World Boxing Association' in 1967.

In the second match of the tournament, he knocked out Thad Spencer to win the match. This match earned Jerry national attention. He fought high-ranked heavyweight Jimmy Ellis in the finals. Jerry lost the match. However, it was later found out that he was not in his best shape during the fight.

He fought the most important match of his career when he was pitted against Joe Frazier, another popular boxer. The fight took place at New York's 'Madison Square Garden' in June 1969. It was dubbed as the "Fight of the Year" by many boxing publications.

The fight was as intense as it was built up to be. Both the boxers fought exceptionally well in the first two rounds. Jerry suffered a cut that bled profusely. Despite that, he continued to fight. This affected his performance, and the match was stopped after the seventh round. As Frazier was ahead in the points tally, he was chosen as the winner.

Later that year, he was pitted against George Chuvalo, a Canadian boxer. The match remained highly controversial. During an intense and almost-even fight, Jerry received a hard punch and fell. He somehow stood up a little before the referee counted to 10, but George was declared the winner.

Continue Reading Below

Following this loss, Jerry returned to the ring and delivered a streak of wins against many boxers, most famously against Mac Foster. Quarry won with a knock-out punch. He was ranked sixth at that time, while Mac was the top-ranking boxer. The win made Jerry one of the top contenders for the 'Heavyweight Championship.'

By 1970, Muhammad Ali was back in the game after a long suspension. Jerry expressed his wish to fight Ali, and the highly anticipated match was scheduled to be held on October 26, 1970. Ali dominated the match in the first few rounds. In the third round, Jerry was badly cut in the left eye. The referee considered the cut severe, and the match had to be stopped. Although Jerry insisted on continuing the match, it was ended. Ali won the match by a technical knock-out.

Following the match, Jerry took a break from boxing. Meanwhile, he appeared in small roles in many TV series, such as 'Adam-12,' 'Spencer's Pilots,' 'The Hardy Boys/Nancy Drew Mysteries,' 'Knight Rider,' 'Ellery Queen,' and 'The Six Million Dollar Man.'

He returned to boxing soon and resumed his winning streak.

On June 27, 1972, there was a rematch between him and Ali. Everybody was looking forward to this match. The match, held at the 'Las Vegas Convention Center,' stretched to the seventh round. Jerry failed to win this time, too. Ali won the match by landing some fast punches on his opponent.

However that match became controversial, as Jerry faced racial insults for being white and fighting Ali, who was black. He was named "The Great White Hope," thereby earning hostility from black Americans.

Jerry embarked on yet another winning streak following this loss. In a 1975 match, he was defeated by Ken Norton. Following the match, Jerry announced his retirement. However, he returned briefly in 1977 and 1983. In 1983, he was diagnosed with cerebral atrophy, a type of brain damage resulting from the hard hits he received in the ring.

He made his final comeback into the ring in 1992 but was beaten badly in six rounds by Ron Cranmer. Following this, he never quite recovered.

Recommended Lists:

Recommended Lists:

Death

A few years after his final fight, Jerry Quarry became terribly sick. He was unable to even dress himself up. One of his brothers, James, took care of him.

Jerry was inducted into the 'Boxing Hall of Fame' in 1995, although he was suffering from dementia at that time and was not even aware of receiving the honor.

He was hospitalized with severe pneumonia in December 1998 and suffered a cardiac arrest soon after. He passed away on January 3, 1999.

Recommended Lists:

Recommended Lists: