Jack Howard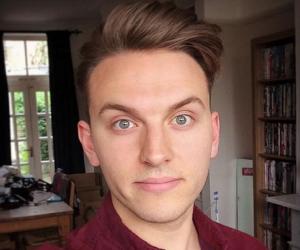 Quick Facts
Birthday: February 11, 1992
Nationality: British
Age: 27 Years, 27 Year Old Males
Sun Sign: Aquarius
Born in: Long Eaton, England
Famous as: Filmmaker, comedian and YouTube star
Height: 1.80 meters
Family:
father: Terry Howard
mother: Angela Howard
siblings: Charlotte Emily Howard (sister)
City: Long Eaton, England
Continue Reading Below
Jack Howard is a British filmmaker, comedian and YouTube star who is best known as part of the duo 'Jack and Dean' alongside his friend Dean Dobbs, with whom he makes comedy sketches and short skit videos. The duo became very popular on YouTube and have been performing at the British YouTube convention 'Summer in the City' since 2012. They also went on to perform live at Reading and Leeds festivals in 2014. The same year, they began collaborating with BBC Radio 1 and have so far produced two iPlayer shows for BBC titled 'Clickbait' and 'Official Chart Bite'. In June 2015, the duo teamed up with another duo, Dan and Phil, to host the Internet Takeover of Radio 1's 'Big Weekend'. Their web-series, 'Jack & Dean Of All Trades', was the first original program on the Fullscreen streaming service to be renewed for a second season. For the show, he shared a nomination for 'Best Direction' at the 2016 'Streamy Awards' along with Matt Holt. Jack has a separate YouTube channel as well. He also featured in the episode 'Space Face Part 1' of the animated web series 'Eddsworld', by his friends Tom, Edd, and Matt.
Recommended Lists:
Recommended Lists:
Continue Reading Below
Rise to Stardom
Jack Howard started making YouTube videos after a friend of his showed him video editing with the Windows Movie Maker software by replacing the background music of the 'Gears of War' trailer with a song. He was immediately blown away and started to do that 'magic' himself, editing together wrestling videos and Spiderman fan-made trailers. He eventually became bored of editing other people's videos and became eager to work on his own stuff.

Recommended Lists:

Recommended Lists:

He knew Dean Dobbs from his math class in secondary school and requested him to get involved in a film project he was doing at the time. Their film project was never completed because the lead actor had cut his hair halfway through the production. However, the two 16-year-olds became longtime collaborators. They first started to upload sketch videos on their joint YouTube channel 'Jack and Dean' in December 2008. The channel now has over 600k subscribers, while his own separate channel, which he created back in May 2006, has 410k subscribers. The short skit 'Superglued' is the most viewed video on their joint channel, with 2.2 million hits.

Continue Reading Below

Personal Life

Jack Howard was born on February 11, 1992 in Long Eaton, a small town between Nottingham and Derby, to Terry and Angela Howard. He has a younger sister named Charlotte. He realized upon entering university that his accent was awful, and decided to forcefully change his accent. He often jokes that he is pretending to be funny on the internet to impress his father.

Relationships

Jack Howard began dating fellow YouTuber, writer and director Hazel Hayes in October 2015, reportedly after she broke up with her longtime boyfriend of five years. Even before they were in a relationship, they often collaborated on YouTube videos. He has featured on several videos on her channel, and she has made occasional appearances on his channel as well. They publicly broke up on December 10, 2017 after both of the announced the news on their respective Twitter accounts. However, fans didn't react well to their 'convenient' relationship or their too official breakup statements. Interestingly, they both referred to the other person by full name on their tweets, mentioned how they were going to 'heal' or 'fix' themselves, and requested fans not to speculate further. The 'royal'-sounding statement made some fans feel that they considered too highly of themselves, and considering they both are writers, some even thought that it was a publicity stunt to encourage fans to do the opposite.

Controversies & Scandals

Despite being friends with fellow YouTuber Louise Pentland, Jack Howard criticized her and a bunch of other YouTubers managed by Gleam Futures – including Zoella, Joe Sugg, Alfie Deyes, Caspar Lee, Marcus Butler, Niomi Smart, Tanya Burr, and Jim Chapman – for being money-hungry after they decided to pull out of UK's premier ticketed YouTube fan event, 'Summer in the City' in 2015 and instead announced their own separate event 'Amity Fest', which is much pricey.

Last Updated : February 21, 2018

Translate Wiki

to Spanish, French, Hindi, Portuguese

---

---

---

Jack Howard Fans Also Viewed