Hirohito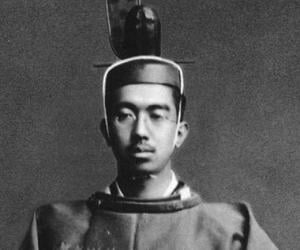 Quick Facts
Nationality: Japanese
Famous: Emperors & Kings Japanese Men
Died At Age: 87
Sun Sign: Taurus
Born in: Aoyama, Minato, Tokyo
Famous as: Former Emperor of Japan
Family:
Spouse/Ex-: Empress Kōjun
father: Emperor Taishō
mother: Empress Teimei
siblings: Nobuhito, Prince Chichibu, Prince Mikasa, Prince Takamatsu, Takahito, Yasuhito
children: Akihito, Atsuko Ikeda, Kazuko Takatsukasa, Masahito, Prince Hitachi, Princess Hisa, Sachiko, Shigeko Higashikuni, Takako Shimazu
place of death: Tokyo
City: Tokyo, Japan
More Facts
Continue Reading Below
Hirohito was the longest living ruler in modern history – being the Emperor of Japan for nearly 63 years. By accepting the Chrysanthemum Throne following his father's death, he became the 124th monarch of Japan during financial crisis and increasing military power within the government. Though he never openly supported the hideous actions of the overpowering military, but he also never legally opposed, thereby making his involvement highly debatable. By entering a treaty with Nazi Germany and Fascist Italy, he was successful in invading and seizing numerous regions in Southeast Asia and the Pacific, apart from Dutch East Indies, New Guinea, Philippines, and British Singapore, besides launching a surprise bombing attack on the US naval base at Pearl Harbor. However, the Americans retaliated and defeated the Japanese troops by dropping atomic bombs on Hiroshima and Nagasaki. He became a popular national symbol post his role in the wartime period, by administering a democratic rule, making public appearances and permitting photos and stories of the royal family being openly published in newspapers and magazines. Besides, he made sufficient efforts in raising Japan from ashes and rebuilding it into the world's second largest economy, in addition to establishing political stability.
Recommended Lists:
Recommended Lists:
Continue Reading Below
Childhood & Early Life
Hirohito was born on April 29, 1901 in Aoyama Palace, Tokyo, as the eldest son of Crown Prince Yoshihito and Crown Princess Sadako.

Following the royal custom of not being raised by the family members, he was sent off to a retired vice-admiral, Count Kawamura Sumiyoshi, when he was just 70 days old and returned back only at the age of 3 following Sumiyoshi's death.

In 1908, he was enrolled in Gakushuin Peers' School and later attended a special institute from 1914 to 1921. He was declared as the crown prince and heir apparent in 1916.

In 1921, he became the first Japanese crown prince to travel abroad, embarking a six-month tour to Europe, visiting UK, France, Netherlands, Italy, and Belgium.

Recommended Lists:

Recommended Lists:

Accession & Reign

Upon his return from Europe in November 1921, he was made the Regent of Japan to take over the duties of an emperor, due to his father's chronic illness.

He was crowned as the Japanese emperor following his father's death in 1926, which started a new reign 'Showa' (Enlightened Peace) while he formally came to be known as Showa Tenno.

He was formally crowned at the enthronement ceremony in November 1928.

At the time of his coronation, Japan was struggling with financial crisis, while the influence of military was increasing.

The increasing Japanese conflicts with China led to the invasion of Manchuria in 1931 by exploding a railway station and seizing it under Japanese control by establishing a puppet state there.

He survived an assassination attempt in 1932 by a Korean independence activist, Lee Bong-chang, in Tokyo.

In another case of assassination the same year, Prime Minister Inukai Tsuyoshi was killed and that marked the end of civilian control of the military.

Continue Reading Below

The assassination of the Prime Minister was followed by an attempted military coup in February 1936, commonly known as 'the February 26 incident'. It resulted in the murders of a number of high government and Army officials.

The continuous attacks and capture of areas in China by the Japanese army led to the Second Sino-Japanese War in 1937, resulting in the large-scale killing of nearly 200,000 civilians and prisoners of war.

In September 1940, he entered into an agreement with Nazi Germany and Fascist Italy through the Tripartite Pact, following which he sent his troops to capture French Indo-china the same month.

When his government decided to battle the United States in 1941, he didn't oppose, as a result of which the Japanese forces bombarded the US Fleet in Pearl Harbor, Hawaii, and destroyed 18 ships killing around 2,500 men.

Soon after he ordered the bombarding of Pearl Harbor in 1941, Japan succeeded in occupying Dutch East Indies, New Guinea, Philippines, British Singapore and other areas in Southeast Asia and the Pacific until June 1942.

With the Battle of Midway in June 1942, the war tilted in favor of the Americans as they landed at Guadalcanal and Tulagi.

Though he made several efforts to stop the American forces from furthering their territory, it was clear by mid-1944 that the Japanese were nearing defeat.

Continue Reading Below

Fearing his subjects to be imprisoned, he encouraged them to commit suicide, during the Battle of Saipan, offering them an equal spiritual status in afterlife. As such, nearly 1,000 Japanese jumped off 'Suicide Cliff' and 'Banzai Cliff'.

On August 6 and 9, 1945, the United States of America dropped atom bombs respectively on Hiroshima and Nagasaki.

The Emperor announced the surrender of Japanese military forces through a radio broadcast on August 15, 1945, the first for an emperor to address the Japanese people over the radio.

In 1946, he made a second broadcast, announcing his repudiation of imperial divinity in September 1945 while taking responsibility for the war, since he was looked upon as a war criminal and people demanded his trial.

He switched back to his childhood love of marine biology, authoring several books on the subject.

Achievements

It was upon General Douglas MacArthur's decision to let him retain the throne that he became a democratic head and initiated steps to accomplish political stability, reconstructing Japan as the second largest economy in the world.

He made several tours across Japan during 1945-51 and helped rebuild Japan's diplomatic image while serving as the head of state, making public appearances and public walkabouts on various occasions, despite his divinity being revoked.

Personal Life & Legacy

He was married to his distant royal cousin, Princess Nagako Kuni (later known as Empress Kojun), the eldest daughter of Prince Kuniyoshi Kuni, in January 1924.

The couple had seven children – daughter Shigeko (1925), daughter Sachiko (1927), daughter Kazuko (1929), daughter Atsuko (1931), son Akihito (1933), son Masahito (1935), and daughter Takako (1939).

He was operated successfully on his pancreas for digestive issues in September 1987, when he was diagnosed with duodenal cancer. However, he showed positive signs of recovery post surgery.

His health started deteriorating due to internal bleeding in September 1988 and he breathed his last on January 7, 1989, at the age of 87.

His funeral, on February 24, 1989, was attended by various prominent world leaders, following which he was buried in the royal mausoleum at Hachioji, beside his father.

He was succeeded by his son, Akihito, the present emperor, in November 1990.

Translate Wiki

to Spanish, French, Hindi, Portuguese

Article Title

- Hirohito Biography

Author

- Editors, TheFamousPeople.com

Website

- TheFamousPeople.com

URL

-

https://www.thefamouspeople.com/profiles/hirohito-3845.php

Last Updated

- September 12, 2017

---

---

---