Philip I of Castile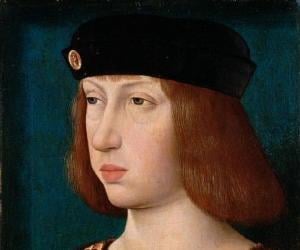 Quick Facts
Birthday: July 22, 1478
Nationality: Belgian
Famous: Emperors & Kings Belgian Men
Died At Age: 28
Sun Sign: Cancer
Also Known As: Philip I The Handsome, Fair
Born in: Bruges, Belgium
Famous as: King of Castile
Family:
Spouse/Ex-: Joanna of Castile (m. 1496–1506)
father: Maximilian I, Holy Roman Emperor
mother: Mary of Burgundy
children: Catherine of Austria, Charles V, Eleanor of Austria, Ferdinand I, Holy Roman Emperor, Isabella of Austria, Mary of Hungary, Queen of Portugal
Died on: September 25, 1506
Continue Reading Below
Philip I, also called Philip The Handsome, was the first King of Castile from the House of Habsburg. He was born to Holy Roman Emperor Maximilian I and his first wife Mary, the Duchess of Burgundy. The latter reigned many territories of the Duchy of Burgundy and the Low Countries. After Mary's death, Philip I inherited his mother's dominions under the guardianship of his father. His father married him to Joanna of Castile, the second daughter of Ferdinand II, ruler of Aragon and Isabella I, ruler of Castile. Following Isabella's death, Joanna became queen regent. However, her mental incapacitation added with Ferdinand II's efforts in laying hands on the regency of Castile led the nobles to summon Philip I to Spain and proclaim him jure uxoris King of Castile in 1506. He, however, died after a couple of months, arousing doubts of foul play by Ferdinand. He could not inherit his father's dominions to become Holy Roman Emperor as the latter was still alive. His son Charles later ruled the lands of the former Duchy of Burgundy, the Holy Roman Empire as Charles V and the Spanish Empire as Charles I. Philip I, still considered as progenitor of all later monarchs of Spain, is regarded to have played a vital role in extending the territories of the House of Habsburg.
Recommended Lists:
Recommended Lists:
Continue Reading Below
Birth
Philip I was born on July 22, 1478, in Bruges, Flanders, Burgundian Netherlands, to future Maximilian I, Holy Roman Emperor and his first wife Mary, Duchess of Burgundy.

His grandfather Frederick III ruled the empire at the time of his birth. He was named after his mother's grandfather Philip the Good.

Recommended Lists:

Recommended Lists:

Burgundian Inheritance

His mother, Mary, who ruled over many territories of the Duchy of Burgundy and the Low Countries, died on March 27, 1482 when he was just four years old. As a result of this, he inherited all her dominions under his father's guardianship. A tumultuous period followed that saw on and off conflicts, mainly between those who backed Maximilian I and the large towns of Flanders.

The cities of Flanders revolted against Maximilian I twice during 1482–1492 to back their claims of greater power which they seized from Mary through the 'Great Privilege' instrument signed by her on February 11, 1477. Such interregnum period also saw Philip I being sequestered for a short while in Bruges as part of the revolt.

The revolts, however, became unsuccessful with Flemish cities compelled to accept Maximilian I as regent. The two sides came to terms with the 'Treaty of Senlis' related to the Burgundian succession. It was signed between Maximilian I and King Charles VIII of France in May 1493 at Senlis, Oise. It was agreed that Philip I will become prince in the next year.

According to the Treaty of Senlis, Maximilian I gave up his regency in 1494 while the 16 years old Philip I began to rule the Burgundian lands. However, the power was practically exercised by a council of Burgundian notables.

Alliance With Spain

Meanwhile, the policies of King of France Louis XI and also the successful assertion of regal power against the alliance of feudal nobles, the 'League of the Public Weal', arranged in 1465 to defy the King's centralized authority, saw considerable rise in power of France.

In pursuit of blocking the soaring power of France, the Habsburgs and the Trastámara went into a set of family alliances. As a result Maximilian I got Philip I married to Joanna on October 20, 1496 in Lier, Belgium. She was the third child and second daughter of King Ferdinand II of Aragon and Queen Isabella I of Castile

His sister Margaret was also married off to the only son of Ferdinand II and Isabella I, John, Prince of Asturias. At the time John was the heir apparent to the crowns of Aragon and Castile with his sisters Isabella, wife of Manuel I of Portugal, and Joanna second and third in line respectively.

Castilian Crown to Joanna

On October 4, 1497 John, the heir apparent of the Castilian and Aragonese crowns died. On December 8 of that year his wife Margaret gave birth to a stillborn girl. His elder sister Isabella died while giving birth to her son, Miguel da Paz in 1498.

Miguel da Paz thus became the heir of the kingdoms of Aragon, Castile and León through his mother and also heir of his father's kingdom of Portugal. However, the Portuguese royal infant died on July 19, 1500, following which Joanna became the heir of the united crowns of Castile and Aragon.

Although the Cortes of Aragon did not acknowledge Joanna as heir apparent to the Aragonese crown, this was not the case for the Kingdom of Castile. With the succession of the Spanish crown passing on to his wife, Philip I proclaimed himself and Joanna the 'Princes of Castile', which King Ferdinand II and Queen Isabella I regarded as disrespect towards their deceased son.

However, the subject of supposed mental incompetence of Joanna leading to a probable shift of power of Castile to Philip I and his Burgundian entourage eventually became an issue. The couple along with a Burgundian entourage went to Spain in 1502 to get fealty from the Cortes of Castile.

The following year Philip I and most of his Burgundian entourage went back to the Low Countries. He left pregnant Joanna in Madrid where on March 10, 1503, she gave birth to her fourth child Ferdinand I who later became Holy Roman Emperor, king of Bohemia and Hungary.

Despite Joanna's intense love for her husband, the couple was considered to have led an unhappy conjugal life due to infidelity and political insecurity of the latter.

Philip I had tried several times to seize legal birthrights of power of Joanna including coercing and imprisoning her. Reports of depressive or neurotic acts of Joanna observed during such period aided in escalating rumours of her insanity. The couple started living separately even before her mother's death in 1504.

Continue Reading Below

Many modern day historians are of the opinion that Joanna was just clinically depressed which was commonly misbelieved as her insanity.

As King of Castile

Following Queen Isabella I's death on November 26, 1504, Joanna became Queen regnant of Castile. Although Ferdinand II lost his monarchical status in Castile, according to the will of Isabella I, he was allowed to govern in the absence of Joanna or in case the latter was not willing to rule herself until her heir reached 20 years of age.

Ferdinand II's endeavour to retain regency of Castile permanently was not taken well by the Castilian nobility who compelled him to withdraw and summoned Philip I to Spain to proclaim him as King.

While on their way to Spain to claim the Castilian inheritance and respond to the summon of Castilian nobility, Philip I and Joanna met with a wild storm in January 1506 which forced them to halt on the shore near Melcombe Regis.

The couple had to sojourn as guests of Henry VII of England, but in reality they remained as a hostage during that period until Philip I signed the Intercursus Malus treaty with Henry VII that was intended to replace the Intercursus Magnus treaty of February 1496.

Intercursus Malus was too advantageous for the English. It included a trade agreement allowing English merchants to import duty free cloth into the Low Countries. The treaty also had a clause to extradite rebels including Edmund de la Pole who was living as guest of Philip I in the Low Countries following his exile. After Philip I handed over Edmund, he was allowed to leave with his wife.

On April 28, 1506, Philip I and Joanna along with a body of German mercenaries reached Corunna. Philip I and Ferdinand II tried to resolve things under Cardinal Cisneros at Remesal and at Renedo. However, such pursuits only resulted in distasteful family altercations with Ferdinand II making vows to protect his daughter's interests accusing Philip I of imprisoning her.

Ferdinand II and Philip I then signed the Treaty of Villafáfila on June 27, 1506 that saw the former ceding all power to Philip I and retiring to Aragon while the latter being proclaimed jure uxoris King of Castile by the Cortes of Valladolid.

Sudden Death

On September 25, 1506 Philip I suddenly died of typhoid fever at Burgos. As the death was sudden, many believed that Ferdinand II got him poisoned. At that time Joanna was pregnant with their sixth child, Catherine.

He is entombed at the Royal Chapel of Granada where Joanna, Ferdinand II and Isabella I are also entombed.

Children With Joanna

He had six children with Joanna namely Eleanor (1498–1558); Charles V (1500–1558), Holy Roman Emperor and king of Spain; Isabella (1501–1526); Ferdinand I (1503–1564), Holy Roman Emperor and king of Bohemia and Hungary; Mary (1505–1558); and Catherine (1507–1578).

Translate Wiki

to Spanish, French, Hindi, Portuguese

Article Title

- Philip I of Castile Biography

Author

- Editors, TheFamousPeople.com

Website

- TheFamousPeople.com

URL

-

https://www.thefamouspeople.com/profiles/philip-i-of-castile-34570.php

Last Updated

- November 08, 2017

---

---

---