Helen Mirren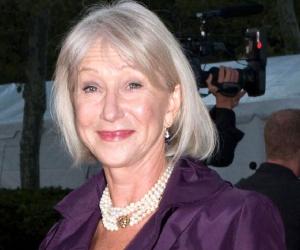 Quick Facts
Nationality: British
Famous: Actresses British Women
Age: 73 Years, 73 Year Old Females
Sun Sign: Leo
Also Known As: Dame Helen Lydia Mirren, Helen Lydia Mironoff
Born in: Chiswick, London
Famous as: Actress
Height: 1.63 m
Family:
Spouse/Ex-: Taylor Hackford (m. 1997)
father: Vasiliy Petrovich Mironov
mother: Kathleen Alexandrina Eva Matilda Rogers
siblings: Katherine Mirren, Peter Basil Mirren
City: London, England
More Facts
education: New College of Speech and Drama
Continue Reading Below
Helen Mirren is a famous English actress. She started her acting career on stage with the Royal Shakespeare Company and went on to become one of the most celebrated actresses on stage, film and television. She is among the few rare performers to have achieved the Triple Crown of Acting. i.e., she has won Academy Award, Emmy Award and Tony Award. She won the 'Academy Award' for portraying Queen Elizabeth II in the film 'The Queen', multiple 'Emmy Awards' for the TV series 'Prime Suspect' and 'Elizabeth I', and has received the 'Tony Award' for again portraying Queen Elizabeth II in the play 'The Audience'. Some of her notable movies include 'Age of Consent', 'Caligula', 'Excalibur', 'Cal', 'The Cook, the Thief, His Wife & Her Lover', 'The Madness of King George', 'Teaching Mrs. Tingle', 'Gosford Park', 'Calendar Girls', 'Hitchcock', 'Woman in Gold', 'Red' and 'Red 2', and 'Collateral Beauty'. She has published the autobiographical book 'In the Frame: My Life in Words and Pictures'. She was one of the faces for Marks & Spencer's 'Womanism' campaign which included Britain's leading ladies from various fields.
Recommended Lists:
Recommended Lists:
Continue Reading Below
Childhood & Early Life
Helen Mirren was born as Helen Lydia Mironoff on July 26, 1945 at Queen Charlotte's and Chelsea Hospital in Hammersmith, west London, to English mother Kathleen Alexandrina Eva Matilda and Russian father Vasily Petrovich Mironoff. She has an older sister named Katherine and had a brother named Peter.

Her paternal grandfather was a Russian diplomat, while her maternal great grandfather supplied meat to Queen Victoria. When she was nine years old, her father, a cab driver who later became a civil servant with the Ministry of Transport, changed his name to Basil Mirren, anglicizing the family surname in the process.

She played lead role in a school production of 'Hansel and Gretel' while attending Hamlet Court primary school Westcliff-on-Sea and continued to appear in school productions at St Bernard's High School for Girls in Southend-on-Sea. At her mother's behest, she enrolled into the New College of Speech and Drama, a teaching college in London.

Recommended Lists:

Recommended Lists:

Continue Reading Below

Stage Career

At the age of 20, Helen Mirren successfully auditioned for the National Youth Theatre and bagged the lead role of Cleopatra in 'Antony and Cleopatra' within a couple years. After joining the Royal Shakespeare Company, she went on to portray several sexually charged roles including Castiza in 'The Revenger's Tragedy' (1966), Cressida in 'Troilus and Cressida' (1968), and Lady Macbeth in 'Macbeth' (1974).

She played a rock star named Maggie in the musical 'Teeth 'n' Smiles' at the West End's Royal Court Theatre in September 1975 and at Wyndham's Theatre in May 1976. She won the 'London critics' Plays & Players Best Actress' award for her performance in the role.

She subsequently earned praise for playing Nina in 'The Seagull' and Ella in 'The Bed before Yesterday' in 1975, Queen Margaret in 'Henry VI' (1977-78) and the lead in 'The Duchess of Malfi' (1980). Her other notable roles during the period include Grace in 'Faith Healer' (1981), Cleopatra in 'Antony and Cleopatra' (1983), Moll Cutpurse in 'The Roaring Girl' (1983), and Marjorie in 'Extremities' (1984).

She made her Broadway debut as Natalya Petrovna in an Yvonne Arnaud Theatre production of Ivan Turgenev's 'A Month in the Country' which earned her a 'Tony Award' nomination for 'Best Actress'. She again played Cleopatra in 'Antony and Cleopatra' at the National Theatre in 1998, but the play failed to impress the critics.

In 2000, she was cast as Lady Torrance in the revival of Tennessee Williams' 'Orpheus Descending' at the Donmar Warehouse in London, a role which earned her praise from critics. She received another nomination for 'Tony Award for Best Actress' for her portrayal of Alice in August Strindberg's 'Dance of Death', co-starring with Sir Ian McKellen, in 2002.

Later in the decade, she earned critical acclaim for playing Christine Mannon in a revival of Eugene O'Neill's 'Mourning Becomes Electra' in 2002 and appeared in the title role in Jean Racine's 'Phèdre' in 2009. Most recently, she was named the best actress at the 'Olivier Awards' for portraying Elizabeth II in Peter Morgan's 'The Audience'.

Film Career

Helen Mirren began her film career by appearing in the movie adaptations of her stage productions, such as 'A Midsummer Night's Dream' in 1968 and later 'Hamlet' in 1976. She got her first major film role in 'Age of Consent' (1969), an adaptation of the semi-autobiographical novel of the same name by Norman Lindsay.

She subsequently appeared in 'Savage Messiah' (1972), a biographical film on the life of French sculptor Henri Gaudier-Brzeska. Her 1979 film 'Caligula' was largely panned by the critics and fared poorly at the box office because of its strong violence and explicit scenes.

She earned praise for her roles as Victoria in the gangster film 'The Long Good Friday' (1979) and Morgana in the fantasy film 'Excalibur' (1981). She went on to win the award for Best Actress at the Cannes Film Festival for her portrayal of Marcella in the Irish drama film 'Cal' (1984).

She next appeared in critically acclaimed films like 'Mosquito Coast' (1986) and 'The Cook, the Thief, His Wife & Her Lover' (1989). She portrayed Queen Charlotte in the well-received biographical historical comedy-drama film 'The Madness of King George' (1994).

In 1996, she reunited with her 'Cal' co-star John Lynch for the film 'Some Mother's Son', which was based on the true story. She continued her successful film career at the turn of the century with films like 'Gosford Park', which earned her an Oscar nomination, and 'Calendar Girls'.

She portrayed Queen Elizabeth II in the fictional drama film 'The Queen' (2006), for which she won several prestigious awards including a 'BAFTA', a 'Golden Globe', and an 'Academy Award'.

In recent times, she has appeared in the commercially successful ensemble action comedy film 'Red' (2010), the 2012 biopic 'Hitchcock', and lent her voice to the animated film 'Monsters University' (2013).

Television Career

Helen Mirren's biggest TV role was as Detective Inspector Jane Tennison in the mystery series 'Prime Suspect' (1991-2006). She bagged numerous awards for the role, including three BAFTAs, four Emmys, and two each of 'Golden Globe Awards', 'Satellite Awards' and 'Screen Actors Guild Awards'.

She won both the 'Emmy' and the 'Golden Globe' for her performance in the telefilm 'The Passion of Ayn Rand' (1999). She also won 'Emmys' for her roles in 'Elizabeth I' and 'Prime Suspect: The Final Act'.

Major Works

Helen Mirren is best known for her role as police detective Jane Tennison on the series 'Prime Suspect', which ran successfully for 15 seasons, earning her numerous honors.

She received critical acclaim for portraying Queen Elizabeth II in film 'The Queen', as well as Elizabeth I in the eponymous TV miniseries.

Continue Reading Below

Personal Life & Legacy

Helen Mirren was involved with actor Liam Neeson in the early 1980s, but began dating director Taylor Hackford after meeting him on the on the set of 'White Nights'. They later got married on December 31, 1997, but the two do not have any children, even though she has two step children from his previous marriages.

Trivia

Helen Mirren has portrayed three queens on the screen; Queen Elizabeth I, Queen Elizabeth II, and Queen Charlotte. She is the only actor who has portrayed both Elizabeth I and Elizabeth II onscreen.

| | | |
| --- | --- | --- |
| 2007 | Best Performance by an Actress in a Leading Role | The Queen (2006) |

| | | |
| --- | --- | --- |
| 2007 | Best Performance by an Actress in a Motion Picture - Drama | The Queen (2006) |
| 2007 | Best Performance by an Actress in a Miniseries or a Motion Picture Made for Television | Elizabeth I (2005) |
| 1997 | Best Performance by an Actress in a Miniseries or Motion Picture Made for Television | Losing Chase (1996) |

| | | |
| --- | --- | --- |
| 2007 | Outstanding Lead Actress in a Miniseries or Movie | Prime Suspect: The Final Act (2006) |
| 2006 | Outstanding Lead Actress in a Miniseries or a Movie | Elizabeth I (2005) |
| 1999 | Outstanding Lead Actress in a Miniseries or a Movie | The Passion of Ayn Rand (1999) |
| 1996 | Outstanding Lead Actress in a Miniseries or a Special | Prime Suspect: The Scent of Darkness (1995) |

| | | |
| --- | --- | --- |
| 2007 | Best Actress in a Leading Role | The Queen (2006) |
| 1994 | Best Actress | Prime Suspect 3 (1993) |
| 1993 | Best Actress | Prime Suspect 2 (1992) |
| 1992 | Best Actress | Prime Suspect (1991) |

Translate Wiki

to Spanish, French, Hindi, Portuguese

Article Title

- Helen Mirren Biography

Author

- Editors, TheFamousPeople.com

Website

- TheFamousPeople.com

URL

-

https://www.thefamouspeople.com/profiles/helen-mirren-9558.php

Last Updated

- July 23, 2018

---

---

---