Hayden Panettiere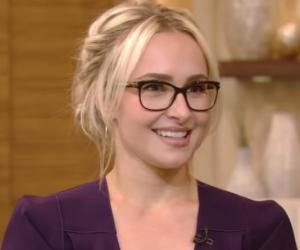 Quick Facts
Nick Name: Mushroom, Hayd
Nationality: American
Age: 30 Years, 30 Year Old Females
Sun Sign: Leo
Also Known As: Hayden Leslie Panettiere
Born in: New York, United States
Famous as: Actress
Height: 5'0" (152 cm), 5'0" Females
Family:
Spouse/Ex-: Wladimir Klitschko
father: Skip Panettiere
mother: Lesley Vogel
siblings: Jansen Panettiere
children: Kaya Evdokia Klitschko
U.S. State: New Yorkers
More Facts
education: South Orangetown Middle School
Continue Reading Below
Hayden Panettiere is an American actress and model who rose to fame with her roles in the television series 'Heroes' and 'Nashville'. Beginning as early as when she was 11 months of age, Panettiere's career has seen significant landmarks and milestones. She was only four when she became a pro-model for advertising agencies. The next year, she received her big break to act in television in the ABC's soap opera 'One Life to Live' followed by CBS television series 'Guiding Light'. Starting off in the medium of television, Panettiere soon spread her wings to enter films as well and featured in several movies. By her late teens, Panettiere had a career graph that anyone in the entertainment field would be envious of! She had done everything imaginable, right from modelling to starring in films and television. However, amongst the long list of works, none could be handpicked as a masterpiece until when Panettiere was cast in the series 'Heroes'. The show brought Panettiere to limelight and made her a name to reckon with in the acting community. Another show that brought fame and recognition to Panettiere was 'Nashville.' Television and films apart, Panettiere has also starred as Kairi in the video game series Kingdom Hearts and modelled for a couple of brands. She has even doubled as a singer in many of her flicks and has released singles as well.
Recommended Lists:
Recommended Lists:
Continue Reading Below
Childhood & Early Life
Hayden Panettiere was born on August 21st, 1989 in Palisades, New York to Lesley R. Vogel and Alan Lee Skip Panettiere. While her mother was a former soap opera actress, her father was a fire captain. Panettiere has mixed heritage, with Italian, English and German ancestry. She has a younger brother, Jansen Panettiere.

Panettiere attended South Orangetown Middle School in New York. From Grade 9, she was homeschooled till the completion of her high school education.

Recommended Lists:

Recommended Lists:

Career

Having a mother as an actress, it was only natural for Hayden Panettiere to follow suit. A month before turning one, she appeared in her first TV commercial for Playskool Toy Trains.

Panettiere's stint in advertisements continued as she featured as an infant and toddler for McDonald's, Hershey's and Nix Lice Shampoo. By the age of four, she had become a pro-model for advertising agencies.

The young child's big break in television came with the role of Sarah Roberts in the ABC soap opera 'One Life to Live' in 1994. The series continued for three years till 1997. Meanwhile, in 1996, she took up the role of Lizzie Spaulding on the CBS soap opera 'Guiding Light' that aired from 1997 to 2000.

In 1999, Panettiere featured in the television movie 'If You Believe' which earned her a nomination at the prestigious Young Artist Awards. Around the same time, her career in films also started.

Panettiere's first film was 'The Object of My Affection' wherein she donned the role of a mermaid. She did small roles in various other films including 'Message in a Bottle', 'Remember the Titans', 'Joe Somebody' and 'The Affair of the Necklace'.

In 2002, Panettiere clutched a substantial role of the title character's daughter on Fox's 'Ally McBeal'. She followed it up with an important role in HBO Films' 'Normal' and a recurring guest role in 'Malcolm in the Middle'. Furthermore, she also guest starred in 'Law & Order: Special Victims Unit' in two different roles and in the Disney Channel film, 'Tiger Cruise'.

Though Panettiere was several television series old by 2006, the big breakthrough still evaded her until she was offered the role of Claire Bennet in the NBC series 'Heroes'. The show, which continued until 2010, had Panettiere in one of the lead roles of a cheerleader who had regenerative healing ability.

Continue Reading Below

From 2005 to 2010, Panettiere did several films including 'Raising Helen' as Kate Hudson's title character's adolescent niece, 'Racing Stripes' where she played the main human role, 'Bring It On: All or Nothing' as a cheerleader, and 'Shanghai Kiss' as Adelaide Bourbon. She also did voice roles in 'Scooby Dooby Doo and the Goblin King', 'Alpha and Omega' and 'Hoodwinked Too!'

In 2007, Panettiere guest-appeared on MTV's popular show, 'Punk'd'. Later, in April 2012, she hosted an episode of the new series. The same year, she bagged a lead role in the ABC musical drama 'Nashville'. Her character, which was named Juliette Barnes, was cast opposite Connie Britton. A regular on the show, she has reprised her role for five seasons and till date continues to play the character with élan.

Apart from 'Nashville', Panettiere's recent outings on the small screen have been for the television shows 'Lip Sync Battle' and 'Chopped Junior'.

In the early 2010s, Panettiere appeared in the 'Scream' sequel, 'Scream 4'. In it, she played the role of Kirby Reed. The role, which was the highlight of the film, earned her much acclaim and appreciation. She also gave voice in the animated sequel of 'Hoodwinked Too!' for the character of Red during this period.

In 2016, Panettiere was featured in the film 'Custody,' alongside Viola Davis. The pair had previously shot together for 'The Architect'. She then reprised her role in the video game sequel 'Kingdom Hearts: Birth by Sleep' and also gave voice for Xion in 'Kingdom Hearts 3D: Dream Drop Distance.'

Acting apart, Hayden Panettiere has also pursued singing. She sung a couple of songs for various films including 'A Bug's Life', 'Tiger Cruise', 'The Dust Factory', 'Ice Princess' and so on. One of her songs even received a Grammy nomination. Her first single, 'Wake Up Call' was released in 2008. Additionally, she recorded several songs for 'Nashville,' which were released as singles and included on the show's soundtrack albums as well.

She has done a couple of modelling assignments as well. She was the cover girl of Neutrogena and also appeared in the Heroes-themed 'Got Milk?' ad. She even wore the hat of a designer for the handbag brand 'Dooney & Bourke' from 2007 to 2008, designing a limited edition hand bags. She also modelled for the brand.

Recommended Lists:

Recommended Lists:

Major Works

Hayden Panettiere's most recognizable work came in 2006 when she was offered the role of Claire Bennet in the NBC series 'Heroes'. The show had her in a lead role of a cheerleader who had regenerative healing ability. It turned out to be the magnum opus of her career, earning her both critical and commercial acclamation.

Following 'Heroes', Panettiere's second most recognizable work came with 'Nashville', a musical drama in which she was cast as Juliette Barnes opposite Connie Britton.

Recommended Lists:

Recommended Lists:

Awards & Achievements

Hayden Panettiere's first ever award was a Special Recognition Award, bestowed upon her by the Leukemia & Lymphoma Society for improving national awareness of the disease through her role in 'Guiding Light'.

In 2000, Panettiere received the Young Artists Award for Best Supporting Actress for 'Remember the Titans'.

Panettiere's role in 'Heroes' earned her several awards including the Saturn Award for Best Supporting Actor, Teen Choice Best Actress Drama, Teen Choice Breakout Actress, Teen Choice TV Actress for Action Adventure and Young Artists Award for Best Actor in a Leading Role.

Personal Life

From December 2007 to February 2009, Panettiere was in a romantic relationship with her co-star from 'Heroes,' Milo Ventimiglia.

In 2009, Panettiere met former heavyweight world champion boxer Wladimir Klitschko. The two started dating but after two years they separated. In April 2013, they reconciled and resumed their romantic relationship. By October 2013, they were officially engaged, and in December 2014 welcomed their first child, a daughter Kaya Evdokia Klitschko.

Panettiere temporarily cut off meat and followed a vegetarian diet while shooting for 'Heroes'. However, due to lack of energy she resumed eating chicken and fish.

She is an avid supporter of Ronald McDonald House Charities and joined The Whaleman Foundation to help preserve whales and bring an end to whale hunting. She was awarded PETA's Compassion in Action Award for her efforts.

Over the years, Panettiere has also worked for the prevention of teen pregnancy. Together with her fiancé, she was one of the leading figures at the Euromaidan protests in Kiev.

1. Kingdom Hearts (2002)

(Adventure, Comedy, Mystery, Fantasy, Family, Action)

2. Remember the Titans (2000)

(Sport, Biography, Drama)

---

3. Shanghai Kiss (2007)

(Drama, Comedy, Romance)

4. Fireflies in the Garden (2008)

(Drama)

---

---

5. Scream 4 (2011)

(Horror, Mystery)

6. Message in a Bottle (1999)

(Romance, Drama)

---

---

---

7. The Affair of the Necklace (2001)

(History, Romance, Drama)

8. The Dust Factory (2004)

(Family, Drama, Fantasy)

---

---

---

---

Translate Wiki

to Spanish, French, Hindi, Portuguese

Article Title

- Hayden Panettiere Biography

Author

- Editors, TheFamousPeople.com

Website

- TheFamousPeople.com

URL

-

https://www.thefamouspeople.com/profiles/hayden-panettiere-10661.php

Last Updated

- November 14, 2017

---

---

---