Grace Helbig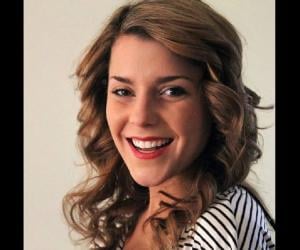 Quick Facts
Birthday: September 27, 1985
Nationality: American
Age: 33 Years, 33 Year Old Females
Sun Sign: Libra
Born in: New Jersey, United States
Famous as: Comedian, YouTube Personality
Height: 1.77 m
Family:
father: John Helbig
mother: Theresa McGinnis
siblings: John and Tim
U.S. State: New Jersey
More Facts
education: Gateway Regional High School, Ramapo College
Continue Reading Below
Grace Anne Helbig is the audacious and unbelievably funny lass behind the hugely popular YouTube channel 'graciehinabox' as well as the podcast 'Not Too Deep with Grace Helbig.' This quirky YouTuber also has a successful career as an actress, producer, and author. Witty and fun-loving from a young age, she loved to make people laugh from her childhood. While her parents thought their kid was funny, they wouldn't have ever imagined that their daughter would one day grow up to become a comedian of international renown! Having formed a sketch comedy group while still in college, she started posting vlogs to her YouTube channel in 2008. The rising popularity of her vlog caught the attention of My Damn Channel founder and CEO Rob Barnett who gave her the opportunity to host her own video blog web series on the channel's website. Her image further enhanced, she started appearing in television as well as films, as herself in collaborations with other YouTubers. In 2014, Grace Helbig, along with Hannah Hart and Mamrie Hart starred in the comedy-drama film 'Camp Takota' which was made available on the streaming media service Netflix in December.
Recommended Lists:
Recommended Lists:
Continue Reading Below
Career
Grace Helbig's YouTube career started in a pretty unexpected way. Way back in 2008, she began a daily vlog just to kill boredom and keep herself entertained while house-sitting for a family. This hobby of hers soon became a passion as she realized that her videos were actually attracting scores of viewers. Her videos soon attracted the attention of My Damn Channel founder and CEO Rob Barnett who asked her to host her own video blog web series 'DailyGrace' on the channel website. The series, which premiered in 2008, became so popular that 'DailyGrace' was launched as its own YouTube channel in 2010. The channel proved to be phenomenally successful and catapulted Helbig to great heights as a YouTube comedian.

Recommended Lists:

Recommended Lists:

Grace Helbig left 'DailyGrace' in 2013 to focus on her personal YouTube channel. Over the ensuing years, her personal channel grew from a few thousands to over 3 million subscribers with over 256 million video views. Around this period, she also started collaborating with fellow YouTubers, especially Mamrie Hart, with who she did the summer travel-themed web series #HeyUSA, touring all around the United States. The series was broadcast on the 'Astronauts Wanted' YouTube channel.

Recommended Lists:

Recommended Lists:

Alongside her YouTube career, she also started appearing on television and films. She did a lot of television commercials and also played minor roles/cameos in the programs 'Money from Strangers,' 'Tripping Out With Alie & Georgia,' 'Showbiz Tonight,' and 'Today with Kathie Lee and Hoda.' She began her film career in 2014 with a starring role in 'Camp Takota' which according to some reviews was "entertaining, sweet, funny, and filled with adult oriented humour." She followed it up with an appearance in 'Smosh: The Movie' in 2015, playing Stephanie, the main receptionist of YouTube.

The multi-faceted personality also has a successful audio-video podcast 'Not Too Deep with Grace Helbig' which premiered in September 2014. The podcast debuted at number one on iTunes' Top Podcasts chart. New full-length audio episodes are launched each Monday on SoundCloud and iTunes. As if juggling so many YouTube, television, film, and podcast projects at once is not enough, this young lady is also a best-selling author! Grace Helbig released her comedic self-help handbook for millennials, 'Grace's Guide: The Art of Pretending to Be a Grown-up' in October 2014. The book debuted at number one on the New York Times Best Seller Advice, How-To and Miscellaneous list. Her second book, 'Grace & Style: The Art of Pretending You Have It' was out in February 2016. The book debuted at number seven on the New York Times Best Seller Advice, How-To and Miscellaneous list.

Continue Reading Below

Awards & Achievements

Grace Helbig has received several awards and accolades for her comedic works. Her web series 'DailyGrace' was elected King of the Web in October 2011. In 2013, she was named one of the '30 Under 30 Rising Stars in Los Angeles' by Refinery29. The following year, she was listed among Social Media Week Los Angeles' Social 25 digital media influencers and organizations. In 2014, Helbig's YouTube Channel was listed at No. 36 on New Media Rockstars Top 100 Channels.

Personal Life

Grace Helbig was born on September 27, 1985 in New Jersey, United States, to John Helbig and Theresa McGinnis as one of their three children. She has two brothers, John and Tim. As a school student she took keen interest in athletics and was a successful track star and medal-winning pole-vaulter. After attending Gateway Regional High School, she went to Ramapo College. It was during her college days that she developed an interest in comedy which eventually led her to a career as a YouTube comedian and later, as an actress. On the personal front, she is best friends with Hannah Hart and Mamrie Hart with whom she also often collaborates. Grace Helbig and Chester See are said to be dating since 2014 though both of them prefer not to say anything about their relationship status.

Last Updated : April 12, 2017

Translate Wiki

to Spanish, French, Hindi, Portuguese

---

---

---

Grace Helbig Fans Also Viewed