Gilles Villeneuve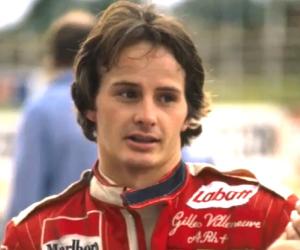 Quick Facts
Birthday: January 18, 1950
Nationality: Canadian
Famous: F1 Drivers Canadian Men
Died At Age: 32
Sun Sign: Capricorn
Also Known As: Joseph Gilles Henri Villeneuve
Born Country: Canada
Born in: Saint-Jean-sur-Richelieu, Canada
Famous as: Racing Driver
Height: 5'6" (168 cm), 5'6" Males
Family:
Spouse/Ex-: Joann Villeneuve (m. 1970)
father: Seville Villeneuve
mother: Georgette Coupal Villeneuve
siblings: Jacques Villeneuve
children: Jacques Villeneuve
place of death: Leuven
Continue Reading Below
Gilles Villeneuve was a Canadian racing driver who participated in Grand Prix for six years, winning six races. He started his racing career with snowmobile racing in his native city of Quebec. He then moved on to single seaters and won the US and Canadian Formula Atlantic championships in 1976. Post this, he was offered to participate in 'Formula One' with the 'McLaren' team at the 1977 'British Grand Prix.' Thereafter he was taken by Ferrari for the end of the season, and from 1978 to his death in 1982, he drove for the Italian team. He died in a fatal crash in 1982 while racing for the 'Belgian Grand Prix' qualifiers at Zolder. He collided with Jochen Mass while driving at a speed of 140 mph. Villeneuve was quite popular amongst his fans and a respected racer amongst his peers. In his brief career, he was one of Canada's best high-speed racers. His son, Jacques Villeneuve, followed his father's footsteps and became the only Canadian to win 'Formula One' world championship in 1997.
Recommended Lists:
Recommended Lists:
Continue Reading Below
Childhood & Early Life
Villeneuve was born on January 18, 1950, in Richelieu, a small town in Canada. He was raised in Berthierville, where his family moved when he was eight.

His father was a piano tuner who loved to perform car stunts. He taught Gilles to drive at the age of nine.

When he was 15, his father gifted him an MG 'A,' which he modified and drove to compete at races with friends.

His love for racing became quite evident in early childhood when he started with snowmobile racing.

During his snow-racing days, he won the North American championship in 1971, the Québec crown in 1972, and the Canadian title in 1973.

Gilles Villeneuve used his earnings from snowmobile racing to enter 'Formula Ford' competition, winning the 1973 Québec crown

Recommended Lists:

Recommended Lists:

Career

He became a well-known name in the racing circuit after winning the world champion in snow racing, in 1974.

Gilles started his racing career with local drag-racing events, with his modified 1967 Ford Mustang.

He then joined the 'Jim Russell Racing School' at Le Circuit Mont Tremblant and received his racing license.

He raced in Quebec regional 'Formula Ford' with his own car and won seven out of ten races.

Thereafter he progressed to 'Formula Atlantic' where he competed for four years with his own car for one of the seasons.

In 1975, he won his first 'Atlantic' race at Gimli Motosport Park in heavy rain.

In 1976, he teamed up with Chris Harrison's 'Ecurie Canada' and race engineer Ray Wardell. He overshadowed the season by winning all, except one of the races and taking the US and Canadian titles.

Continue Reading Below

In 1977, he won the Canadian championship again.

In 1976, Gilles beat James Hunt and several other Grand Prix stars in a non-championship 'Formula Atlantic' race at 'Trois-Rivières.' After this feat, Hunt's McLaren team offered him a 'Formula One' deal for up to five races in a third car during the 1977 season.

In 1977, he made his debut at the 'British Grand Prix,' where he qualified at the 9th position in McLaren's old 'M23.' In the race, he set the fifth fastest lap and finished 11th, after being delayed for two laps by a faulty temperature gauge.

Despite his remarkable performance in 1977, Teddy Mayer decided not to continue with Gilles for the following year.

In 1978, he did not have any solid options, except an offer by Walter Wolf to drive at 'Wolf Racing.'

In August 1977, he got a call from Ferrari to meet Enzo Ferrari, who later said that Gilles reminded him of the famous Nuvolari.

After a session at Ferrari's Fiorano test track, he signed to drive for Ferrari in the last two races of the 1977 season and the 1978 season.

Continue Reading Below

In 1977, while racing was in the last race of the season at the 'Japanese Grand Prix'' at the Fuji speedway, he banged into Ronnie Peterson. His Ferrari cartwheeled through the fence and landed on a group of spectators, killing two and injuring several others.

In the 1978 season, he started on the front row at 'The United States Grand Prix West,' but crashed out of the lead on lap 39. At the 'Italian Grand Prix,' he ran second before his engine failed. Finally, at the season-ending 'Canadian Grand Prix,' Gilles won his first 'Grand Prix.'

In 1979, he won three races. The racing season made headlines because of his wheel-banging duel with Rene Arnoux in the last lap of the 1979 'French Grand Prix.'

At the 1979 'Dutch Grand Prix,'a slow puncture collapsed his left rear tyre and forced him off the track.

In the 1979 'Italian Grand Prix,' he finished second to his teammate Jody Scheckter. At the 'United States Grand Prix,' he was the winner.

In 1981, Ferrari launched their first turbocharged engine F1 car, 'the 126C.' Gilles won two races during the season.

On May 8, 1982, Villeneuve died in an unfortunate accident during the final qualifying race for the 'Belgian Grand Prix' at Zolder. His Ferrari hit the back of Jochen Mass' car. The car remained airborne for more than 100 m before nosediving into the ground and disintegrating. Gilles Villeneuve was thrown 50 m away from the wreckage into the catch fencing.

Awards & Achievements

Gilles Villeneuve gained more love and respect of his fans posthumously.

He was inducted in the 'Snowmobile Hall of Fame' posthumously.

In his hometown Berthierville, a museum was opened in 1992 and a lifelike statue of Villeneuve was created in a nearby park in his honor.

At the venue of the 'San Marino Grand Prix,' a corner was named after him and the spot from where he started his last race, the Canadian flag has been painted.

The racetrack on 'Notre Dame Island,' Montreal, which hosted the 'Formula One Canadian Grand Prix' in 1982, was named 'Circuit Gilles Villeneuve.'

On August 19, 1993, Villeneuve was inducted into the 'Canadian Motorsport Hall of Fame' at their inaugural induction ceremony at the Four Seasons Hotel, Toronto, Ontario. In 1983, he was inducted into 'Canada's Sports Hall of Fame.'

In June 1997, the government of Canada issued a postage stamp in his honor.

Family & Personal Life

He married Joann Barthe in 1970 and had two children with her: Jacques and Melanie.

His brother, Jacques, was also an auto racer.

Trivia

Gilles was a very good piano player; he had picked up the instrument from his father.

Villeneuve's helmet was designed by his wife and carried a stylised 'V' on a dark background. His son, Jacques, also used the same design.

Villeneuve could fly helicopters.

He had once sold his house without telling his wife, because he wanted to buy a new race car.

Translate Wiki

to Spanish, French, Hindi, Portuguese

Article Title

- Gilles Villeneuve Biography

Author

- Editors, TheFamousPeople.com

Website

- TheFamousPeople.com

URL

-

https://www.thefamouspeople.com/profiles/gilles-villeneuve-8741.php

Last Updated

- November 08, 2019

---

---

---