Florence Foster Jenkins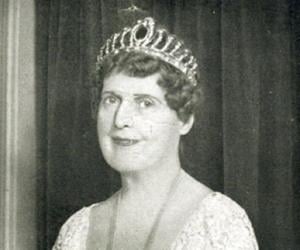 Quick Facts
Nationality: American
Famous: Pianists Socialites
Died At Age: 76
Sun Sign: Cancer
Also Known As: Narcissa Florence Foster
Born in: Wilkes-Barre, Pennsylvania, United States
Famous as: Socialite
Family:
Spouse/Ex-: St. Clair Bayfield, Frank Thornton Jenkins (m. 1885)
father: Charles Dorrance Foster
mother: Mary Jane
Died on: November 26, 1944
U.S. State: Pennsylvania
Continue Reading Below
Florence Foster Jenkins was an American amateur soprano, socialite, and philanthropist. She was a rich woman who began financing her own shows in the 1920s, hoping to become a star, despite her total lack of musical talent. With her charm and shining costumes, she actually succeeded in becoming a singer and was loved by many. However, at the same time, she was mocked by the rest. Although she was considered the worst possible opera singer, she remained an icon in the musical scene of New York until the 1940s. She sang out of tune, had no rhythm, and was unmusical overall. However, people still remember her. She was even portrayed by Meryl Streep in a movie in 2016.
Recommended Lists:
Recommended Lists:
Continue Reading Below
Childhood & Early Life
Narcissa Florence Foster was born on July 19, 1868, in Wilkes-Barre, Pennsylvania, to Charles Dorrance Foster and Mary Jane Hoagland Foster. Her family was wealthy and educated. Her father, a wealthy attorney, was a descendant of a land-owning family. She had a younger sister named Lillian, who died of diphtheria as a child.

Her family took care of her education, and she took piano lessons till the age of 15. Her passion for music and performing in front of an audience became evident when she was only 7 years old. She would perform at various functions and was usually introduced as "Little Miss Foster." She even went on stage at the 'White House' when Rutherford B Hayes was the president.

She graduated high school and nursed the dream to go to Europe to study music. However, her father refused, although they had the money to support her. Thus, in order to follow her dream, 17-year-old Florence ran away with Frank Thornton Jenkins, a physician who was 16 years older than her. They eloped and got married in Philadelphia. Their relationship lasted for a year, until Florence discovered he had given her syphilis, a disease that was incurable at that time. She cut all ties with him. Although she later said they had divorced, there was no document to prove it. She continued to use his name and went back to following her passion, attending the 'Philadelphia Academy of Music.'

After an injury to her arm, she could no longer dream of becoming a famous pianist. Thus, she started offering piano lessons to make a living. Following this, she moved to New York City with her mother.

In 1909, she met a British actor named St. Clair Bayfield, a man much younger than her, who remained her partner for the rest of her life. The same year, her father died, leaving her a considerable fortune. She was then able to start working on her dreams, ironically using the money from the person who had denied her even the possibility to study abroad.

Recommended Lists:

Recommended Lists:

Career

Using her father's money, she began preparing to become a singer. Bayfield became her manager. She took singing lessons and started to attend the social clubs in New York. She got really involved with these organizations. She produced "living pictures," which were a favorite in her social circles. She loved flamboyant costumes and designed many for these pictures. Hers was always the most complex, as she wanted to be the central piece.

Still dreaming of a career as an opera singer, she performed for the groups she was part of, such as the 'Verdi Club.' Although she sounded horrible, the members would praise her, as they needed her financial contributions. She was even named the "President Soprano Hostess" of the club. The money she invested in her career multiplied when her mother died and left her with even larger resources.

Although a good pianist, Florence was not talented when it came to singing. Not only was her voice bad, but she also had weak diction, especially when she had to sing in foreign languages. She only chose difficult parts. Thus, her flaws became even more obvious. She was called the "anti-Callas." Many critics and impresarios found her performance ridiculous but kept attending nevertheless.

She liked to be called "Lady Florence," and it was not clear whether she actually thought she sang well or knew the truth and did not care. Although many laughed during her performances, her friends did their best to support her by applauding and cheering. There was also the possibility that her hearing had been affected by syphilis and the treatment she had received.

On the other hand, the fact that she controlled the public by only performing in front of small gatherings and removing those who made fun of her suggested she knew she had no talent. However, she enjoyed singing and loved the reactions from the audiences, not caring if they were sincere.

Nobody could deny that she knew how to put on a show. She sang opera and classical songs, designed fabulous costumes for herself, and practiced dramatic gestures (such as always fanning herself or throwing flowers at the audience). When she was in her 70s, she even did five recordings financed by herself and got the label 'Melotone' to release them. The first recording actually sold well, probably because of the public's curiosity.

Her greatest performance was, without a doubt, at the 'Carnegie Hall' on October 25, 1944. Her fans had actually requested for that event for a while. It was a general admission performance. The tickets were sold out quickly and did not seem sufficient. The concert was huge, and the reactions were as expected: enthusiasm, shock, and mockery. The audience continued to applaud, as if to encourage her to sing even worse.

Florence had a heart attack 5 days after the show at 'Carnegie.' This led to her death about a month later, on November 26, 1944. However, she did get to live her dream of performing in front of a massive audience and to have people talk about her.

Recommended Lists:

Recommended Lists: