Erika Christensen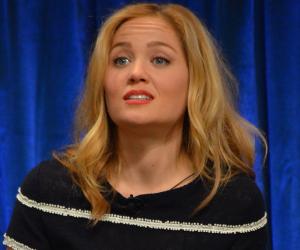 Quick Facts
Nationality: American
Age: 37 Years, 37 Year Old Females
Sun Sign: Leo
Also Known As: Erika Jane Christensen
Born in: Seattle, Washington
Famous as: Actress
Height: 5'5" (165 cm), 5'5" Females
Family:
Spouse/Ex-: Cole Maness (m. 2015)
father: Steven Christensen
mother: Kathy Christensen
siblings: Brando Christensen, Dane Christensen, Nick Christensen
children: Shane Maness
U.S. State: Washington
City: Seattle, Washington
Continue Reading Below
Erika Christensen is an American actor and singer who is best known for her performances in films such as 'The Banger Sisters,' 'The Perfect Score,' and 'The Case for Christ.' Born in Seattle and raised in Los Angeles, Erika was a performer since childhood. She wanted to become an actor even before she was a teenager. She appeared in a 'McDonald's' commercial at the age of 13, officially beginning her career. In 1997, she made her acting debut with the film 'Leave it to Beaver.' In 2000, the release of Steven Soderbergh's film 'Traffic' made her a household name in the US. Her performance earned her many awards and nominations. She was also noted for her critically acclaimed performances in films such as 'How to Rob a Bank' and 'The Tortured.' In addition, she was seen playing key roles in series such as 'Six Degrees,' 'Parenthood,' and 'Wicked City.' She has been following the 'Church of Scientology' ever since she was a child and supports the faith ardently on various public forums.
Recommended Lists:
Recommended Lists:
Continue Reading Below
Childhood & Early Life
Erika Christensen was born in Seattle, Washington, on August 19, 1982, to Kathy and Steven Christensen. Her father worked as an insurance agent, and her mother was a construction manager. She grew up with three brothers. One of her two younger brothers, Dane, was an actor, too.

The family moved to Los Angeles when Erika was still young. By the time she turned 12, she knew that she wanted to make a career in the entertainment industry. She started appearing in TV and print commercials. One of her most popular advertisements was for 'McDonald's.' She appeared in the commercial when she was still a teenager.

She trained in dance and acting at a tender age. This helped her a lot while auditioning for film and TV roles.

Her parents were religious people and had been following Scientology for a long time. They raised their children according to the same faith, and Erika continued to follow the faith even after she attained international fame. Gradually, she became one of the major celebrity representatives of the 'Church of Scientology.'

As she had started appearing in films and TV series since the beginning of her teenage years, she could not attend school regularly. She was thus homeschooled.

Recommended Lists:

Recommended Lists:

Career

Appearing in the 'McDonald's' commercial paved her way to the entertainment industry. The commercial was telecast nationally, and she was noticed by many talent agencies.

She made her acting debut in 1997, with a small role in the series 'Nothing Sacred.' The same year, she made her big-screen debut, with the film 'Leave It to the Beaver.' It was a critically and commercially successful film that helped her establish herself in the industry.

Soon, she appeared in one-episode roles in series such as 'Frasier,' 'Touched by an Angel,' and 'The Practice.' In 1999, she appeared in the 'Disney' science-fiction TV film 'Can of Worms.' It was one of the first leading roles of her career. It attained significant success in terms of ratings and reviews.

The same year, she had another major career breakthrough when she appeared in the video for Michael Jackson's song 'Childhood.' She also played a supporting role in the sitcom 'Thanks' that year.

In 2000, ace director Steven Soderbergh offered her a role of a drug-addicted teenager in his film 'Traffic.' Her character, 'Caroline Wakefield,' was one of the key characters of the film. The film received many awards and nominations, and the performances of the actors were appreciated internationally.

The same year, she appeared in guest roles in the series 'The Pretender' and 'Time of Your Life.' The following year, she played a recurring character in the sitcom 'The Geena Davis Show.' Her guest appearance on 'That '70s Show' was also loved by her fans.

2002 was a big year for Erika, as she appeared in key roles in three films. She appeared in the psychological thriller 'Swimfan.' The same year, she also appeared in the crime drama 'Home Room' and the comedy film 'The Banger Sisters.' The variety that she exhibited benefitted her career in a major way.

Continue Reading Below

In 2003, she appeared in the 'MTV' film 'Wuthering Heights,' which was based on the classic novel of the same name. The musical had many songs, and Erika also provided her vocals to the soundtrack. In the next few years, she delivered praiseworthy performances in films such as 'The Upside of Anger,' 'The Sisters,' and 'Flightplan.'

She was also selected to play a key role in the series 'Six Degrees,' but it was met with poor reception and was thus canceled after one season.

In 2007, she appeared in the comedy 'Gardener of Eden,' playing 'Mona Huxley.' The independent film was directed by Kevin Connolly and received positive reviews. However, it failed to rake in good box-office numbers, as it had received a limited release.

The independent crime comedy 'How to Rob a Bank' was her second film of the year. It was appreciated at several film festivals. Her roles in series such as 'Mercy' and 'Lie to Me' were critically acclaimed. Soon, she established herself as a great actor who did not shy away from taking risks.

In 2010, she became part of the cast of 'Parenthood.' For the next six years, she appeared in almost every episode of the series and played the role of 'Julia Braverman-Graham' to perfection. She was also honored with many awards and nominations for her portrayal of the character.

In 2015, she was made part of crime series 'Wicked City' and played the role of a single mother in love with a serial killer. Her portrayal received accolades, and she ended up receiving a number of major award nominations for her role.

Of late, she has appeared in the TV film 'Anything for Love,' where she appeared as the lead, alongside Paul Greene. She has also appeared in the TV films 'Confirmation' and 'The Follower.'

Recommended Lists:

Recommended Lists:

Awards & Honors

Her role of a drug-addicted teenager in the film 'Traffic,' earned Erika several awards and nominations. In 2001, she won the 'Breakthrough Female Performance' award at the 'MTV Movie Awards' and the 'Standout Performance' award at the 'Young Hollywood Awards' for her performance in the film.

She also won a 'Gracie Award' for her performance in 'Parenthood.' 'People' magazine named her among the 'Breakthrough Stars of 2001.'

Recommended Lists:

Recommended Lists:

Personal Life

Erika Christensen dated cyclist Cole Maness for a while before she got engaged to him in 2014. The couple tied the knot in September 2015.

In March 2016, the couple announced that they were expecting a child. They had a daughter, Shane, in June that year. The couple had another daughter, Polly, in August 2018.

Erika believes in Scientology, which is known as a very orthodox faith. She has defended the organization publicly on many platforms.

Erika once claimed that she had suffered from major body-image issues while growing up. She stated that she had always been proud of her upper body more than her lower body.

| | | |
| --- | --- | --- |
| 2001 | Breakthrough Female Performance | Traffic (2000) |

Translate Wiki

to Spanish, French, Hindi, Portuguese

Article Title

- Erika Christensen Biography

Author

- Editors, TheFamousPeople.com

Website

- TheFamousPeople.com

URL

-

https://www.thefamouspeople.com/profiles/erika-christensen-42082.php

Last Updated

- September 07, 2018

---

---

---