Emma Morano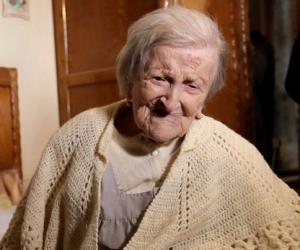 Quick Facts
Birthday: November 29, 1899
Nationality: Italian
Famous: Italian Women Sagittarius Women
Sun Sign: Sagittarius
Also Known As: Emma Martina Luigia Morano
Born in: Civiasco, Vercelli
Famous as: Supercentenarian
Height: 1.52 m
Family:
Spouse/Ex-: Giovanni Martinuzzi (m. 1926–his death 1978; separated 1938)
father: Giovanni Morano
mother: Matilde Bresciani
siblings: Angela Morano
place of death: Verbania
Continue Reading Below
Once regarded as the world's oldest living person, Emma Morano was an Italian woman who died at the age of 117 years and 137 days. The Italian super centenarian lived through three centuries and was also the last verified living person from the 1800s. Morano was also regarded as one of the five oldest people in the history of the world. In July 2016, Morano earned a place in the 'Guinness World Records,' as the oldest living person. In a way, she achieved the feat by doing nothing but surviving through life. She attributes her long life to eating raw eggs daily and not getting involved with a man all her life. It is said that she had fallen in love with a man when she was young but never saw him afterward. At 26, she married another man, only to separate in a few years. Following this, she decided to not give marriage much importance. She also remains to be the oldest Italian person to have ever lived and the second-oldest European after Frenchwoman Jeanne Calment. After Emma's death, the tag of the world's oldest living person went to Violet Brown of Jamaica, followed by Nabi Tajima of Japan. However, Tajima, too, died on April 21, 2018, making Chiyo Miyako of Japan, aged 116, the current oldest living person.
Childhood & Early Life
Emma Martina Luigia Morano was born on November 29, 1899, in Civiasco, Vercelli, Piedmont, Kingdom of Italy, to Giovanni Morano and Matilde Bresciani. She was the first of their eight children.

She had four sisters and three brothers. Her extraordinarily long life may be attributed to good family genes. Her mother, her aunt, and a few of her other family members lived to reach the age of 90. Her sister Angela Morano died after she turned 102, in 2011.

She moved to Ossola from the Sesia Valley due to her father's job. Her father worked in a foundry and eventually turned blind.

Her mother earned a living by making slippers out of layered fabrics. Morano soon moved to Verbania on Lake Maggiore because she often fell sick due to the terrible weather of Ossola.

She lived in Verbania for the rest of her life. Morano was also the last surviving member of her family.

Career

Morano worked at a jute factory, known as 'Maioni Industry,' until 1954. She then earned her living by cooking in the kitchen of a Marianist boarding school named 'Collegio Santa Maria,' and worked there until her retirement.

She retired at the age of 75 and continued living in her home until her death. She lived through two World Wars and almost 90 Italian governments.

She soon came to be known as the oldest living human being on the planet, and attributed her long life to her genes, her daily intake of raw eggs, her early-to-bed schedule, and her single life.

In 2013, she revealed that her secret to longevity was that she ate three raw eggs with a glass of home-made grappa regularly and had a positive outlook toward life. She also revealed her love for chocolate.

On April 2, 2013, after the death of 113-year-old Maria Radaelli, Morano became the oldest person in Italy and Europe. She also became the oldest verified living person in Italy after Venere Pizzinato and Dina Manfredini.

She was interviewed by a 'RAI' show at the age of 114. The live interview was short but interesting.

She received wishes from Pope Francis on her 116th birthday. She was the last verified person from the 1800s. She became the world's oldest living person on May 13, 2016, after the death of American supercentenarian Susannah Mushatt Jones.

Continue Reading Below

Her 117th and last birthday celebration was broadcast live in Italy. It was more like a concert where she reminisced about significant parts of her life that she had experienced and survived, including the World Wars, her job at the jute factory, and her decision to leave her abusive husband during a time when separation from one's spouse was not appreciated.

Awards & Achievements

In December 2011, Morano was awarded the 'Knight of the Order of Merit of the Italian Republic' by President Giorgio Napolitano. On July 29, 2016, she was named the "oldest person alive" by the 'Guinness World Records.'

She was also honored with various certificates, including those from Italian presidents, children, and various organizations.

Personal Life

Emma Morano remained single for most of her life. In fact, she considered her singlehood to be one of the main reasons for her long and happy life.

She fell in love with a boy at a young age, but according to her, he was killed during 'World War I.' She never felt the need to marry someone else for a long time after this incident.

When she was 26, she got married to a man named Giovanni Martinuzzi. Giovanni was an abusive husband. According to Morano, he had threatened to kill her if she refused to marry him.

She got married to him in October 1926 and gave birth to their son in 1937. Unfortunately, her son died when he was only 6 months old.

Continue Reading Below

One evening, she got so sick of his behavior that she drove him out of her house. This happened in 1938.

She remained separated from him for the rest of her life and never got married again, although she never divorced him.

Her husband died in 1978, but Emma lived on. One of the reasons behind her decision of not getting married again was that she did not wish to be dominated by a man.

She had a pet cat named Lola. She took care of herself and often visited the salon to get her hair styled.

People from all over the world often came to visit her and always found her dressed well.

Morano died on April 15, 2017, in her home in Verbania. She died peacefully in her sleep, next to the photo of her son who had died in 1937.

Carlo Bava was her doctor for 27 years. He stated that when he had met her for the last time, Morano had held his hand and had thanked him for taking care of her.

She was buried in the local cemetery. After her death, Violet Brown of Jamaica became the world's oldest living person.

Violet died on September 15, 2017, at the age of 117, passing the baton to 117-year-old Nabi Tajima of Japan, who was to turn 118 on August 4, 2018. However, Tajima, too, died on April 21, 2018, making Chiyo Miyako of Japan, aged 116, the current oldest living person.

Translate Wiki

to Spanish, French, Hindi, Portuguese

Article Title

- Emma Morano Biography

Author

- Editors, TheFamousPeople.com

Website

- TheFamousPeople.com

URL

-

https://www.thefamouspeople.com/profiles/emma-morano-38575.php

Last Updated

- April 26, 2018

---

---

---