Emma Blackery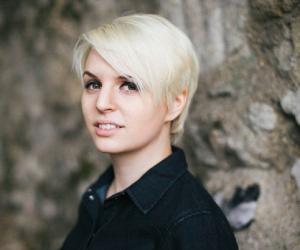 Quick Facts
Birthday: November 11, 1991
Nationality: British
Age: 27 Years, 27 Year Old Females
Sun Sign: Scorpio
Also Known As: Emma Louise Blackery
Born in: Basildon, England
Famous as: YouTube vlogger, singer & songwriter
Height: 1.57 m
Family:
father: Michael Blackery
mother: SheilaBlackery
siblings: Half siblings Febe and Travis
City: Basildon, England
More Facts
education: The Bromfords School
Continue Reading Below
Today YouTube is an outlet for many talented minds to create some great content. Through this very same means Emma Blackery has woven a successful career for herself. She is a talented comedian, singer and songwriter, who regularly uploadsvlogs to her YouTube channel. The beautiful lady has gathered over 1.2 million subscribers on YouTube owing to her melodious voice and candid vlogs. She even has a splendid 470K fan following on Twitter and 380K fan following on Instagram. Facebook has several pages dedicated to her, with her original page itself consisting of nearly 200K fans. With her music videos and home song demo videos, she has created around 250 videos crossing 117 million views. Well, that sums up her celebrity status! YouTubers Jason, Cherry and Luke, have also made collaborative vlogs with her.
Recommended Lists:
Recommended Lists:
Continue Reading Below
The Meteoric Rise to Stardom
Emma has always been intrigued by YouTube. Her first channel was titled 'Pink Fluffy Hat Time' and it was called so because she wore the same hat bought by her father in her videos. She later deleted the channel. In 2011, she created another channel called 'These Silent Seas', where she only posted music videoswhile she was still a student. After attaining a degree in politics, Emma became a full-time waitress. However, her work never made her feel content, so she turned to YouTube once again and in 2012, created yet another channel with her name 'Emma Blackery.' She was to upload only home song demos, but stumbled upon the famous erotic novel 'Fifty Shades of Grey' by E. L. James and began reading and recording it. Till date she regrets it, as she fell into a little trouble and the videos were deleted due to issues pertaining to copyrights. She then focused once again upon her hidden talent of music and released three successful EP's, followed by her fourth in 2016 titled 'Sucks to Be You.' Today she has her own brand, with her website selling caps, t-shirts and badges with her logo on it!

Recommended Lists:

Recommended Lists:

Continue Reading Below

What Makes Emma Blackery So Special

She certainly is one to learn from her mistakes; she has picked herself up and has marched forward. Emma is not only gorgeous but is dauntless too. She has overcome a rough past to create a bright future for herself. She is a beacon to so many women who want to be successful and make a name for themselves. Her great sense of humor has made a mark for her as a comedian, with her voice harnessing fame for her. She is full of life and cherishes all her friends.

Recommended Lists:

Recommended Lists:

Beyond Fame

Emma is a homebody; she continues to live in her parents' home with her two younger siblings and would any day pick sitting at home over wanderingin the streets. She loves reading, and her favorite book is 'The Lovely Bones.' When it comes to fashion, she is generally an online shopper and buys her clothes from 'ebay.' Her favorite beverage is cold tea. She loves potato chips, pies and chocolates. She loves coloring her hair with funky shades of red, blue and pink, and wears hair extensions too to add volume to her bizarre haircuts.

Behind The Curtains

She was born in Essex, to Sheila and Michael Blackery. As a child she grew up watching Spice Girls perform on television. She knew even at a young age that music was her first love, and her parents recognized her passion as well. They bought her CDs of Michael Jackson and Madonna. Listening to those, she picked up her music skills. On her 8th birthday, her parents took her to Disneyland, Florida, and that was probably the best day in her life. In secondary school, she hardly knew anyone and was timid until she met Lisa, who is still her best friend. Her parents separated when she was 12, and her mom left Emma and her father. Emma lived with her father, but missed her mother a lot, and went into depression, blaming her mother for everything. One day her mother returned to her life with a little boy and a girl. These were her half siblings, Febe and Travis. Emma loves them to bits and can't get enough of them! She later went to SEEVIC College and graduated in politics before getting lucky as a successful YouTuber. She dated Luke Cutforth for three years but the couple recently broke upmutuallyand the two are still on good terms. She is currently single and wants to focus on her career.

Trivia

Emma ended her three year relationship with Luke Cutforth, who is also her best friend. It was a mutual and healthy breakup, and was necessary to keep their friendship alive.

Last Updated : January 05, 2017

Translate Wiki

to Spanish, French, Hindi, Portuguese

---

---

---

Emma Blackery Fans Also Viewed