Edward Snowden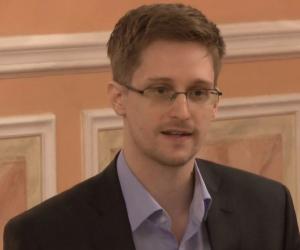 Quick Facts
Nationality: American
Famous: Scientists American Men
Age: 36 Years, 36 Year Old Males
Sun Sign: Gemini
Also Known As: Edward Joseph Snowden, Ed Snowden
Born in: Elizabeth City, North Carolina, U.S.
Famous as: Computer Professional, Former CIA Employee
Family:
father: Lonnie Snowden
mother: Elizabeth Snowden
U.S. State: North Carolina
More Facts
education: Anne Arundel Community College
awards: Sam Adams Award
Fritz Bauer Prize
Ridenhour Truth-Telling Prize

Right Livelihood Award
Stuttgart Peace Prize
Carl-von-Ossietzky-Medaille
Whistleblower Prize
Bjørnson Prize
Ossietzky Prize
The glass of reason
SUMA Award

Continue Reading Below
Edward Snowden is an American computer professional and former American National Security Agency subcontractor, who blew the whistle about many of his employer's 'unethical' activities. The reason he gave for the leaks was that 'their practices were disturbing' and he thought it was the right thing to do to show the world what the intelligence agency was up to. He revealed that NSA was included in some domestic surveillance practices, which he thought were infringement of privacy and spent several years collecting evidences. Snowden, worrying his safety, fled to Hong Kong and met with a reporter from 'The Guardian' to get his findings printed, shocking the world, especially the United States of America. Presently, Snowden is staying in Russia and stands strongly with his decision of getting the documents leaked. A documentary made on his life and works, titled 'Citizenfour' won an Oscar in 2015 and ace director Oliver Stone also made a film on his life titled 'Snowden', where his role was played by Joseph Gordon Levitt. Snowden remains a national hero in eyes of most of American public, while an outlaw for NSA.
Recommended Lists:
Recommended Lists:
Continue Reading Below
Childhood & Early Life
Born on June 21, 1983 in North Carolina, USA, Edward Snowden's father was a coast guard officer and mother chief deputy at the US District Court in Maryland. His grandfather served at FBI for some years. Snowden said that ever since he was a kid, he was quite sure about the fact that he will serve the federal government like rest of his family.

His parents separated while Snowden was a teenager but he didn't let that affect his academics and went on scoring top ranks in school. His mind was sharp and his I.Q. was well over 140, making him one of the rarest of human beings who possess high level intelligence. An illness caused him to remain absent from the high school for a long stretch, and despite that, he went straight for a GED test, which he cracked and went on to attend classes at Anne Arundel Community College.

He didn't even finish his undergraduate degree, and went on to attempt a master's degree at the University of Liverpool. He was pretty much influenced with Japanese and Chinese culture, which encouraged him to learn Japanese and Chinese along with Chinese martial arts. He adapted Buddhism as his religion at the age of 20.

Recommended Lists:

Recommended Lists:

Career

Edward Snowden got a job at the Central Intelligence Agency, CIA, as an IT professional in 2006, which he instantly knew wasn't what it seemed from a distance. He discovered the surveillance system which infiltrated the privacy of general population and started collecting documents. Following a suspicion of breaking into the top classified documents, Snowden was fired and he went on to work with Dell, in one of NSA's offices in Japan. He worked as a sub contractor there from 2009 until 2013.

He went on to work with Booz Allen Hamilton after leaving Dell, another tech consultant company, where he worked for three months. His interest in the top secret files of NSA grew while working at Booz Allen and he devised ways to break into the top secret vaults of their system, and found out the practises which he thought were immoral, unethical and needed to be halted immediately. He went on to build a dossier of all the information he collected, which he thought were necessary to prove his point.

Once he was done with collecting the relevant documents, he took a medical leave stating that he suffered with epilepsy. He arranged a meeting with a journalist from 'The Guardian' and a documentary filmmaker Laura Poitras in a Hong Kong hotel. In June 2013, the information was officially presented to the whole world through The Guardian where it stated that American public's phones were getting tapped without their knowledge and some of them were being kept under surveillance.

The information was gathered through PRISM, a program devised by NSA itself. The world was shaken and NSA went bitter as Edward kept addressing media from Hong Kong and told them that he wouldn't allow this to happen on his watch that the privacy of general public was monitored every second of the day and it harms the basic rights of human beings to be free. The US government replied to the leaks almost immediately and charged Snowden with the accusations of 'theft of government properties' and 'illegal communication of intelligence information to an unauthorized person' under the espionage act.

Snowden moved out of Hong Kong and went to Russia, where due to the passport issues, he got stranded at the airport for close to a month, but somehow, Russian government allowed him to stay in the country and rejected several of America's requests to extradite him. Americans started considering him a national hero and a petition was started to free Snowden of all the charges to President Barack Obama. Several appeals of clemency made by Snowden were rejected by the American government.

Snowden continued living in Russia while Barack Obama asked the intelligence agencies to look into the matter and reconsider their security protocols. In 2014, Snowden claimed that he didn't have the NSA documents with him anymore and he had given it all to the journalists in Hong Kong when the US government feared that Russians might use them for their benefit.

He stayed in Russia for an indefinite period of exile, but he remains a controversial figure in America. He made a much awaited appearance at the Southwest festival through teleconferencing in March 2014 and it was revealed that the US government has lost billions of dollars owing to the leaks. In May, Snowden cleared the air and said that he was a patriot and the welfare of his country's people is on his priority list and he would want to return to his homeland.

Several human right groups have asked the US government to pardon Snowden and he himself has apologized to president Obama several times and expects that he will be allowed an entry in his country.

In 2014, 'Citizenfour', a documentary film on the life of Snowden, made by Poitras, came out and received huge critical acclaim, eventually winning an Oscar. Several other films and documentaries followed and Snowden ended up achieving a celebrity status in the USA and the world. He has constantly denied allegations of being a traitor to his country and said that he thought it was needed to be done as the general public had to be told how the government was keeping a watch all the time.

Personal Life

Snowden met Lindsay Mills back in America and the couple started dating, but right before the leaks he broke up with her, citing her safety to be the main concern. However, when he went to live in Russia, Lindsay joined him there and the couple has been together ever since. In 2015, Mills showed herself at the Oscar award ceremony, when Poitras accepted the award for 'Citizenfour'.

Net Worth

Edward Snowden's net worth is close to USD 8.6 millions.

Translate Wiki

to Spanish, French, Hindi, Portuguese

Article Title

- Edward Snowden Biography

Author

- Editors, TheFamousPeople.com

Website

- TheFamousPeople.com

URL

-

https://www.thefamouspeople.com/profiles/edward-snowden-16179.php

Last Updated

- July 22, 2017

---

---

---