David Muir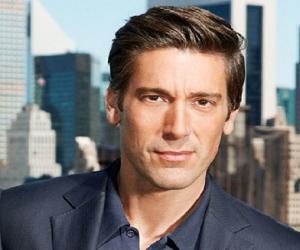 Quick Facts
Birthday: November 8, 1973
Nationality: American
Famous: TV Anchors Journalists
Age: 45 Years, 45 Year Old Males
Sun Sign: Scorpio
Also Known As: David Jason Muir
Born in: Syracuse, New York
Famous as: Journalist
Height: 1.80 m
Family:
father: Ronald Muir
mother: Pat Mills
siblings: Rebecca Muir
U.S. State: New Yorkers
More Facts
education: Roy H. Park School of Communications, Georgetown University, IES Abroad, Ithaca College, University of Salamanca
Continue Reading Below
David Muir is an American journalist and anchor, best known for his ABC news program, 'World News Tonight with David Muir', as well as for the ABC News magazine '20/20', for which he serves as a co-anchor. His show, with its dramatic video footage, celebrity gossip and his animated gestures, has become the most watched newscast in America. He is also known for his Emmy-nominated series 'Made In America'. Prior to taking over 'ABC World News Tonight', he was the main substitute anchor for his predecessor Diane Sawyer. He has reported numerous primetime specials for ABC News, some recent ones being 'Breaking Point: Heroin in America' and 'Flashpoint: Refugees in America'. He has traveled around the world to cover news from Gaza, Egypt, Iran, Somalia, Japan, Peru, Ukraine, Haiti and the Gulf of Mexico. He has received multiple 'Emmy Awards', 'Edward R. Murrow Awards', as well as honors from the Associated Press.
Recommended Lists:
Recommended Lists:
Continue Reading Below
Childhood & Early Life
David Jason Muir was born on November 8, 1973 in Syracuse, New York, and grew up in a Roman Catholic family in Onondaga Hill. He is the second child of Pat Mills and Ronald Muir, who later got divorced. He has two younger step-siblings as well.

He dreamed of a career in television journalism as a child, and while attending Onondaga Central Junior-Senior High School, used to read the school announcements each morning like a newscast. By this time, he had a part-time job of bagging groceries at Wegmans Fairmount and was an intern at Channel 5.

After completing school in May 1991, he enrolled into Park School of Communications at Ithaca College, from where he graduated magna cum laude with a B.A. degree in Journalism in May 1995. While still in college, he attended the Institute on Political Journalism at Georgetown University and spent a semester studying abroad at the University of Salamanca in Spain.

Recommended Lists:

Recommended Lists:

Career

Joining WTVH-TV in Syracuse in 1995 as an anchor and a reporter, David Muir traveled to Jerusalem, Tel Aviv, Israel, and the Gaza Strip to cover the assassination of Israeli Prime Minister Yitzhak Rabin. He was soon honored by the Radio-Television News Directors Association and the Associated Press, and was named one of the 'Best Local News Anchors' in Syracuse.

In 2000, he joined WCVB television in Boston, and during his three-year stay there, he ran a story tracing the path of the hijackers behind the 9/11 attacks. His work was again recognized by the Associated Press, and he also received the regional 'Edward R. Murrow Award' and the 'National Headliner Award' for the investigations.

He began his long-lasting association with ABC News in August 2003 as anchor of the overnight news program 'World News Now'. He subsequently became anchor of ABC News' early morning newscast 'World News This Morning', now known as 'America This Morning'.

Muir, who was trapped inside the New Orleans Superdome when the category 5 Hurricane Katrina hit in September 2005, reported on the deteriorating conditions inside the Convention Center and Charity Hospital braving chest-deep waters.

Since 2006, he began to occasionally co-anchor the newsmagazine show, 'Primetime'. He also began anchoring the show 'World News Saturday' starting in June of the following year.

He traveled to the Israeli-Lebanon border in October 2006 to report on Israel's war with Hezbollah, and in March next year, reported from inside the Gaza Strip on the Hamas coup. In October 2007, he went to Peru to cover the worst earthquake to hit the country in over two decades, and reported from Ukraine in September 2008.

He and Diane Sawyer reported on a '20/20' hour about guns in America in April 2009, and in May, he did another '20/20' to reveal significant increase in the number of homeless children in America. He reported on the devastating earthquake in Haiti in January 2010, and returned there several times to investigate attacks on women and report on mental health crisis.

Continue Reading Below

In April 2010, he traveled to the Gulf of Mexico multiple times to cover the BP oil spill, and in March 2011, covered the deadly tsunami and nuclear power plant accident from Fukushima, Japan. He subsequently covered the political revolution in Egypt; the famine in Mogadishu, Somalia; reported from scene of President Obama's visit following the school shooting in Newtown and the movie theater mass shootings in Aurora, Colorado.

In February 2012, he became the sole anchor of his own weekend newscast show, named 'World News with David Muir', following which the weekend evening broadcasts witnessed a steady rise in the ratings. He was one of ABC's lead correspondents for the 2012 U.S. Presidential election later that year, during which his interview of Republican candidate Mitt Romney created national headlines.

His 'Made In America' series on the American economy has become the staple of his shows, including other TV programs like 'The View' that he co-hosted. He received yet another promotion in March 2013, when he was selected to co-anchor ABC's '20/20' with Elizabeth Vargas.

While he had been the main substitute for 'World News with Diane Sawyer' for some time, he finally succeeded Diane Sawyer as the anchor and managing editor of 'ABC World News' in September 2014. The program was subsequently rebranded 'World News Tonight with David Muir', which became the most-watched evening newscast in US in April 2015.

He broadcast exclusive interviews of Apple CEO Tim Cook amidst his company's battle with the FBI over unlocking the San Bernardino killer's iPhone, and of former President Barack Obama during his historic trip to Cuba. He was also the first to interview President Donald Trump after his inauguration, an experience he later termed as "awkward".

Recommended Lists:

Recommended Lists:

Major Works

David Muir's 'World News Tonight with David Muir' has become the most watched evening newscast in America, overtaking 'NBC Nightly News' for the first time since September 7, 2009. Prior to taking over the show in 2014, he was already one of the most visible journalists in America, receiving the most airtime in 2012 and 2013.

Awards & Achievements

David Muir has won multiple 'Emmys' and 'Edward R. Murrow Awards' for his work as a national and an international journalist. He was included in 'TV Week' list of '12 to Watch in TV News' in 2013 and was named one of People Magazine's 'Sexiest Men Alive' in 2014.

In 2015, he received honorary doctorate degrees from Ithaca College and Northeastern University, and also won the 'Jessica Savitch Award of Distinction for Excellence in Journalism'. He was named 'Citizen of the Year' by Temple Adath Yeshurun in Syracuse in 2017.

Personal Life & Legacy

David Muir keeps in touch with his alma matter Ithaca College by mentoring young students, and was the school's commencement speaker in May 2011. He also delivered the commencement addresses at Northeastern University in Massachusetts and the University of Wisconsin-Madison in Madison.

Trivia

David Muir had told his sixth-grade teacher that he would be a newscaster and take Matt Lauer's job, and had written a note to Channel 5 anchor Ron Curtis asking for career suggestions. Encouraged by his typewritten reply that he could succeed despite severe competition in the field, he began volunteering at Channel 5 studios on James Street, carrying tripods, receipts, or fetching drinks.

Translate Wiki

to Spanish, French, Hindi, Portuguese

Article Title

- David Muir Biography

Author

- Editors, TheFamousPeople.com

Website

- TheFamousPeople.com

URL

-

https://www.thefamouspeople.com/profiles/david-muir-15017.php

Last Updated

- July 17, 2018

---

---

---