Damon Wayans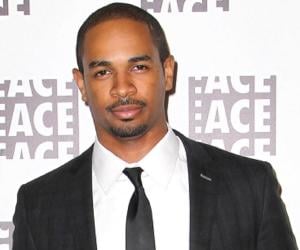 Quick Facts
Birthday: September 4, 1960
Nationality: American
Famous: Black Comedians African American Men
Age: 58 Years, 58 Year Old Males
Sun Sign: Virgo
Born in: Harlem, New York City, New York, United States
Famous as: Actor
Height: 6'2" (188 cm), 6'2" Males
Family:
Spouse/Ex-: Lisa Thorner
siblings: Diedre Wayans, Dwayne Wayans, Elvira Wayans, Keenen Ivory Wayans, Nadia Wayans, Shawn Wayans, Vonnie Wayans
children: Cara Mia Wayans, Damon Wayans Jr., Kyla Wayans, Michael Wayans
City: New York City
U.S. State: New Yorkers
Continue Reading Below
Damon Kyle Wayans, Sr. is an American film actor, producer and writer belonging to the Wayans family of entertainers. He began his career by doing stand-up comedy and started gaining popularity with his performance in the American TV sketch comedy series 'Saturday Night Live' in the 1980s. He rose to fame after he started his own TV series along with his brother Keenen Wayans. The show, which was named 'In Living Color', started airing from April 1990. Since then he has ventured into movies too, appearing in films such as 'Major Payne,' a military comedy film written by him in which he played the main role as well. Then he appeared in the American cop comedy film 'Bulletproof' directed by Ernest Dickenson. Later he appeared in 'My Wife and Kids', an American TV show which started airing from 2001. He played the role of a loving husband as well as the father of three children who teaches his children with his unique parenting style. Wayans' role in 'My Wife and Kids' was highly appreciated all over the country and he was awarded the 2002 People's Choice Awards for Favorite Male Performer in a New TV Series.
Recommended Lists:
Recommended Lists:
Continue Reading Below
Childhood & Early Life
Damon Wayans was born on 4 September 1960, in Harlem, New York City. His father was Howell Stouten Wayans, who worked as a supermarket manager, and his mother was Elvira Alethia, who along with being a homemaker, was also a singer and a social worker.

Wayans has five sisters and four brothers. As a child, he used to suffer from clubfoot, a deformity in which the affected foot seems to have been rotated at the ankle.

He attended the Murry Bergtraum High School, a public school in New York City. According to Wayans, despite being from a poor family, he doesn't have any bad memories of his childhood.

After dropping out of school in ninth grade, he started doing odd jobs to support himself till he made up his mind to try his luck in Hollywood where his elder brother was already trying to find work as an actor.

Recommended Lists:

Recommended Lists:

Career

Damon Wayans began his career by doing stand-up comedy. His first film role was a small cameo appearance in 'Beverley Hills Cop' where he appeared as a hotel employee. Later he came to popularity through his appearance in 'Saturday Night Live.' He left the show a year later to pursue his career in films.

He appeared in films such as 'Hollywood Shuffle', a 1987 satirical comedy film, 'Roxanne' a 1987 romantic comedy, and 'Punchline' a 1988 comedy film.

In 1990, he started appearing in a comedy show created by his brother and himself called 'In Living Color' which brought him much fame throughout the country. He stayed on the show for two years, after which he left to focus on movies again.

In the 1990s, he appeared in several successful films, such as 'Mo' Money', a 1992 American crime comedy film, 'Blankman', a 1994 Superhero comedy, and 'Major Payne', a 1995 American military comedy.

Damon Wayans played the main role in 'My Wife and Kids', a popular American TV show, which started airing from March 28, 2001. His role as a loving husband and father was much loved and appreciated by the audience.

He also acted in many other TV programs such as 'The Underground' which started airing from 2006, and 'Happy Endings' which started airing from 2011.

His most recent appearance is in the show 'Lethal Weapon' an American comedy drama TV series, which is based on a film series of the same name. It started airing on September 21, 2016 on Fox Television Network.

Recommended Lists:

Recommended Lists:

Major Works

Damon Wayans came to limelight with the American late-night TV show 'Saturday Night Live.' The show focused on parodying contemporary culture and politics, with a large cast that included both old and new actors. The show has received several awards including 50 Primetime Emmy Awards, two Peabody Awards, as well as three Writers Guild of America awards. Wayans left the show in 1986.

Wayans appeared in 'In Living Color' an American comedy TV series that ran on Fox TV Network from 15 April 1990. It was written and created by him and his brother Keenen Wayans. Not only was the show a huge hit, but his performance also won him much fame across the country. Slowly, the show started gaining international prominence and won several awards. Other popular actors who appeared in the show include Jim Carrey, Jamie Foxx, and Anne-Marie Johnson.

In 1992, Damon Wayans appeared in an American crime comedy film 'Mo' Money.' It was written by Wayans himself and was directed by Peter Macdonald. Along with Wayans it starred actors such as Stacey Dash, Joe Santos, John Diehl, and Harry Lennix. The film was released on the 24 July 1992. The film debuted at No. 1 at the box office, grossing more than $40 million in North America alone. However, it received mostly negative reviews.

In 1995, Wayans appeared in 'Major Payne' an American military comedy film, which was directed by Nick Castle and written by Wayans himself. Wayans played the lead role of Major Benson Winifred Payne. Other actors who appeared in the movie were Karyn Parsons, Steven Martini, and Michael Ironside. Though it received mixed reviews from critics, and was criticized for having a predictable story, the movie debuted at No. 2, grossing more than $30 million worldwide.

Recommended Lists:

Recommended Lists:

Awards & Achievements

For his amazing acting and directing skills in 'In Living Color', he received four Emmy Award nominations.

He won the 2002 People's Choice Award for 'Favorite Male Performer in a New TV Series' because of his splendid performance in 'My Wife and Kids.' He also received four International Press Academy nominations for Golden Satellite Awards.

Personal Life & Legacy

Damon Wayans was once married to Lisa Thomer with whom he had two sons and two daughters. The couple divorced in the year 2000.

His sons are Damon Wayans Jr. and Michel Wayans, and his daughters are Cara Mia Wayans and Kyla Wayans.

In 2013, Wayans was diagnosed with Type 2 diabetes.

1. Beverly Hills Cop (1984)

(Comedy, Action, Crime)

2. The Last Boy Scout (1991)

(Action, Thriller)

---

3. Hollywood Shuffle (1987)

(Comedy)

4. Colors (1988)

(Romance, Action, Thriller, Drama, Crime)

---

---

5. Roxanne (1987)

(Comedy, Romance)

6. I'm Gonna Git You Sucka (1988)

(Crime, Action, Comedy)

---

---

---

7. Bamboozled (2000)

(Comedy, Music, Drama)

8. Last Action Hero (1993)

(Adventure, Action, Comedy, Fantasy)

---

---

---

---

| | | |
| --- | --- | --- |
| 2002 | Favorite Male Performer in a New Television Series | My Wife and Kids (2001) |

Translate Wiki

to Spanish, French, Hindi, Portuguese

Article Title

- Damon Wayans Biography

Author

- Editors, TheFamousPeople.com

Website

- TheFamousPeople.com

URL

-

https://www.thefamouspeople.com/profiles/damon-wayans-29931.php

Last Updated

- February 22, 2017

---

---

---