Crystal Gayle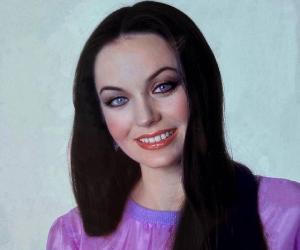 Quick Facts
Nationality: American
Famous: Pop Singers Country Singers
Age: 68 Years, 68 Year Old Females
Sun Sign: Capricorn
Also Known As: Brenda Gail Gatzimos
Born in: Paintsville
Famous as: Singer
Height: 1.57 m
Family:
Spouse/Ex-: Bill Gatzimos
father: Melvin
mother: Clara Marie Ramey Webb
siblings: Betty Ruth Webb, Donald Webb, Herman Webb, Jay Lee Webb, Loretta Lynn, Melvin Webb Jr., Peggy Sue
children: Catherine Clare Gatzimos, Christos James Gatzimos
U.S. State: Kentucky
More Facts
education: Wabash High School
Continue Reading Below
Brenda Gail Gatzimos, popularly known as Crystal Gayle in the music industry, is one of the legendary country-pop singers in the history of contemporary American music. It was her magical voice that made the iconic 1977 country-pop crossover song 'Don't It Make My Brown Eyes Blue' a super-hit. The singer has the honor of being the first ever female country-pop singer to deliver platinum sales with her 1977 album 'We Must Believe in Magic'. Crystal holds a record of 20 country songs ranked at No.1 during the 1970s and 1980s, with 18 of these tracks topping the Billboard charts and the other two on Cashbox. The talented singer is also known for her beauty and magnetic stage presence with her long dark hair almost touching the floor. Along with rocking the music world, she also rocked many hearts in the audience in the peak of her youth. During the late 1970s, she became the first ever country musician to tour China as well as host her own television special. She is a member of the Grand Ole Opry and also has a star on the Hollywood Walk of Fame. She is a Grammy Award winner as well.
Recommended Lists:
Recommended Lists:
Continue Reading Below
Childhood & Early Life
Crystal Gayle was born as Brenda Gail Webb in Paintsville, Kentucky, on January 9, 1951, to Clara Marie and Melvin Theodore Webb, who was a coal miner as well as a farmer by profession.

She grew up in a big family as the youngest of eight siblings. Her siblings include the legendary singer Loretta Lynn, Melvin Webb (passed away in 1993), Herman Webb, Willie "Jay" Lee Webb (passed away in 1996), Donald Ray Webb (passed away in 2017), Peggy Sue Wright, and Betty Ruth Webb.

At the age of four, she moved to Wabash, Indiana with her family. Her father passed away four years later due to coalworker's pneumoconiosis (also known as the black lung disease among the coal miners).

During her childhood, she used to listen to country music on the radio and her mother encouraged her to sing them in front of guests. This led to her falling in love with the country-pop genre. Her sister Loretta soon ventured into a singing career, further inspiring young Brenda.

Brenda graduated from Wabash High School in 1970 and followed Loretta's footsteps by signing with the Decca Records. As there was already another singer named "Brenda" listed with the company, Loretta decided to choose another name for her sister. She came up with the name of 'Crystal Gayle' after seeing a Krystal Hamburger restaurant chain.

Recommended Lists:

Recommended Lists:

Career

Crystal Gayle started her career with a bang: her first ever track 'I've Cried (The Blue Right Out of My Eyes)' hit the Billboard and peaked at number 23 in 1970. However, she was unable to maintain the momentum and failed to score another hit for the next few years.

After almost four years and only two tracks in the Top 40 (the debut track along with 'Restless' in 1974), Crystal became frustrated and left Deccan Records to join United Artists. The producer Allen Reynolds at United Artists gave her complete freedom and encouraged her to develop her own style and stage presence. Her first album 'Crystal Gayle' with United Artists led to her first top-ten country hit.

In 1976, she reached the No.1 spot in country singles with 'I'll Get Over You.' The song also made it to the Billboard Hot 100. This followed by two more country hits, 'You Never Miss a Real Good Thing' and 'I'll Do It All Over Again'.

Crystal Gayle achieved major success with the single 'Don't It Make My Brown Eyes Blue', a jazz-flavored ballad, in 1977. It remained at the top for four complete weeks in the country charts. The track also became the No.1 on the Cashbox as well as peaked at No.2 on Billboard Hot 100.

The following years saw Crystal releasing many top-ranked singles like 'Ready for the Times to Get Bette' (No.1 country hit), 'Talking in Your Sleep', 'Why Have You Left the One You Left Me For', and 'When I Dream'. In the 1980s, her song 'It's Like We Never Said Goodbye' was ranked at the No.1 position on the country list and 'If You Ever Change Your Mind' was nominated for the Grammys.

In the ensuing years Crystal Gayle released many other popular albums, such as 'Ain't Gonna Worry' (1990), 'Three Good Reasons' (1992), 'Someday'(1995), 'He Is Beautiful'(1997) 'Crystal Gayle Sings the Heart and Soul of Hoagy Carmichael'( 1999), 'All My Tomorrows' (2003), 'Crystal Gayle in Concert' (2005), and 'Live! An Evening with Crystal Gayle' (2007), all being fairly popular among the audiences.

Recommended Lists:

Recommended Lists:

Major Works

'Don't It Make My Brown Eyes Blue,' a jazz-flavored ballad, is one of her greatest creations. The track spent four weeks at the top of the country chart and also reached the No.1 on Cashbox Top 100 Singles pop chart. It peaked at No. 2 on Billboard Hot 100 and earned her a Grammy Award for 'Best Female Country Vocal Performance.' The single also won a Grammy for 'Country Song of the Year'.

Continue Reading Below

In 1980, Crystal released her album 'These Days' under Allen Reynolds' production. The first single from the album 'If You Ever Change Your Mind' became a huge hit and it became her eighth number one on country charts, spending a total of ten weeks on the chart overall. The song was nominated for the Grammy award for 'Best Country Vocal Performance'.

Recommended Lists:

Recommended Lists:

Awards & Achievements

Crystal Gayle won the Grammy Award for Best Female Country Vocal Performance (1978) for the song 'Don't It Make My Brown Eyes Blue.'

She won five 'Academy of Country Music Awards' between 1975 and 2016, in three different categories.

Crystal won two Country Music Association Awards in 1977 and 1978, and four American Music Awards between 1979 and 1986.

She was inducted as a member of the Grand Ole Opry in 2017. She was also inducted into the 'Kentucky Music Hall of Fame'.

Personal Life

Crystal Gayle married Vassilios "Bill" Christos Gatzimos on June 3, 1971. The couple has two children together, Catherine Clare and Christos James. She currently resides in Nashville with her family and is very fond of her toddler grandson Elijah.

Trivia

She is known as the 'Brunette Rapunzel" in the music industry for her beautiful and floor-length hair.

Translate Wiki

to Spanish, French, Hindi, Portuguese

Article Title

- Crystal Gayle Biography

Author

- Editors, TheFamousPeople.com

Website

- TheFamousPeople.com

URL

-

https://www.thefamouspeople.com/profiles/crystal-gayle-10887.php

Last Updated

- February 22, 2018

---

---

---