CrankGameplays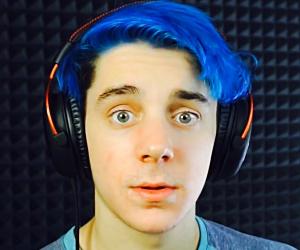 Quick Facts
Birthday: October 24, 1996
Nationality: American
Age: 22 Years, 22 Year Old Males
Sun Sign: Scorpio
Also Known As: Ethan Mark Nestor
Born in: Cape Elizabeth, Maine
Famous as: YouTube Star
Family:
father: Mark Nestor
mother: Annie
siblings: Andrew
U.S. State: Maine
More Facts
education: Cape Elizabeth High School
Continue Reading Below
Ethan Mark Nestor, popularly known as CrankGameplays, is an American YouTuber, video game commentator, and vlogger. His eccentricities have made him popular amongst the gaming fans. Donning dark blue hair, he is also known as "the loud blue boy who plays video games." A former video editor for online producer Mark Edward Fischbach, commonly known as Markiplier, Ethan himself is a talented video producer and one of the most famous personalities on the social networking platform, YouTube. He started his first YouTube channel in 2012 and the second one in 2013. However, the third channel, which he launched in December 2015, is the most successful one. His most popular YouTube gaming channel is called CrankGameplays, which gained massive fame in a short span of time, proving his worth as a vlogger. His YouTube channel has over 591k subscribers as of April 2018. His fans find his videos highly entertaining and his voice just perfect for an animated character!
Recommended Lists:
Recommended Lists:
Continue Reading Below
Rise to Stardom
Ethan Mark Nestor started his first YouTube channel on August 29, 2012. It did not gain much popularity. In May 2013, he started his second channel called 'Cranky Vlogs'. On this channel, he updates his fans with vlogs every day. He launched his third YouTube channel CrankGameplays on December 1, 2015. This channel became very successful and he has garnered more than 591k subscribers and over 40 million views as of April 2018.This YouTube star with a boy-next-door image shot to fame with his goofy yet well edited and well animated videos.

Recommended Lists:

Recommended Lists:

His most popular video till date has been the 'CrankGameplays Animated|Mr Massagy,' which has amassed over 830k views. The video shows that no woman can resist Mr. Massagy's sexiness. The second most popular video is 'Warning: Do not Watch This | Reddit 50/50', which has so far gathered 747k views. Although it has some adult content, it is a well edited and animated video. The third most popular video is called 'Please Stop | Try Not To Cringe', which has amassed 660k views.

The CrankGameplays channel has some interesting sections such as 'Old CrankGameplays' with 507 videos, 'Best of CrankGameplays' with 99 videos, 'CupHead', and 'Until Dawn' among others.

Continue Reading Below

Personal Life

Ethan Mark Nestor was born on October 24, 1996, in Cape Elizabeth, Maine, USA. After he graduated from Cape Elizabeth High School in 2015, he wanted to take a year's gap. So, he moved to Portland, Maine, and focused on YouTube. While he had initially wanted to attend the Full Sail University, he eventually gave up the idea after a year and decided to pursue a career as a video editor and producer. He has an older brother named Andrew.

Last Updated : April 18, 2018

Translate Wiki

to Spanish, French, Hindi, Portuguese

---

---

---

CrankGameplays Fans Also Viewed