Chris Daughtry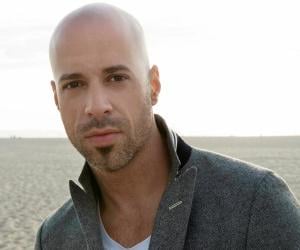 Quick Facts
Birthday: December 26, 1979
Nationality: American
Famous: Guitarists Pop Singers
Age: 39 Years, 39 Year Old Males
Sun Sign: Capricorn
Also Known As: Christopher Adam
Born in: Albuquerque, New Mexico
Famous as: Vocalist, Guitarist
Height: 1.72 m
Family:
Spouse/Ex-: Deanna Robertson
father: Pete daughtry
mother: Sandra Daughtry
siblings: Kenneth Daughtry
children: Griffin, Hannah Price
Founder/Co-Founder: Daughtry,
Net worth: $10 million
Continue Reading Below
Chris Daughtry was born Christopher Adam Daughtry to Sandra and James Daughtry. He showed an inclination towards music at a very early age, and took to singing seriously at the age of sixteen even taking guitar lessons from Matt Jagger and Mark Ebert. He performed for his high school band, Cadence, and for Brian Craddock and Matt Jagger. He was lead singer and guitarist for the band, Absent Element - their album "Uprooted" included the songs "Conviction" and "Breakdown". He auditioned for the singing contest Rock Star: INXS, but did not make the cut. He then made it to the American Idol and reached the final four of American Idol, but lost due to low vote count. He formed the band, Daughtry, with Josh Steely, Brian Craddock, Andy Waldeck, and Robin Diaz. Their first single was "It's Not Over". Their first and second albums reached number one in Billboard Charts. The band won in three categories namely Pop or Rock: Favorite Album – Daughtry, Adult Contemporary Music: Favorite Artist, and Favorite Breakthrough Artist, at the American Music Awards. He has collaborated with a number of bands and musicians including Sevendust, Theory of a Deadman, Timbaland and Day of Fire.
Recommended Lists:
Recommended Lists:
Continue Reading Below
Childhood & Early Life
Chris Daughtry was born Christopher Adam Daughtry on December 26, 1979 to Sandra and James "Pete" Daughtry. He grew up in Lasker until the age of fourteen, and then in Palmyra, Virginia. He has a brother, Kenneth.

He started taking singing seriously at the age of sixteen. He took guitar lessons from guitarist Matt Jagger, at Stacy's Music store in Charlottesville, and Mark Ebert from Laurinburg, North Carolina.

During his high school days, he performed for rock bands including Brian Craddock's band My Dog Lucy and Matt Jagger. He appeared in two stage productions: The Wiz and Peter Pan.

Recommended Lists:

Recommended Lists:

Career & Later Life

Daughtry sang lead vocals and played rhythm guitar for his high school band, Cadence. They released their only album, "All Eyes on You" in 1999. He performed with rock bands such as Absent Element.

He was the lead singer and guitarist for the band, Absent Element - other members being Mark Perry, Scott Crawford and Ryan Andrews. Their album "Uprooted" released in 2005 and included the songs "Conviction" and "Breakdown".

In 2005, he auditioned for the contest Rock Star: INXS, but did not make the cut.He then auditioned for American Idol, singing The Box Tops' "The Letter", he qualified it by a split decision.

He performed "The First Cut Is the Deepest" at American Idol. During his trio performance alongside Ace Young and Bobby Bullard, he sang "Emotion" andElton John's "Your Song" for his cappella performance.

He made to the Top 24. His performance of Fuel's "Hemorrhage (In My Hands)" received critical appreciation from all three judges. He refused an offer to audition for filling Fuel's lead singer vacancy.

Being voted the lowest, Daughtry was eliminated in the final four on May 10, 2006. During the Season Five finale, he performed "Mystery" with the band Live at the Kodak Theater in Hollywood.

He performed "Wanted Dead or Alive" in The Ellen DeGeneres Show, which reached 43 on the Billboard Hot 100, and was named the Hot Shot Debut of the week.

Continue Reading Below

Daughtry's song "Home" was played on every episode a contestant was knocked out of American Idol's sixth season. The song was also performed live on the final competition.

In 2008, Chris Daughtry sang "The Past" for Sevendust on their album "Chapter VII: Hope & Sorrow", and "By the Way" for Theory of a Deadman on their "Scars and Souvenirs" album.

In 2009, band Daughtry collaborated with Timbaland on their song "Long Way Down". Chris Daughtry also co-wrote three songs with the band, Day of Fire, including the track "Hello Heartache".

He wrote and recorded "Drown In You" for the video game Batman: Arkham City. The songs, "Renegade" and "Crawling Back to You", appeared in the band's album "Break the Spell", released in 2011.

The band's fourth album, Baptized, was released on November 19, 2013 by RCA Records. The first single of the album was "Waiting for Superman" written by Chris Daughtry, Sam Hollander, and Martin Johnson.

Recommended Lists:

Recommended Lists:

Major Works

Daughtry formed his own band, Daughtry, with Josh Steely, Brian Craddock, Andy Waldeck, and Robin Diaz. Their first single "It's Not Over" was released in 2006. The album reached number one in Billboard Charts.

In 2007, the band,Daughtry, won Grammy nominations for the categories Best Rock Album, Best Rock Song, Best Rock Performance by a Duo/Group with Vocals, and Best Pop Performance by a Duo/Group With Vocals.

Their second album, "Leave This Town", was released in 2009, and reached number one in Billboard Charts. The lead single "No Surprise" became the bands fifth top 20 hit on the Hot 100.

Recommended Lists:

Recommended Lists:

Awards & Achievements

On November 18, 2007, at the American Music Awards, the band won in three categories namely Pop or Rock: Favorite Album – Daughtry, Adult Contemporary Music: Favorite Artist, and Favorite Breakthrough Artist.

Recommended Lists:

Recommended Lists:

Personal Life & Legacy

Chris Daughtry married Deanna on November 11, 2000. He has four children: Hannah, and Griffin, from his wife's previous marriage, and twins, Adalynn Rose and Noah James. They live in Oak Ridge, North Carolina.

Trivia

This singer's rendition of Johnny Cash's "I Walk the Line" won praise from the judges, but similarity to Live's version created controversy as a mention of it was edited out from his pre-taped interview.

Translate Wiki

to Spanish, French, Hindi, Portuguese

Article Title

- Chris Daughtry Biography

Author

- Editors, TheFamousPeople.com

Website

- TheFamousPeople.com

URL

-

https://www.thefamouspeople.com/profiles/chris-daughtry-4701.php

Last Updated

- November 06, 2017

---

---

---