Chris Colfer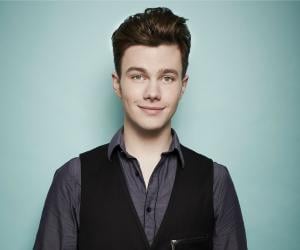 Quick Facts
Nationality: American
Age: 28 Years, 28 Year Old Males
Sun Sign: Gemini
Also Known As: Christopher Paul Colfer
Born in: Clovis, California, United States
Famous as: Actor
Height: 1.79 m
Family:
father: Tim Colfer
mother: Karyn Colfer
siblings: Hannah Colfer
U.S. State: California
Continue Reading Below
Chris Colfer is an American actor, singer and writer who came to limelight for his role of Kurt Hummel in the super hit television series 'Glee'. Recipient of a Golden Globe and Screen Guild Award each and three People's Choice Awards, Colfer was named in the Time's list of the 100 most influential people in 2011. His exceptional acting skills have been praised by critics who found a special talent in him. He has an incredible ability to put soul into his character. While Colfer's role as Hummel made him a household name in America, it was his book series 'The Land of Stories' that gave him worldwide popularity. His first ever book 'The Land of Stories: The Wishing Spell' went on to earn him a New York Times number-one bestselling author title. The book earned #1 position on New York Times Best Seller list in Children's Chapter Books category and remained there for two weeks. The book series already has had five instalments with the sixth soon to be released in 2017. Apart from his work as an author and actor, Colfer has capped the hat of a producer, director and script writer as well. His hands are full with future projects in television, film and fiction.
Recommended Lists:
Recommended Lists:
Continue Reading Below
Childhood & Early Life
Chris Colfer was born on May 27, 1990 in Clovis, California to Karyn and Timothy Colfer. He has an Irish ancestry. He has a younger sister Hannah who suffers from severe epilepsy.

Early in his life, Colfer suffered from lymph-node surgery, which left a scar on his neck. Bedridden, he found the world of fiction as his only vent of emotion. Soon, it ignited the passion for writing and acting in Colfer which was encouraged by his grandmother.

After completing middle school, Colfer attended Clovis East High School. It was therein that Colfer's talent for writing, speaking and acting augmented considerably. He won numerous debate championships, and served as the president of Writer's Club. He was also active in drama club.

Recommended Lists:

Recommended Lists:

Career

Chris Colfer's career kickstarted when he became involved in community theatre. The first show of which he was a part of was 'West Side Story'. His next appearance was for the production 'The Sound of Music' in which he capped the role of Kurt von Trapp.

At the age of 18, he essayed the titular role of Russel Fish in the short story 'Russel Fish: The Sausage and Eggs Incident'. In it, he played an awkward teenager who was at a risk of losing his Harvard admission if he did not pass the physical test.

Colfer's first major breakthrough came in 2009 when he was cast for the character of Kurt Hummel on Fox's 'Glee'. Colfer was initially auditioned for the role of Artie Abrams but eventually ended up starring as Hummel. Interestingly, the character of Kurt Hummel wasn't a full-fledged one, but Colfer's incredible talent and brilliant onscreen portrayal led show creator, Ryan Murphy, to expand the role of Hummel so that Colfer could have greater screen space.

In the series, Hummel is a fashionable gay countertenor who is routinely bullied at school, not just for being gay, but also for being part of the very unpopular Glee Club. Quite a lot of things that Hummel portrays on screen are directly related to Colfer's real life incidents and experiences.

Having made his mark as an actor, he turned to his other 'love' writing in June 2011. He signed a book deal with Little, Brown and Company to come up with two children novels. The series would follow twin brothers Alex and Conner who travel through a magical land. They not just have adventure but also tend to meet fairy tale characters.

The first book of the two-book series was released on July 17, 2012 titled 'The Land of Stories: The Wishing Spell'. The book was a big hit upon its release, and climbed to the number one position on New York Times Best Seller list in Children's Chapter Books category. It retained the top spot for two weeks.

Following the success of his first book, Chris Colfer, came up with his second book 'The Land of Stories: The Enchantress Returns' on August 6, 2013. The book debuted at #2 on The New York Times Best Seller list. For eleven weeks, the book secured itself a place in the top fifteen for Children's Middle Grade books.

Continue Reading Below

Post the grand success of his first two books, Colfer signed yet another contract with Little, Brown and Company for a three-book deal comprising of two novels and a picture book.

He came up with the third book of 'The Land of Stories' series 'The Land of Stories: A Grimm Warning', which was released in July, 2014. The book reached #4 on The New York Times Best Seller list and spent four weeks on the list.

Colfer's fourth novel 'The Land of Stories: Beyond the Kingdoms' was released on July 2015. Following its release, The Land of Stories charted at #1 as a series on The New York Times Best Seller list for the first time.

The picture book titled 'The Curvy Tree', written by him and illustrated by Brandon Dorman, was released on October 2015. It is based on a short original fairy tale of the same name, which Colfer first narrated in his first novel 'The Land of Stories: The Wishing Spell'.

In July 2016, Colfer came up with his fifth book in the series, 'The Land of Stories: An Author's Odyssey'. He immediately announced that the sixth and final instalment, 'The Land Of Stories: Worlds Collide' will be released in July 2017.

Aside from 'The Land of Stories' books, in 2011, Colfer starred in the coming-of-age comedy film 'Struck by Lightning'. He also served as its writer and executive producer. Later in 2012, he released a companion book to his film titled 'Struck By Lightning: The Carson Phillips Journal'. Same year, he starred in Dustin Lance Black's play '8'.

In 2014, Colfer guest starred on an episode of 'Hot in Cleveland' playing Tony, Victoria's son. He returned for an episode for the show's final season entitled 'All About Elka', in March 2015.

Continue Reading Below

In 2016, he played the character of Christopher in 'Absolutely Fabulous: The Movie'. He was offered the role by Jennifer Saunders. He also appeared as a guest judge in 'Chopped Junior'.

Colfer's future projects include the animated family film 'Robodog' in which he will lend his voice to the lead character KC. The film is in post production stage. Other works include the biopic 'Noel' in which he plays the character of Noel Coward.

After donning the hat of an actor and writer, Colfer is to set to make his debut as a director. In June 2017, it was announced that Colfer will make a film adaptation of his first book 'The Land of Stories: The Wishing Spell'. He will also be the script writer and executive producer of the film.

Colfer has recently announced that he is working on a new TV Show called 'Indigo'. It is a sci-fi drama about indigo children who are misdiagnosed as having mental or physical illnesses, when they really possess supernatural abilities. He would not only serve as its writer but also direct and act in it. Along with Keith Quinn and Rob Weisbach, he is also one of the executive producers of the show.

Recommended Lists:

Recommended Lists:

Major Works

The magnum opus of Colfer's career came in when he starred as Kurt Hummel in 'Glee'. He was so incredible in his role portrayal that the character was created specifically for him. Interestingly, Colfer did not intend to essay the role of Hummel. He intended to play the role of Artie Abrams but his amazing talent earned him the character of Hummel. His brilliance won him a Golden Globe and Screen Guild Award and three People's Choice Award.

Awards & Achievements

Colfer's career breakthrough role in 'Glee' has earned him numerous awards including the 2010 Teen Choice Awards for Male Scene Stealer, Golden Globe award and Screen Guild Award for Outstanding Supporting Actor and Mote-Carlo TV Festival for Outstanding Actor.

In 2012, he won the Teen Choice Award in the category Choice TV Actor Comedy for 'Glee'.

Consecutively for three years, i.e., in 2013, 2014 and 2015, Colfer received the People's Choice Favourite Comedic TV Actor

Personal Life & Legacy

Having been a victim of bullying as a child, Colfer actively supports It Gets Better Campaign and The Trevor Project. In 2011, he dedicated his Golden Globe Award to bullied kids in the LGBT community. Later in 2013, he filmed a PSA with Elmo about anti-bullying for Sesame Street in Communities and participated in the Course of the Force run benefiting the Make-A-Wish Foundation. He donated his Hollywood Game Night winning amount to Make-a-Wish Foundation of America.

He co-chaired Elton John AIDS Foundation Academy Award Party in 2013 and 2014. He is also a coalition member of Uprising of Love, an organization which supports the safety and dignity of Lesbian, Gay, Bisexual, Transgender, and Intersex (LGBTI) Russians.

Colfer is an active supporter of animal rights as well and stresses on the importance of adopting animals from shelters.

1. Struck by Lightning (2012)

(Drama, Comedy)

2. Absolutely Fabulous: The Movie (2016)

(Comedy, Crime)

---

3. Marmaduke (2010)

(Comedy, Family)

| | | |
| --- | --- | --- |
| 2011 | Best Performance by an Actor in a Supporting Role in a Series, Miniseries or Motion Picture Made for Television | Glee (2009) |

| | | |
| --- | --- | --- |
| 2015 | Favorite Comedic TV Actor | Winner |
| 2014 | Favorite Comedic TV Actor | Winner |
| 2013 | Favorite Comedic TV Actor | Winner |

Translate Wiki

to Spanish, French, Hindi, Portuguese

Article Title

- Chris Colfer Biography

Author

- Editors, TheFamousPeople.com

Website

- TheFamousPeople.com

URL

-

https://www.thefamouspeople.com/profiles/chris-colfer-33217.php

Last Updated

- July 06, 2017

---

---

---