Camille Grammer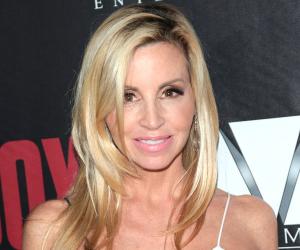 Quick Facts
Birthday: September 2, 1968
Nationality: American
Age: 51 Years, 51 Year Old Females
Sun Sign: Virgo
Also Known As: Camille Grammer-Meyer
Born Country: United States
Born in: Newport Beach, California, USA
Famous as: Television Personality
Height: 1.68 m
Family:
Spouse/Ex-: David C. Meyer (m. 2018), Kelsey Grammer (m. 1997–2011)
siblings: Joseph Donatacci
children: Jude Gordon Grammer, Mason Olivia Grammer
U.S. State: California
More Facts
education: New York University, Montclair State College
Continue Reading Below
Camille Grammer is an American TV personality, dancer, producer, and writer, who became famous after being featured on the reality TV show 'The Real Housewives of Beverly Hills.' Her personal life overshadowed her career on the show, with dramatic moments of her life being revealed on air. During the second season of the show, Camille revealed how her first husband, Allen Kelsey Grammer, had cheated on her and had wanted to end their marriage. Their divorce became a public affair, with both sides making repugnant remarks about each other. Though the show gained popularity because of the on-screen drama, Camille distanced herself from the show in season 4. She returned as a guest for the next few seasons, raising a lot of questions about her personal life in the viewers' minds. For the past two seasons of 'The Real Housewives of Beverly Hills,' Camille has denied going back as part of the main cast but has made recurring appearances as a friend. With most of her personal worries slowly fading away, in 2018, Camille decided to get married to David C. Meyer on the show, after being in a "healthy" relationship with him for a year.
Recommended Lists:
Recommended Lists:
Continue Reading Below
Career
Camille Grammer started her career in the entertainment industry as a dancer on 'Club MTV' in the late 1980s, starring as the lead dancer at the Central Park restaurant 'Tavern on the Green' in New York City. She ventured into music videos in the 1990s, debuting in 'The Party Starts Now!' by 'Manitoba's Wild Kingdom.'

She modeled for 'Playboy' magazine, for their lingerie collection, and appeared in a number of R-rated movies, such as 'Marilyn Chambers' Bedtime Stories' (1993), 'New York Nights' (1984), and 'The Naked Detective' (1996). In 1997, she earned roles in two comedy films, namely, 'Private Parts' and 'Deconstructing Harry,' and appeared in an episode of 'Frasier.'

She co-founded a production company named 'Grammnet Productions,' along with her erstwhile husband, Allen Kelsey Grammer. She worked as an executive producer, writer, and creator, showcasing versatility in her career. The company produced a number of TV shows between the late 1990s and the 2010s, such as 'Girlfriends' (2000–2008), 'Medium' (2005–2011), and 'The Game' (2006–2009). Between 2000 and 2004, she produced three TV movies, namely, 'Neurotic Tendencies' (2001), 'Mr. St. Nick' (2002), and 'A Christmas Carol: The Musical' (2004).

In 2010, she joined the original cast of the sixth instalment of the 'Bravo' reality show 'The Real Housewives of Beverly Hills,' which revolved around the lives and experiences of housewives residing in the Beverly Hills area. She stayed as one of main characters in the first two seasons of the show. However, she slowly phased herself out in the third season and did not appear in season 4, due to the turmoil in her personal life. The season-2 episode in which Camille revealed the dwindling state of her marriage with Kelsey Grammer became the highest-rated episode of the season. Her subsequent interview on 'Watch What Happens Live' outperformed all the late-night talk shows, in terms of popularity. After the hiatus, Camille came back to the show as a guest for the next three seasons. For the past two seasons, Camille has made appearances as a friend of the original cast and maintains that she is happy not being part of the main cast but has not fallen short of creating exciting moments for the viewers. She let the show be part of her wedding to David C. Meyer, in the latest season.

Recommended Lists:

Recommended Lists:

Continue Reading Below

Childhood & Personal Life

Camille Donatacci Grammer was born on September 2, 1968, in Newport Beach, California, US. She had a fairly normal childhood in an upper-middle-class family. Not much is known about her family, except that her father worked as a financial advisor in New York City. She studied English literature at 'Montclair State College,' New Jersey. She also attended 'New York University' and the 'University of California, Los Angeles (UCLA) School of Theatre, Film, and Television' for higher studies.

She met her first husband, Allen Kelsey Grammer, in 1996. After being in a relationship for a year, the couple got married in Malibu, California, in 1997. The couple had their first child, Mason Olivia, on October 24, 2001. They welcomed their son, Jude Gordon, on August 28, 2004. Camille's life went topsy-turvy when she discovered, purely by chance, that her husband maintained a clandestine relationship with Kayte Walsh, an airhostess, in New York. What followed was a lot of mud-slinging in public. Camille filed for divorce in 2010, along with sole custody of their children and spousal and child support. The divorce was finalized after much contention, on February 10, 2011.

Camille's failed marriage and the subsequent was divorce was just the tip of the iceberg of the harrowing experience she had afterwards. She allegedly had a terrible time with her boyfriend, lawyer and fitness trainer Dimitri Charalambopoulos, in the next couple of years. In 2013, Camille appealed in court to get a restraining order and to file a defamation suit against Dimitri. Camille's accusations included physical assault and harassment, which she claimed took place soon after her radical hysterectomy due to endometrial cancer. Camille was homeless for a few months when she lost her Malibu mansion to the Woolsey fires. She had to downsize from her 6,000-square-foot mansion to a 1,200-square-foot trailer, where she lived for a short period of time before moving into her new home in Malibu.

She married David C. Meyer in October 2018 and lives with her daughter, Mason, in their new house.

Recommended Lists:

Recommended Lists:

Translate Wiki

to Spanish, French, Hindi, Portuguese

Article Title

- Camille Grammer Biography

Author

- Editors, TheFamousPeople.com

Website

- TheFamousPeople.com

URL

-

https://www.thefamouspeople.com/profiles/camille-grammer-46804.php

Last Updated

- November 07, 2019

---

---

---