Bryan Breeding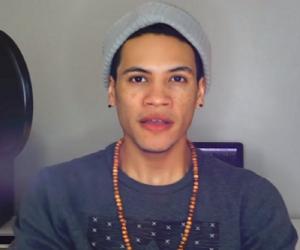 Quick Facts
Birthday: October 14, 1993
Nationality: American
Famous: Rhythm & Blues Singers American Men
Age: 25 Years, 25 Year Old Males
Sun Sign: Libra
Born in: Liberal, Kansas
Famous as: Singer
Family:
Spouse/Ex-: Ahrielle Breeding
father: Michael
mother: Adrian Breeding
siblings: 1986), 1987), 1989), and Carnell Frederick (born November 30, Dustin Michael (born October 8, Kelly Allen (born February 27, Patrick Owen (born September 19
children: Mace
U.S. State: Kansas
Continue Reading Below
Bryan Jesse Breeding is an American R&B singer who is part of the five-piece band B5, along with his four older brothers, Dustin, Kelly, Patrick, and Carnell. A native of Kansas, Bryan has always been interested in music and grew up watching his brothers perform. In 1998, Dustin, Kelly, Patrick, and Carnell formed the musical group TNT Boyz together. They performed under that name for the ensuing three years, winning several competitions. In 2001, Bryan joined the group, and it was subsequently renamed B5, which conveyed Breeding 5. The group released their self-titled debut album in 2005, which was followed by their second album, 'Don't Talk, Just Listen', in 2007. They briefly rebranded themselves as Audio between late 2009 and early 2010 before going back to the name B5. After Bryan and Patrick departed from the group, it was renamed Men in Black (MIB). During this period, Bryan pursued a solo career. In 2018, all the five brothers returned to make music under the name B5 once more.
Recommended Lists:
Recommended Lists:
Continue Reading Below
Career
The Breeding brothers cite the likes of The Jackson 5, New Edition, New Kids on the Block, Troop, NSYNC, Boyz II Men, Another Bad Creation, B2K, Jodeci, Backstreet Boys, All-4-One, Color Me Badd, Blackstreet, Jagged Edge, 112, Soul for Real, and Hi-Five as their inspirations. In 1998, Dustin, Kelly, Patrick, and Carnell established the R&B group TNT Boyz and began participating in and winning music competitions. They even won several shows organised by Radio Disney. Bryan, who is the youngest among the siblings, joined the group in 2001, and they subsequently rebranded themselves as B5.

They went on tours and performed alongside musicians, groups, and singers like Akon, Mario Winans, Kanye West, Ginuwine, Usher, Fantasia, Bow Wow, Chris Brown, T-Pain, Omarion, Soulja Boy and NSYNC. On one of these tours, they became acquainted with L. A. Reid and Jermaine Dupri in Atlanta, Georgia through their manager Jim McMahan. After they were introduced to Sean "P.Diddy" Combs, they landed a record deal with Bad Boy Entertainment. On July 19, 2005, their first studio album 'B5' was released. Co-produced by Diddy, the album contains 12 tracks. It reached the 19th position on the US Billboard chart and the seventh position on the US Top R&B/Hip-Hop Albums chart.

On September 11, 2007, the group put out their second album, 'Don't Talk, Just Listen', through Bad Boy and Atlantic Records. The album is comprised of 15 tracks and was produced by Bryan-Michael Cox, Danja, Mario Winans, Shea Taylor, The Underdogs, Soul Diggaz, Blaze, Eric Hudson, and Diddy. It opened at the 27th spot on the U.S. Billboard 200 chart and the fifth spot on Top R&B/Hip-Hop Albums chart.

On November 12, 2005, during a show on the Radio Disney Jingle Jam Tour at Brookdale Mall, B5's female fans broke through security to get to the stage and the group. A riot started soon after. The boys were assaulted and lost their shirts, shoes, and jewellery.

'Don't Talk, Just Listen' ended up being B5's last release through Bad Boy Records. From 2009 to early 2010, the group went by as Audio, finding very little success under the name. This prompted Bryan and his brothers to change the group's name back to B5. While making music for themselves, B5 simultaneously contributed to the soundtracks of projects like 'Radio Disney Jingle Jams' (2005), 'High School Musical' (2006), 'That's So Raven Too!' (2006), 'Hannah Montana' (2006), 'Radio Disney Jams, Vol. 8' (2006), 'DisneyMania 4' (2006), 'DisneyMania 5' (2007).

On April 26, 2013, the group revealed the name of their upcoming single, 'Say Yes'. Less than a week later, on 1 May, their management and Motown Records hinted that the single would be put out on iTunes on 7 May. On 6 May, 'Say Yes' was released solely on singersroom.com, garnering largely positive reviews from the critics and fans. Later that day, the song was posted on iTunes for B5's international fans.

Bryan and Patrick were the first ones to leave the group. Subsequently, the remaining three brothers rebranded themselves as Men in Black (MIB) and continued to make music. Dustin and Carnell became fathers at some point and they left the group. Kelly became a rapper and Dustin a soloist. Carnell decided to leave his music career behind temporarily to focus on his family.

In 2018, Bryan and all his brothers reunited under the name B5 once more. They are working together on an upcoming studio album. Their new single 'Do That' was put out in 2018.

During his time away from B5, Bryan pursued a solo career, releasing several covers.

Recommended Lists:

Recommended Lists:

Continue Reading Below

Family & Personal Life

Bryan Breeding was born on October 14, 1993, in Liberal, Kansas. Their parents are Michael and Adrian Breeding. He and his four brothers, Dustin Michael (born October 8, 1986), Kelly Allen (born February 27, 1987), Patrick Owen (born September 19, 1989), and Carnell Frederick (born November 30, 1989), were always encouraged to pursue a career in music by their family.

Bryan is married to YouTuber Ahrielle Breeding. They have a son named Mace.

Translate Wiki

to Spanish, French, Hindi, Portuguese

Article Title

- Bryan Breeding Biography

Author

- Editors, TheFamousPeople.com

Website

- TheFamousPeople.com

URL

-

https://www.thefamouspeople.com/profiles/bryan-breeding-44338.php

Last Updated

- April 12, 2019

---

---

---