Bob Fosse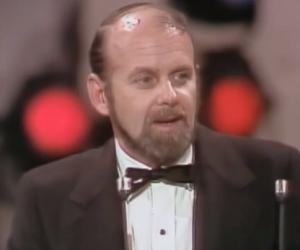 Quick Facts
Nationality: American
Died At Age: 60
Sun Sign: Cancer
Born in: Chicago, Illinois, U.S.
Family:
Spouse/Ex-: Gwen Verdon (m. 1960–1987), Joan McCracken (m. 1952–1959), Mary Ann Niles (m. 1949–1951)
father: Cyril K. Fosse
mother: Sara Alice Fosse
Died on: September 23, 1987
place of death: Washington, D.C., U.S.
City: Chicago, Illinois
U.S. State: Illinois
Continue Reading Below
Bob Fosse was a renowned American actor, musical theatre artiste, director and choreographer. He won a total of eight Tony Awards for his unparalleled contributions to American choreography and direction and was also an Academy Award recipient. His shows included the imaginative productions of 'Pippin' and 'Chicago' and some of his memorable films include, 'Cabaret', 'Lenny' and 'All That Jazz'. But outside all the fame and with his career sugar-coated, there lay a deep darkness in his personal life. It was dotted with drug addiction, alcoholism, infidelity and a failed marriage; all of which attributed to his successful filmmaking and choreographic skills. His flair was marked by a cautious responsiveness to detail, minuscule body gestures, such as, a nod, or the way he held his teacup or the way he walked. Apart from being known for 'Cabaret', he was also responsible for creating the hit, 'Pardon Me, Miss, Have You Ever Been Kissed by a Real Live Girl'. Towards the end of his life, he suffered from a great deal of health problems including a persistent heart ailment.
Recommended Lists:
Recommended Lists:
Continue Reading Below
Childhood & Early Life
Robert Louis 'Bob' Fosse was born to Sara Alice Fosse and Cyril K. Fosse in Chicago, Illinois. He was the second youngest of the six children born to the couple.

In his initial years as a dancer, he teamed up with Charles Grass under the association, 'The Riff Brothers'. The duo toured around America and made money with their acts. He was then placed in the variety show, 'Tough Situation'.

In 1946, he made his vaudeville debut with his wife in 'Call Me Mister', which earned him the attention of biggies like Jerry Lewis and Dean Martin. He then became a regular performer with his wife in the 'Youth Hit Parade' in the 1950s.

Recommended Lists:

Recommended Lists:

Career

He signed a contract with MGM in 1953 and he appeared in 'Give A Girl A Break', 'The Affairs of Dobie Gills' and 'Kiss Me Kate' all of which appeared the same year. His performances earned him the attention of numerous Broadway producers.

He choreographed his first musical, 'The Pajama Game' in 1954 followed by 'Damn Yankees' the next year.

In 1957, he choreographed, 'New Girl in Town', followed by the film adaptation of 'Pajama Game', starring Doris Day. Three years later, he was the director and choreographer for a musical called, 'Readhead' for the first time.

In 1961, he also choreographed the musical hit, 'How to Succeed in Business Without Really Trying' and was the director/choreographer for 'The Conquering Hero'.

In 1966, he choreographed and directed a musical called 'Sweet Charity', which also starred his wife and muse, Gwen Verdon. Three years later, he directed his first feature film adaptation of 'Sweet Charity'.

In 1972, he directed one of his most popular Broadway musical productions, 'Pippin', for which he earned a number of Tony Award nominations. The same year, he produced his first concert film, 'Liza with a Z'.

He performed a striking dance and song routine in the film adaptation of 'The Little Prince', in 1974. The same year, he directed 'Lenny', a biopic of Lenny Bruce, which starred Dustin Hoffman.

Continue Reading Below

In 1975, he directed one of his most memorable musicals based on a eponymous play titled, 'Chicago'. Two years later, he was seen in the rom-com, 'Thieves'.

He directed a musical film 'All That Jazz', which is believed to be a semi-autobiographical account of the choreographer's life. The film won an important award at the 1980 Cannes Film Festival.

In 1980, he directed the movie 'Star 80', which was a biopic on the life of 'Playboy Playmate', Dorothy Stratten. The film, although controversial, went on to be nominated for several distinguished awards.

In 1986, he choreographed, wrote and directed 'Big Deal', which earned five Tony Award nominations and closed only after 69 performances. This was also his last work before his death.

Recommended Lists:

Recommended Lists:

Major Works

In 1972, he directed one of his most iconic works, 'Cabaret', a musical film. The movie is regarded as his magnum opus because it still holds the record for most number of 'Academy Award' wins in a sole year without winning the uppermost honor of the 'Best Picture'. Bob Fosse won an Academy Award for direction for his movie and the film went on to collect a massive $42,765,000 at the box-office.

'Pippin', which premiered on Broadway for the first time in 1972, is also considered one of his masterpieces. The piece is considered the '31st longest-running Broadway show' and it went on to earn Fosse an important 'Tony Award' for the same.

Recommended Lists:

Recommended Lists:

Awards & Achievements

In 1973, he won two Tony Awards for 'Best Direction of a Musical' and 'Best Choreography' for 'Pippin'.

Continue Reading Below

He won an Emmy Award for 'Liza with a Z' for the category of 'Outstanding Achievement in Choreography', in 1973.

In 1973, he won an Academy Award for the film 'Cabaret' for the category of 'Best Director'.

In 1979, he won a Palme d'Or at the Cannes Film Festival for the movie, 'All That Jazz'.

In 2001, he was posthumously awarded a Laurence Olivier Award for 'Best Theatre Choreographer' along with Ann Reinking.

He was inducted posthumously into the 'National Museum of Dance's Mr. and Mrs. Cornelius Vanderbilt Whitney Hall of Fame', in 2007.

Personal Life & Legacy

He married Mary Ann Niles in 1949, but divorced her two years later.

He then married Joan McCracken in 1952 and the marriage lasted for a span of seven years. His third wife was Gwen Verdon, who was also a popular actress and his muse.

Continue Reading Below

He married Gwen Verdon, a popular actress and his muse, in 1960 and the couple had a daughter, Nicole Providence Fosse, who also went on to become an actress and a dancer. He separated from her in the mid-70s, but the couple was legally married till his death. Just before his death, he was living with his girlfriend for four years

He was diagnosed with epilepsy when he suffered a seizure before a live audience once. He also underwent an open-heart surgery.

He struggled with alcoholism and drug dependency in his final years.

He passed away due to a heart attack at the George Washington University Hospital. He was cremated and his ashes were scattered in the Atlantic Ocean as per his request.

The 'Los Angeles Dance Awards' founded in 1994 was renamed to 'Fosse Awards' after his death.

After his death, the three-part revue on the choreographer's life titled, 'Fosse' premiered on Brodway in 1999.

One stretch of Paulina Street in Chicago is called 'Bob Fosse Way' in his honor.

A fellowship in his name was established by his daughter Nicole in the Alvin Ailey American Dance Company, in 2003.

Trivia

This famous American choreographer and director of the 'Pippin' fame, hated being bald and to cover his baldness he often wore hats.

| | | |
| --- | --- | --- |
| 1973 | Best Director | Cabaret (1972) |

| | | |
| --- | --- | --- |
| 1973 | Outstanding Single Program - Variety and Popular Music | Liza with a Z (1972) |
| 1973 | Outstanding Directorial Achievement in Comedy, Variety or Music | Liza with a Z (1972) |
| 1973 | Outstanding Achievement in Choreography | Liza with a Z (1972) |

| | | |
| --- | --- | --- |
| 1973 | Best Direction | Cabaret (1972) |

Translate Wiki

to Spanish, French, Hindi, Portuguese

Article Title

- Bob Fosse Biography

Author

- Editors, TheFamousPeople.com

Website

- TheFamousPeople.com

URL

-

https://www.thefamouspeople.com/profiles/bob-fosse-4675.php

Last Updated

- October 24, 2017

---

---

---