Bill Withers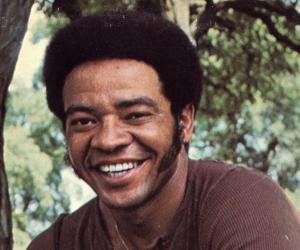 Quick Facts
Nationality: American
Famous: African Americans Guitarists
Age: 81 Years, 81 Year Old Males
Sun Sign: Cancer
Also Known As: William Harrison Withers Jr.
Born in: Slab Fork
Famous as: American singer-songwriter
Height: 6'2" (188 cm), 6'2" Males
Family:
Spouse/Ex-: Marcia Johnson (m. 1976), Denise Nicholas (m. 1973–1974)
father: William Harrison Withers Sr.
mother: Mattie Rose Withers
children: Kori, Todd
Diseases & Disabilities: Stammered / Stuttered
More Facts
education: NA
awards: 1971 - Grammy Award for Best Rhythm & Blues Song
1981 - Grammy Award for Best Rhythm & Blues Song
1987 - Grammy Award for Best Rhythm & Blues Song
1972 - Male Singer of the Year
Continue Reading Below
Bill Withers is one of the most renowned names in the Rhythm & Blues music genre. In his active career of two decades, he came up with some brilliant compositions and super hit albums that not only peaked the charts but were some of the most popular songs of the decade. Interestingly, Withers started off his career at the United States' Navy. It was while serving in the merchant marine that he became musically inclined. Relieved from his duties, he sought to take up music as career. After much effort, he finally launched himself on a big platform under the Sussex label. His debut album, 'Just as I Am' was a major hit and set the stage for his glorious career. in the next decade and a half, he came up with seven more hit albums including, 'Still Bill', '+Justments', 'Making Music, 'Making Friends', 'Naked & Warm', 'Menagerie', 'Bout Love' and 'Watching You Watching Me'.
Recommended Lists:
Recommended Lists:
Continue Reading Below
Childhood & Early Life
Bill Withers was born as William Harrison 'Bill' Withers Jr. in a small coal-mining town of Slab Fork, West Virginia. He was the youngest of the six children and was raised in Beckley, West Virginia.

His father, a coal miner, died when young Wither was just thirteen. Subsequently, he took up a series of menial jobs to support his family.

At the age of eighteen, he conscripted himself to the United States Navy. He rendered his service for about nine years. It was while at the Navy that an interest for singing and song-writing caught up on him.

Relieved from his duties in 1965, he shifted base to Los Angeles in 1967 to pursue a career in music.

Continue Reading Below

Recommended Lists:

Recommended Lists:

Career

He made a humble beginning, working as an assembler for various companies including the Douglas aircraft Corporation. With the money earned, he recorded demo tapes and performed the songs recorded at various clubs in downtown.

He continued working in odd jobs for several years until he finally managed to strike a deal with Sussex Records in 1970. His demonstration tapes were used during the auditions.

He recorded the album in three sessions - with the second and the final session having a break of six months. Finally, in 1971, his debut album, 'Just as I Am' was released with the singles, 'Ain't No Sunshine' and 'Grandma's Hands'. The album had Stephen Stills on the guitar.

'Just as I Am' was a grand success with its singles topping the charts. Post the successful reception of his debut album; he embarked on a tour with an assembled band which included members of The Watts 103rd Street Rhythm Band.

The single, 'Ain't No Sunshine' not only sold over one million copies but went on to earn him his first Grammy Award in the category of Best R&B. The single was awarded with a platinum disc.

Banking on the success of his first album, he recorded his second album, 'Still Bill'. The single from the album, 'Learn on Me' went on to peak at the number 1 position on the charts, selling more than three million copies, gaining a gold status.

Subsequently, he released the song, 'Use Me' in October 1972 which became a 3 million seller and was awarded the RIAA gold disc. The same year, he came up with a live album, 'Bill Withers: Live at Canegia Hall'.

Continue Reading Below

Two years later, he recorded the album, '+Justments'. However, legal problems prohibited him to record further with Sussex label. Nevertheless, this did not stop him from recording songs and he wrote and produced two songs on the Gladys Knight & The Pips record.

In the year 1975, he signed a deal with Columbia Records. His first album with the new label was 'Making Music, Making Friends'. The album included the single, 'She's Lonely' which was featured in the film, 'Looking for Mr.Goodbar'

Starting 1976, he came up with an album each year for three years. He started by coming up with the album, 'Naked & Warm' in 1976, which was followed by 'Menagerie' in 1977 and 'Bout Love' in 1978. These albums contained the hit tracks, such as 'Lovely Day' and 'Get on Down'. While the former charted its place at the Billboard Top 30, the latter was included in the film 'Looking for Mr.Goodbar'

His association with Columbia Records wasn't a smooth one and as such, he did not focus on label records only. In 1980, he collaborated with jazz saxophonist, Grover Washington Jr to come up with the hit track 'Just the Two of Us'. The song was a major hit, topping at number 2 on the Billboard Pop hit and went on to win him his second Grammy award.

He then joined hands with "The Crusaders" for the song, 'Soul Shadows' and with Ralph MacDonald for the track, 'In the Name of Love'. The songs were a major hit with the latter earning him yet another Grammy nomination.

In 1985, he came up with the album, 'Watching You Watching Me', which included the Top 40 rated R&B single, 'Oh Yeah'. It was his last release under Columbia Records.

After his association with Columbia Records ended in 1988, he came up with a remixed version of the song, 'Lovely Day' from his 1977 album, 'Menagerie'. The song gained utmost popularity and peaked at Top 10 Pop charts of UK. The same year, he won his third Grammy Award in the category of Best R&B song for the track, 'Lean on Me'.

Continue Reading Below

'Grandma's Hands' single from his debut album, 'Just as I Am' was partially included in the song, 'No Diggity' by BLACKstreet'. The song, featuring Dr. Dre, went on to peak at number 1 on the Billboard 100 chart, selling more than 1.6 million copies. It even won him a Grammy award in 1999 for Best R&B Performance by a Duo or Group with Vocals

In 2004, he contributed two songs for Jimmy Buffett's album, 'License to Chill'. Meanwhile, his earlier albums, such as 'Still Bill' and 'Just as I Am' were reissued in 2003 and 2005 respectively.

Recommended Lists:

Recommended Lists:

Awards & Achievements

Over the course of his musical career, he was six times nominated for the Grammy awards in various categories - he won thrice in the category of Best Rhythm & Blues Song for the tracks, 'Ain't No Sunshine', 'Just The Two of Us' and 'Lean on Me'.

He won the 1972 NAACP Image Awards in the category of Male Singer of the Year.

In 2002, he became the proud recipient of the honorary doctorate from Mountain State University.

In 2005, he was inducted into the Songwriters Hall of Fame.

In 2006, he won the ASCAP Rhythm & Soul Heritage award.

In 2007, he was inducted into West Virginia Music Hall of Fame. The same year, his song, 'Lean on Me' was inducted into the Grammy Hall of Fame.

Recommended Lists:

Recommended Lists: