Berry Berenson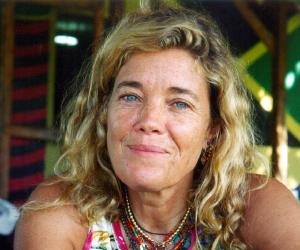 Quick Facts
Nationality: American
Died At Age: 53
Sun Sign: Aries
Born in: Murray Hill, New York City, New York
Famous as: Photographer
Family:
Spouse/Ex-: Anthony Perkins (m. 1973–1992)
children: Elvis Perkins, Oz Perkins
Died on: September 11, 2001
City: New York City
U.S. State: New Yorkers
Continue Reading Below
Berry Berenson was an American actor, model, and photographer, who died in the September 11 terrorist attack. She was one of the passengers on 'American Airlines Flight 11,' one of the domestic passenger flights that was hijacked by five 'Al-Qaeda' members on September 11, 2001. Berry started her career as a model in the 1960s. However, that did not last long. She eventually started working as a freelance photographer, and in a few years, her photographs began to be featured in publications such as 'Life,' 'Glamour,' 'Vogue,' and 'Newsweek.' She also completed a book on designer 'Halston.' Berenson also worked as a photographer for Andy Warhol's magazine 'Interview.' Her elegant and sophisticated photograph prints are still sold websites such as 'Condé Nast Collection.' As an actor, she has appeared in films such as 'Remember My Name' (1978), 'Winter Kills' (1979) and 'Cat People' (1982). She also published a book titled 'Dressing Up' with her elder sister. Remembered as funny, witty, and sultry, Berry was known to be full of life and was described as an extraordinary woman who lived her life to the fullest.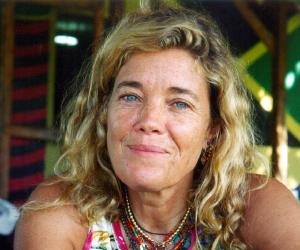 Recommended Lists:
Recommended Lists:
Continue Reading Below
Childhood & Early Life
Berinithia 'Berry' Berenson was born on April 14, 1948, in Murray Hill, Manhattan. Berry belonged to a rich ancestry.

Her mother, Maria-Luisa Yvonne Radha de Wendt de Kerlor, better known as "Gogo Schiaparelli," was a socialite of Italian, Swiss, French, and Egyptian descent. Her father, Robert Lawrence Berenson, was an American career diplomat-turned-shipping executive.

Her father was of Lithuanian Jewish descent. She also had an elder sister, Marisa Berenson, who later became a popular actor and model.

Her maternal grandmother, Elsa Schiaparelli, was a fashion designer from Italy. Her maternal grandfather, Wilhelm de Wendt de Kerlor, was a psychic medium and Theosophist.

Berry was also the great-grandniece of Giovanni Schiaparelli, the Italian astronomer who believed he had discovered the apparent canals of Mars. She was related to collector and art critic Bernard Berenson.

She was also the second cousin of Bernard's sister, Senda Berenson, one of the first women athletes to be elected to the 'Basketball Hall of Fame.' Senda was also an educator.

Berry was born into a wealthy family. She traveled to Italy, France, and Switzerland to educate herself. During this time, she met a lot of influential and famous people who had connections with her grandmother and mother.

She studied acting at 'The American Place Theatre' in New York, along with Richard Gere, Philip Anglim, Penelope Milford, Robert Ozn, Ingrid Bolting, and her sister, Marisa.

Recommended Lists:

Recommended Lists:

Career

Berry started as a model in the 1960s. Her career, however, did not last too long.

After quitting her career as a model, Berry turned to freelance photography. By 1973, her photographs began to be featured in big publications such as 'Vogue,' 'Newsweek,' 'Life,' and 'Glamour.'

During this time, her elder sister, Marisa, was already a popular model. Berry, too, was slowly attracting columnists and editors of big fashion magazines.

Diana Vreeland, the then-editor of 'Vogue,' knew the sisters since they were young, and thus became fascinated with Berry's photography. She would call them "Berengaria" and "Mauretania," after the ocean liners of Cunard.

Berry also worked for the editors of 'Harper's Bazaar.' She also worked briefly for Andy Warhol's magazine 'Interview.' While working for the magazine, she got an opportunity to interview and photograph her then-crush, actor Anthony Perkins.

Her signature style of black and white photos of models showcased ultimate elegance, class, and sophistication. She specialized in both long shots and close-ups.

Prints of her photographs are still available on websites such as 'Condé Nast Collection.' Berry, along with her sister, had also published a book titled 'Dressing Up,' in which Berry clicked the photos and her sister, Marisa, contributed to the written content. Marisa also modeled for the book.

Continue Reading Below

Berry also tried her luck in acting and appeared in a few films such as 'Remember My Name' (1978) with Anthony Perkins and 'Winter Kills' (1979) with Jeff Bridges.

In 'Remember My Name,' she portrayed 'Barbara Curry.' The thriller film was directed by Alan Rudolph.

'Winter Kills' was a black comedy and also starred her husband, Anthony Perkins. The film received positive reviews from critics.

In 1982, she appeared in the American erotic horror 'Cat People,' opposite English actor Malcolm McDowell. The film featured her as 'Sandra.'

Recommended Lists:

Recommended Lists:

Personal Life

Berry married actor Anthony Perkins on August 9, 1973, in Cape Cod. Massachusetts. Berry was 25 and Anthony was 41 at that time.

The couple was cast together in 'Remember My Name' after their marriage. She once stated that she was delighted with her life and that she had a fabulous husband and wonderful kids.

She gave birth to her first son, Oz Perkins, on February 2, 1974, and her second son, Elvis Perkins, on February 9, 1976. Oz Perkins is now a reputed screenwriter, actor, and director.

Elvis is a folk/rock recording artist. Berry and Perkins remained married until Perkins's death on September 12, 1992, due to AIDS- related complications.

Berry met a tragic death on September 11, 2001, when the passenger flight that she was in was hijacked by five 'Al-Qaeda' members. The name of the flight was 'American Airlines Flight 11.'

Berry died a day before Perkins's ninth death anniversary. She was returning to her home in California after vacationing in Cape Cod.

Berry is memorialized at the North Pool, on Panel N-76, at the 'National September 11 Memorial & Museum.' She was only 53 years old when she died.

Berry was described as funny and sultry by her friends and family. Her best friend mentioned in a tribute to her that she was generous and kind.

Recommended Lists:

Recommended Lists:

Translate Wiki

to Spanish, French, Hindi, Portuguese

Article Title

- Berry Berenson Biography

Author

- Editors, TheFamousPeople.com

Website

- TheFamousPeople.com

URL

-

https://www.thefamouspeople.com/profiles/berry-berenson-42925.php

Last Updated

- November 20, 2018

---

---

---