Baji Rao I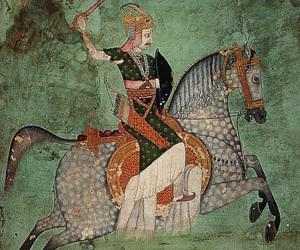 Quick Facts
Birthday: August 18, 1700
Nationality: Indian
Famous: Military Leaders Indian Men
Died At Age: 39
Sun Sign: Leo
Famous as: Peshwa of Maratha Empire
Family:
Spouse/Ex-: Kashibai, Mastani
father: Balaji Vishwanath
siblings: Chimnaji Appa
children: Balaji Baji Rao, Raghunathrao, Shamsher Bahadur I
Died on: April 28, 1740
Continue Reading Below
Bajirao I was the Peshwa (Prime Minister) to the fourth Maratha Chhatrapati (Emperor) Shahu. A courageous warrior, he is credited with expanding the Maratha Empire, especially in the north. Also known as Bajirao Ballal and Thorale ("Elder") Bajirao, he was born into a Marathi Chitpavan Brahmin family. His father was the first Peshwa of Chhattrapati Shahu, and Bajirao used to accompany his father on his campaigns from a young age. He inherited his father's courage and valor, and grew up to be a brave and daring warrior himself. He gained much fame for his military skills while still a teenager and was appointed as the Peshwa when he was just 20 years old. In this position he proved himself to be an outstanding cavalry leader who took up the charge of leading his troops and helped to greatly expand the Maratha Empire. Famed for his military skills, Bajirao made use of rapid tactical movements in battle which greatly contributed to his success. He fought several major battles and is reputed never to have lost one. He was a much respected figure who earned the love of his troops and his people. In addition to his exploits as a warrior, Bajirao was also known for his love for his half-Muslim wife Mastani.
Recommended Lists:
Recommended Lists:
Continue Reading Below
Childhood & Early Life
Bajirao was born on 18 August 1700 into a Marathi Chitpavan Brahmin family as the son of Balaji Vishwanath and Radhabai. He had a younger brother called Chimnaji Appa.

His father was the first Peshwa of Chhattrapati Shahu. As a young boy he often used to accompany his father on military campaigns and was well trained by the Maratha cavalry generals. Under his father's able guidance, he grew up to be a disciplined and highly skilled warrior.

His father was treacherously arrested by Maharaja Shahu's army-in-chief Dabhaji Thorat in 1716. Bajirao chose to accompany his father to jail and remained with him for two years till he was released. He travelled with his father to Delhi in 1718.

Recommended Lists:

Recommended Lists:

Later Years

His father Vishwanath died in 1720. Chhattrapati Shahu immediately announced the appointment of Bajirao as the new Peshwa even though the young man was barely 20 years old.

Bajirao was a tall and well-built man who in spite of his young age possessed great military skills. His appointment to the prestigious position of Peshwa at such a young age made many in the Maratha court jealous, but it did not take Bajirao long to prove that Shahu had made the right decision in choosing him.

From the very beginning he set his eyes upon extending the Maratha Empire. He embarked on his first major campaign in 1723 and conquered Malwa followed by Gujarat. Then he went on to annex most of central India and even dared to attack the imperial Delhi.

Eventually the administrative capital of the Maratha Empire was moved from Satara to the new city of Pune in 1728 at his suggestion. Chhattrapati Shahu had tremendous faith in Bajirao who fearlessly confronted the Mughals and played a major role in weakening their stronghold on the Indian subcontinent.

Bajirao led several military campaigns over a career spanning two decades. He is credited to have created the later Kingdoms of Scindias (Ranoji Shinde) of Gwalior, Holkars (Malharrao) of Indore, Gaekwads (Pilaji) of Baroda, and Pawars (Udaiji) of Dhar as part of the Maratha Empire.

The courageous warrior was highly skilled in military maneuvers and warfare. He fought over 41 major battles and many other smaller ones, and is reputed never to have lost a battle. He is especially noted for his victory over Bangash Khan who was regarded as the bravest commander of the Mughal army.

Major Battles

Bajirao was known for his military tactics and the Battle of Palkhed which he fought against the Nizam-ul-Mulk of Hyderabad is considered a great example of his brilliant execution of military strategy. Eventually the Nizam was defeated by the Marathas and Bajirao was hailed as the hero of the Marathas' resounding victory.

Personal Life & Legacy

Bajirao's first marriage was to Kashibai with whom he had two sons: Nanasaheb and Raghunathrao.

His second marriage was to, the daughter of Maharaja Chhatrasal of Panna by a Muslim wife. Mastani was a beautiful and brave woman, skilled in horse-riding, spear-throwing and swordsmanship. However, Mastani was never accepted by Bajirao's mother and brother as she was a half-Muslim. This marriage also caused a rift in the orthodox Hindu Pune society of the time.

Mastani gave birth to a son who was called Krishnarao at birth. However the orthodox Hindus did not allow the couple to raise their son as a Hindu. So the boy was renamed Shamsher Bahadur and raised a Muslim.

Bajirao died of an illness on 28 April 1740. Mastani too died shortly afterwards. According to popular folklore she committed suicide, though the exact details of her death are not known.

Bajirao's legend has inspired several books, television series, and films, one of the most popular ones being the movie 'Bajirao Mastani' (2015) directed by Sanjay Leela Bhansali.

Translate Wiki

to Spanish, French, Hindi, Portuguese

Article Title

- Baji Rao I Biography

Author

- Editors, TheFamousPeople.com

Website

- TheFamousPeople.com

URL

-

https://www.thefamouspeople.com/profiles/baji-rao-i-6806.php

Last Updated

- September 25, 2017

---

---

---