Badr Hari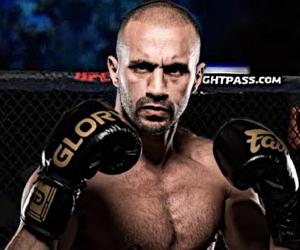 Quick Facts
Nick Name: The Golden Boy, The Bad Boy, The Cobra, Devil Prince of Morocco
Birthday: December 8, 1984
Nationality: Dutch
Age: 34 Years, 34 Year Old Males
Sun Sign: Sagittarius
Born in: Amsterdam, Netherlands
Famous as: kickboxer
Height: 1.98 m
Family:
Spouse/Ex-: Daphne Romani
children: Amber Hari
Continue Reading Below
Badr Hari is a Moroccan-Dutch super heavyweight kickboxer and a former K-1 Heavyweight champion. As of October 2016, he was ranked No.10 heavyweight in the world by Combat Press. However, his violent behavior, his vulgar display of power and his unsportsmanlike conduct have come in his way of becoming a successful athlete, as he was disqualified from matches several times, and was arrested on several occasions. He himself has admitted that he is an explosive and aggressive man, and can explode at any moment. Officially praised by the King of Morocco, Mohammed VI, for his excellent achievements in the sport, he has been nicknamed the 'Golden Boy'. His passion and determination have taken him from his native Amsterdam to many places around the world. The boy—who was sent to learn kickboxing at the age of seven to be able to defend himself from the bullies in the neighborhood—has till date clinched more than 100 wins in his kickboxing career. He has even beaten giants like Semmy Schilt, Gokhan Saki, Peter Aerts, and Stefan Leko! However, as of 2017, his career seems to be on a standstill as he has been recently convicted of assault and sentenced to serve a prison term.
Recommended Lists:
Recommended Lists:
Continue Reading Below
Childhood & Early Life
Badr Hari was born on December 8, 1984, in Amsterdam, to parents originally from Kenitra in Morocco. He has been into kickboxing since the age of seven, and started practicing under the guidance of Mousid Akamrane, a former World Champion. He was also trained by Thom Harinck, under whom Hari became one of the greatest kickboxing talents of the Netherlands.

Career

Badr Hari started gaining popularity after a couple of matches against Stefan Leko in 2005. In a June 2005 match, Leko knocked him out. In November 2005, at the age of 20, he debuted at the K-1 World Grand Prix 2005 tournament against Leko. In the match, he knocked Leko out.

Next he fought in the K-1 World Grand Prix 2006 in Auckland. In the first round, Peter Graham knocked him out. His kick broke Hari's jaw in multiple places. He returned to the ring at the K-1 World Grand Prix 2006 Final Elimination against Ruslan Karaev. Karaev hurt him with a straight right, which, Hari claimed, to be a foul kick. As a protest, he refused to leave the ring, and was forcefully taken out by K-1 officials.

In the K-1 Grand Prix 2006 Finals, he won against Paul Slowinski. At K-1 Premium 2006 Dynamite, he fought against Nicholas Pettas, and broke his left shoulder with a right high kick.

He fought Karaev once again at K-1 World GP 2007 in Yokohama. The match was to qualify for the first K-1 Heavyweight Title Match in April 2007. Karaev knocked him down in the second round, but he managed to score a KO.

At K-1 World GP 2007, he won against Yusuke Fujimoto for the Heavyweight belt. He became the world's first K-1 Heavyweight champion. Hari then fought Peter Graham at K-1 World Grand Prix 2007, and won the match. At K-1 World GP 2007 Final Elimination, he won the match against Doug Viney, and qualified for his first K-1 World GP Final.

In 2008, he knocked out Ray Sefo in Yokohama, Glaube Feitosa in Fukuoka and Domagoj Ostojic in Hawaii. He qualified for K-1 World Grand Prix 2008 Final by TKO win over the Hong Man Choi.

Due to his aggressive behavior, he lost the K-1 Final against Remy Bonjasky. While he was issued a red card, Bonjasky was declared K-1 World GP 2008 champion. While K-1 did not suspend him, he was stripped of his heavyweight and runner-up titles in the tournament, and his prize money was taken away.

Continue Reading Below

Hari lost the K-1 rules match on K-1's New Year's Eve extravaganza Dynamite!! 2008.

In May 2009, he fought Semmy Schilt at It's Showtime 2009 Amsterdam, and took the heavyweight title.

At K-1 World Grand Prix 2009 Final 16, he knocked out Zabit Samedov. He fought Karaev and Alistair Overeem in a rematch to make it to the World Grand Prix Final against Semmy Schilt. However, he lost by KO after he was knocked down three times.

At It's Showtime 2010 Prague, he defended his Showtime heavyweight title against Mourad Bouzidi. In April, he defeated Alexey Ignashov in K-1 World Grand Prix 2010.

Badr Hari dominated at the It's Showtime 2010 Amsterdam event, hitting Hesdy Gerges many times. In the second round, he knocked down Gerges, and while Gerges was trying to stand up, Hari kicked him in the face, leading to his disqualification. Gerges was declared the winner.

In 2011, he took a year off from kickboxing, and returned to the ring at It's Showtime 2011 Lyon against Gregory Tony. He won by TKO in round one with three knockdowns. He defeated Gökhan Saki at It's Showtime 2012, and earned a TKO victory. In May 2012, he faced Anderson "Braddock" Silva, and won the bout.

In March 2013, at K-1 World Grand Prix 2012 Final, Hari fought Zabit Samedov. He won the match, but injured his foot. As a result, he had to bow out of the tournament. In May 2014, he won a four-man tournament at GFC Series 1 in Dubai, knocking out Stefan Leko in the semi-finals, and scored a TKO over Peter Graham in the final.

Continue Reading Below

In July 2014, he announced on social media that he would take an indefinite leave from kickboxing, but the following day, he denied making such a statement, and rejected his "official" Facebook account.

In December 2016, Hari and Rico Verhoeven battled out in German Oberhausen. The match was stopped as Hari received an arm injury. As a result Verhoeven was declared the winner.

Awards & Achievements

Badr Hari holds several titles including WPKL Dutch Muay Thai champion; K-1 World Grand Prix runner up; It's Showtime Heavyweight champion; K-1 World Grand Prix runner up; K-1 Heavyweight champion; and GFC Fight Series 1 Heavyweight Tournament Champion.

Personal Life

Badr Hari has been arrested several times on accounts of assault charges, and is known for his violent behavior. According to a psychologist, his over-confidence as a successful athlete and his vulgar display of power combined with his celebrity status has led to personality disorders.

In February 2017, the Supreme Court of the Netherlands turned down his appeal against a 2015 sentence, and asked him to return to the Netherlands to serve six months in custody. He had previously served an eight months jail term in the same case.

From 2006, he dated a Dutch lady Chantal Oornink for five years. He then dated Dutch model Daphne Romani for three years. They have a daughter, Amber Hari, who was born in 2012. Amber is an important part of his life. Following his break-up from Romani, he dated Dutch socialite Estelle Cruijff for two years. He was also once linked to American model Amber Rose.

He has passion for cars, clothes, and style, and immense love for the heritage of his ancestral Moroccan homeland. He loves to travel to different places in the world and likes to spend his free time with his family and friends.

Translate Wiki

to Spanish, French, Hindi, Portuguese

Article Title

- Badr Hari Biography

Author

- Editors, TheFamousPeople.com

Website

- TheFamousPeople.com

URL

-

https://www.thefamouspeople.com/profiles/badr-hari-14359.php

Last Updated

- September 07, 2017

---

---

---