Anton LaVey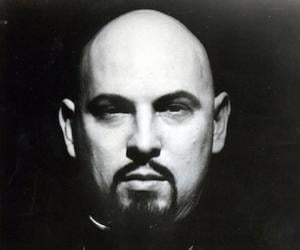 Quick Facts
Nationality: American
Famous: American Men Aries Men
Died At Age: 67
Sun Sign: Aries
Also Known As: Anton Szandor LaVe
Born in: Chicago
Famous as: Occultist
Family:
Spouse/Ex-: Blanche Barton, Diane Hegarty
father: Michael Joseph Levey
children: Karla LaVey, Satan Xerxes Carnacki LaVey, Zeena Schreck
Died on: October 29, 1997
place of death: San Francisco
City: Chicago, Illinois
U.S. State: Illinois
Founder/Co-Founder: Church of Satan
More Facts
education: Globe High School
Continue Reading Below
Anton LaVey was an American occultist who established the Church of Satan at his 'Black House' in San Francisco, California, in 1966. He also wrote 'The Satanic Bible', the central religious text of his newly founded religion of LaVeyan Satanism. Other books that he authored include 'The Satanic Rituals', 'The Satanic Witch', 'The Devil's Notebook', and 'Satan Speaks!' A musician at heart, he released the albums 'The Satanic Mass', 'Satan Takes a Holiday', and 'Strange Music'. He did minor roles in the short-film 'Invocation of My Demon Brother' and the feature-film 'The Devil's Rain', served as technical advisor for the latter, and narrated the mondo film 'Death Scenes'. He has also appeared on talk shows like 'The Joe Pyne Show', 'The Phil Donahue Show' and 'The Tonight Show', and has been featured on magazines such as 'Look', 'McCall's', 'Newsweek', and 'Time'. His life has been chronicled via documentaries like 'Satanis' and 'Speak of the Devil: The Canon of Anton LaVey', as well as biographical books like 'The Devil's Avenger' and 'The Secret Life of a Satanist'.
Childhood & Early Life
Anton LaVey was born as Howard Stanton Levey on April 11, 1930 in Chicago, Illinois to liquor salesman Michael Joseph Levey and Gertrude Augusta Coultron. His Russian-born maternal grandparents, who had immigrated to Ohio in 1893, became naturalized American citizens in 1900.

As a child, he was interested in learning various musical instruments including the pipe organ and the calliope, a passion that his parents fully supported. He spent his childhood in the San Francisco Bay Area in California, and attended Tamalpais High School in Mill Valley until he left school at the age of 16 to join circus.

Continue Reading Below

Early Career

According to Anton LaVey, during his time in the circus, and later in carnivals, he worked as a roustabout and cage-boy in an act with the big cats, and as a musician playing the calliope. He also claimed that he developed a cynical view of religion after witnessing church-goers attending bawdy Saturday night shows; however, journalist Lawrence Wright's investigations found no evidence of him ever working in a circus.

For a time, he used his musical skills to find jobs as an organist in bars, lounges and nightclubs, which reportedly led to a brief affair with Marilyn Monroe before she became an actress. However, his partner Hegarty later admitted to have forged the 'Monroe' inscription that he had used as evidence.

He claimed to have worked with the San Francisco Police Department (SFPD) as a photographer for three years, during which time he also looked into 800 calls as a psychic investigator. However, later biographers refute this claim as well as they found no evidence suggesting he ever worked with SFPD at all.

Nevertheless, he had attracted the attention of several notable local personalities thanks to his paranormal research and live musical performances. Regular guests at his parties included Michael Harner, Chester A. Arthur III, Forrest J Ackerman, Fritz Leiber and Kenneth Anger, and he was friends with weird-fiction writers Robert Barbour Johnson and Clark Ashton Smith.

Church of Satan

Anton LaVey formed a group called the 'Order of the Trapezoid' during the 1950s and began performing weekly satanic rituals with followers at his residence, the 'Black House', in San Francisco, California. The group evolved into the governing body of the Church of Satan after it was co-founded by LaVey and his longtime partner Diane Hegarty on April 30, 1966.

He publicly declared the year 1966 as "the Year One" or 'Anno Satanas' – the first year of the 'Age of Satan'. The first publicized ritual performed by him was the Satanic wedding ceremony of socialite Judith Case and journalist John Raymond on February 1st, 1967, following which he was dubbed 'The Black Pope' by the media.

Continue Reading Below

Soon after, he performed the first Satanic baptism in history for his three-year-old younger daughter Zeena, whom he dedicated to Satan and the Left-Hand Path. Other publicly recorded Satanic rituals included the funeral of naval machinist-repairman Edward Olsen, during which a chrome-helmeted honor guard escorted his casket.

In 1968, he released the vinyl LP, 'The Satanic Mass', containing the audio recording of the baptism of his daughter Zeena on side one, from his own label, Murgenstrumm. The other side of the record contained his recital of the then-unpublished book, 'The Satanic Bible', with background music from Ludwig van Beethoven, Richard Wagner and John Philip Sousa.

He next established a number of branches of the Church, known as grottos, including the Babylon Grotto in Detroit, the Stygian Grotto in Dayton, and the Lilith Grotto in New York City. Throughout the decade, the new religion was covered in several books, magazines and newspaper articles, as well as the 1970 documentary 'Satanis', which attracted celebrity members like Sammy Davis Junior and Jayne Mansfield to his church.

In 1969, he played 'His Satanic Majesty' in the 11-minute Kenneth Anger film, 'Invocation of My Demon Brother'. The same year, he published 'The Satanic Bible', a collection of essays, observations, and rituals which is considered the central religious text of LaVeyan Satanism.

As several of the regional church heads resigned to form their own brotherhoods in the early 1970s, he demolished the Grottos to centralize control. He later introduced a donation system which further caused a mass desertion, with members joining the Temple of Set, established by Michael Aquino in 1975.

In the 1980s, media reports of criminal conspiracies within the Church of Satan caused 'Satanic Panic'. Throughout the decade, his daughter Zeena made numerous media appearances on his behalf to refute allegations of criminal activity.

Major Works

Anton LaVey's single most notable work is establishing the Church of Satan which represented "the first public, highly visible, and long-lasting organisation which propounded a coherent Satanic discourse".

Continue Reading Below

Personal Life & Legacy

Anton LaVey began dating Carole Lansing soon after they met in 1950, and eventually got married the next year. Their daughter, Karla LaVey, born in 1952, was a founding member and High Priestess of the Church of Satan and founded the First Satanic Church in San Francisco in 1999.

He divorced Lansing in 1960 after getting involved with Diane Hegarty, with whom he had his second daughter, Zeena Schreck, who became estranged from him in the 1990s. LaVey and Hegarty remained together for 25 years, but never got married; however, she sued for palimony after their separation.

He met Blanche Barton after Hegarty left the Black House, following which they began a relationship. She gave birth to their son, Satan Xerxes Carnacki LaVey, on November 1, 1993.

His daughter, Zeena, resigned as High Priestess of the Church of Satan and renounced LaVeyan Satanism in 1990 after she realized that "most of her father's self-created legend was based on lies". She even claimed that LaVey had endangered her life out of jealousy and spite.

LaVey died of pulmonary edema on October 29, 1997, in St. Mary's Medical Center in San Francisco. His body was cremated in Colma following a secret invitation-only Satanic funeral.

Trivia

While Anton LaVey claimed to have shaved his head during a ritual in the tradition of ancient executioners while founding the Church of Satan, he actually did it after losing a bet.

Translate Wiki

to Spanish, French, Hindi, Portuguese

Article Title

- Anton LaVey Biography

Author

- Editors, TheFamousPeople.com

Website

- TheFamousPeople.com

URL

-

https://www.thefamouspeople.com/profiles/anton-lavey-9602.php

Last Updated

- July 06, 2018

---

---

---