Anil Ambani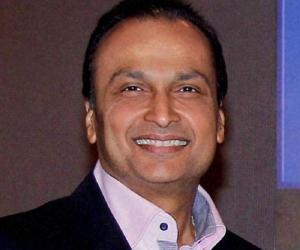 Quick Facts
Nationality: Indian
Famous: Telecommunication Indian Men
Age: 59 Years, 59 Year Old Males
Sun Sign: Gemini
Born in: Mumbai
Famous as: Chairman of Reliance ADA Group
Height: $3.5 Billion as of Jan 15, 2017
Family:
Spouse/Ex-: Tina Ambani (m. 1991)
father: Dhirubhai Ambani
mother: Kokilaben Ambani
siblings: Deepti Salgaonkar, Mukesh Ambani, Nina Kothari
children: Anmol Ambani, Jai Anshul Ambani
More Facts
education: University of Mumbai, Wharton School of the University of Pennsylvania, University of Pennsylvania
Continue Reading Below
Anil Ambani is an Indian business tycoon, who is the chairman of Reliance ADA Group, formed after the demerger from Reliance Industries Limited, headed by his elder brother Mukesh Ambani. Prior to the demerger, following in their father Dhirubhai Ambani's footsteps, the two brothers expanded the Reliance business empire to include industries such as textiles, petroleum, petrochemicals, power and telecommunications and more. Anil is currently the head of a host of companies including Reliance Capital, Reliance Infrastructure, Reliance Power and Reliance Communications. He is a major partner of Steven Spielberg's production company DreamWorks. He has received a number of awards and accolades for achievements in the field of business, including the 'Best role model' honor by 'India Today' magazine. He was among the top ten richest Indians since 2004, but fell out of the list in 2009 after major erosion in his wealth. Recently, the shares of his wireless unit, Reliance Communications, saw a $513 million wipeout, even though profits from Reliance Capital Ltd. and Reliance Power Ltd. outstripped the erosion. According to the Forbes billionaire list, he is currently the 33rd richest Indian with a net worth of $3.2 billion.
Recommended Lists:
Recommended Lists:
Continue Reading Below
Childhood & Early Life
Anil Ambani was born on June 4, 1959 in Mumbai, Maharashtra, India to Dhirajlal Hirachand "Dhirubhai" Ambani, the founding father of Reliance Industries, and his wife Kokilaben Ambani. He is the younger brother of Mukesh Ambani, who later became the head of Reliance Industries Limited, and has two sisters, Nina Kothari and Deepti Salgaonkar.

His father settled in Mumbai following his return from Yemen and started his import-export business in a small 350 sq. ft. room in partnership with his cousin Champaklal Damani. He and his partner went their separate ways in 1965 and he founded Reliance Industries in 1966.

Anil grew up in a typical middle-class Indian family and lived in a two-bedroom apartment at the Jai Hind Estate in Bhuleshwar, Mumbai, in the early 1970s. The family lived in a six-storeyed apartment at Usha Kiran for some time and later his father purchased a 14-floor apartment in Colaba, where the two brothers lived for a long time.

In 1975, he enrolled into Kishinchand Chellaram College under University of Mumbai, from where he earned his bachelor's degree in Science. He later went to the USA to pursue his master's degree in Business Administration at The Wharton School, University of Pennsylvania.

Recommended Lists:

Recommended Lists:

Career

Anil Ambani joined his father's conglomerate company, Reliance Industries, as the Co-Chief Executive Officer in 1983. In this position, he has been credited with pioneering many innovations in the Indian capital market.

He also led India's first foray into overseas capital markets with international public offerings of global depositary receipts, convertibles and bonds. Since 1991, the company, under his leadership, has managed to raise around US$2 billion from overseas financial markets.

The high point in his overseas endeavours came in 1997 when he launched a 100-year $100 million Yankee bond at a rate of 10-25 per cent per annum in the US market. Following in his father's footsteps, who had made issuing of such bonds fashionable, his attempts made the company the first in India, and the country the second in Asia, to issue these bonds.

Since 1986, after their father suffered a stroke, the two brothers successfully took the company to new heights, making it one of India's leading textiles, petroleum, petrochemicals, power and telecommunication company.

After Dhirubhai Ambani died of a major stroke on July 6, 2002, the two brothers started to have differences over 'ownership issues'.

By 2004, the split between the two had become evident and both of them trusted their mother, Kokilaben Ambani, with the task of dividing the Rs. 90,000-crore Reliance empire between her two sons. Following the demerger the next year, Anil formed the Reliance Anil Dhirubhai Ambani Group (Reliance ADA Group).

He has been heading Reliance Infrastructure Ltd. since 2003, and became the Chairman of Reliance Capital Ltd. in 2005, Reliance Communications Ltd. in 2006, and Reliance Power Ltd. in 2007. In 2008, he was credited with India's largest IPO of Reliance Power which was subscribed in less than 60 second on offer, the fastest in the history of Indian capital markets.

Continue Reading Below

In 2005, he ventured into the entertainment industry by acquiring a majority stake in Adlabs Films, a company involved in film processing, production, exhibition and digital cinema. The company was renamed to Reliance MediaWorks in 2009.

Reliance Entertainment, media and entertainment arm of his company, emerged on the global platform in 2008 after starting a joint venture worth US$1.2 billion with Steven Spielberg's production company DreamWorks. The company had significant contribution to the production of Spielberg's 'Academy Award' winning 2012 biopic 'Lincoln'.

Major Works

Anil Ambani's Reliance Group has a market capitalization of US$14 billion and net assets of US$28 billion. Operating in over 20,000 towns and 450,000 villages in India and abroad, the company touches the life of 1 in 10 Indians every single day.

Awards & Achievements

In December 1997, India's leading business magazine 'Business India' named Anil Ambani the 'Businessman of the Year'.

He was conferred 'The Entrepreneur of the Decade Award' by the Bombay Management Association in October 2002.

In 2004, he was named 'the CEO of the Year' in the Platts Global Energy Awards.

Anil Ambani was voted the 'Businessman of the Year' in a poll by 'The Times of India', in 2006.

Personal Life & Legacy

Anil Ambani met his future wife, yesteryear's Bollywood actress Tina Munim, while attending a Gujarati wedding in the 1980s. They met again within a few months while both of them were in Philadelphia, but when he asked her out she declined as she was in a relationship with much older Bollywood superstar Rajesh Khanna.

In 1986, while nursing a broken heart after being separated from Rajesh Khanna, Tina learned about Anil's interest in her via a relative. While initially reluctant to get into another relationship, she later agreed to go on a date and the two became emotionally involved soon after.

Despite the fact that she was also a Gujarati like them, Anil's family was against the union due to her previous involvement. This caused them to part ways for years till he once again contacted her after his parents, realizing his genuine love for the actress, gave consent to their marriage.

The two finally got married in February 1991 in a lavish Gujarati wedding ceremony. They have two sons together, Anmol and Anshul, born in 1991 and 1995 respectively.

Trivia

In 1975, during his interview to get into KC College, everyone spoke to Anil Ambani in Sindhi, mistaking his surname, which ends in 'ni', to be a Sindhi surname. However, both his parents are Gujarati, and he stated in an interview that he is proud to be a Gujarati.

As a child, he was a prankster and often got into troubles for the pranks he played on others, while his mother, who had a soft spot for him, had to come to his rescue. According to some sources, once when asked by his father how he broke a glass, he reportedly broke another glass to demonstrate, which, instead of infuriating his father, gave him a good laugh.

Translate Wiki

to Spanish, French, Hindi, Portuguese

Article Title

- Anil Ambani Biography

Author

- Editors, TheFamousPeople.com

Website

- TheFamousPeople.com

URL

-

https://www.thefamouspeople.com/profiles/anil-ambani-33698.php

Last Updated

- August 31, 2017

---

---

---