Anatole Broyard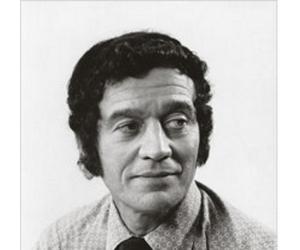 Quick Facts
Nationality: American
Died At Age: 70
Sun Sign: Cancer
Born in: New Orleans, Louisiana
Famous as: Writer
Family:
Spouse/Ex-: Aida Sanchez, Alexandra (Sandy) Nelson
father: Paul Anatole Broyard
mother: Edna Miller
siblings: Lorraine, Shirley
children: Bliss, Todd
Died on: October 11, 1990
place of death: Boston, Massachusetts
U.S. State: Louisiana
City: New Orleans, Louisiana
More Facts
education: Brooklyn College
Continue Reading Below
Anatole Broyard spent most of his life as a writer, literary critic, teacher and editor. Broyard worked as a book critic for the New York Times Book Review for 15 years followed by an additional three years as an editor. While teaching creative writing at the college level he continued to write short stories, personal essays and book reviews. His essay, "Portrait of the Inauthentic Negro," published in a 1950 issue of 'Commentary' magazine, took a look at black men who passed for white to obtain opportunities which a black man of that time was not typically afforded. Ironically, though most around him were unaware, Broyard himself lived as a white man ignoring his mixed race heritage. He was working on his autobiography when he was diagnosed with prostate cancer. So he set it aside to write a collection of articles about illness and death; the pieces were published in the New York Times Magazine and The Book Review. Two years after his death the articles were compiled and printed in a book called 'Intoxicated by My Illness: And Other Writings on Life and Death'. He was criticized a lot after his death for failing to acknowledge his African-American ancestry and passing as white.
Recommended Lists:
Recommended Lists:
Continue Reading Below
Childhood & Early Life
Anatole Broyard was born on July 16, 1920, in New Orleans, Louisiana, to Paul Anatole Broyard and Edna Broyard. His father was a carpenter and construction worker. Anatole had two sisters.

He graduated from Boys High School and enrolled at the Brooklyn College in 1937. He loved to read books, but loathed studies and thus dropped out of college after a couple of years.

Recommended Lists:

Recommended Lists:

Career

He did jobs after dropping out. In spite of being of mixed ancestry he declared himself to be white on his Social Security application.

He enlisted into the army in 1942 during the World War II. Since the services were segregated, he again passed off as white and went to the officers' school. He served in the 167th Port Company, based in New Guinea.

As a result of serving in the war he acquired a G.I. Bill which provided a range of benefits to returning World War II veterans. Broyard used his G.I. Bill to study psychology and modern art at the New School for Social Research.

He retained his "white" identity after the war and aspired to become a writer. He had already begun writing during the pre-war days and now felt it was time to follow his passion wholeheartedly.

He was married with a child by then but his wife did not support his literary aspirations, so he divorced her and settled in Greenwich Village. He integrated into the village's literary life and opened a bookstore with his savings from the war.

His bookstore stocked the works of only a few modernist writers he admired, such as, Louis-Ferdinand Céline and Franz Kafka. Being the bohemian that he was, he did not run his bookstore like a business, but treated it more as a place for interacting with like-minded people.

His stories started getting published during the 1940s in the leading pocket-books of those times like 'Modern Writing', 'Discovery' and 'New World Writing'.

Continue Reading Below

His story 'Portrait of a Hipster' was published in 'Commentary' magazine in 1948. In this work he described a hedonistic hustler who lived on the edge of the society, a concept that Norman Mailer would later popularize in a future essay.

In 1950, the 'Commentary' published his 'Portrait of the Inauthentic Negro', which had been inspired by the work by the French philosopher Jean Paul Sartre.

Being of mixed ancestry he was often troubled by his complicated racial identity. He refused to openly acknowledge his African-American heritage, though his writings such as 'Portrait of the Inauthentic Negro' often belied his racial confusion.

He supplemented his income from writing by teaching creative writing at the New School at New York University and Columbia University. By now he had also gained great reputation as a book reviewer and wrote daily book reviews for the New York Times.

During the 1970s he started publishing brief personal essays in the 'New York Times' which won him much acclaim. His works were then collected and published in 'Men, Women and Anti-Climaxes' in 1980.

Recommended Lists:

Recommended Lists:

Major Works

His autobiographical work, 'Intoxicated by My Illness' which was published posthumously became a widely acclaimed book. In this memoir he had bravely recounted his battle with cancer and expressed his opinions on life, illness, and death.

Personal Life & Legacy

Broyard was married briefly to Aida Sanchez. They divorced when he returned from service after World War II. They had one daughter named Gala.

He married Alexandra Nelson in 1961 when he was 40 years old. Alexandra was a much younger woman of Norwegian-American descent. They had two children.

He was diagnosed with prostrate cancer in 1989. He continued writing in spite of his ill health and died on October 11, 1990. He had kept his African-American heritage a secret from his children which was revealed to them shortly before his death.

Translate Wiki

to Spanish, French, Hindi, Portuguese

Article Title

- Anatole Broyard Biography

Author

- Editors, TheFamousPeople.com

Website

- TheFamousPeople.com

URL

-

https://www.thefamouspeople.com/profiles/anatole-broyard-4596.php

Last Updated

- November 01, 2017

---

---

---