Akira Toriyama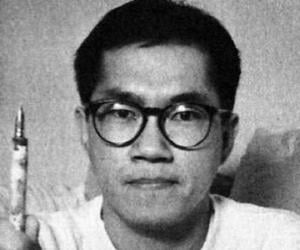 Quick Facts
Nationality: Japanese
Famous: Artists Japanese Men
Age: 63 Years, 63 Year Old Males
Sun Sign: Aries
Born in: Nagoya, Aichi Prefecture
Famous as: Japanese Manga Artist
Family:
Spouse/Ex-: Nachi Mikami (m. 1982)
children: Sasuke Toriyama
More Facts
awards: Shogakukan Manga Award (1981)
Continue Reading Below
Akira Toriyama is a Japanese 'Mangaka' or a manga artist (Manga is a comic created in Japan or in Japanese language, drawn in a specific late 19th century Japanese style). He is best known for his manga 'Dragon Ball,' which is one of the most popular and successful manga in the world. He is a noted video-game character designer, known for the games 'Dragon Quest' series, 'Blue Dragon,' among others. Born and raised in Japan, he developed a liking for drawing manga during his school days. After working for a few years in an advertising company, he quit the job to become a manga artist. After his first few manga, he earned true recognition when his comedy series 'Dr. Slump' received wide appreciation. He followed this up with even greater success of the series 'Dragon Ball.' Millions of copies of his manga were sold worldwide and both these manga were adapted into anime. Later, he created shorter manga and one-shots. He received prominent awards in recognition of his excellent art. He is married to Yoshimi Kato and they have a son and a daughter.
Recommended Lists:
Recommended Lists:
Continue Reading Below
Childhood & Early Life
Toriyama was born on April 5, 1955, in Nagoya, Aichi, Japan. His father owned an auto repair business and enjoyed motorbike racing. Toriyama has inherited the love for cars and motorbikes from his father.

As there were no means of entertainment during his school days, all his elementary school friends tried to draw anime and manga. He, too, followed the trend and then, his entry of '101 Dalmatians' won him a prize at the local art studio. Thus, he got interested in this work.

In 1974, he joined high school to study art, specializing in publicity. But in 1977 he left it to enroll in 'cartoon drawing.' Then he took up a job of designing posters in an advertising company in Nagoya. He worked for 3 years before quitting the job to become a manga artist.

Recommended Lists:

Recommended Lists:

Career

He entered his manga in an amateur contest of 'Jump' magazine. Though he didn't win it, his work was noticed and appreciated by Kazuhiko Torishima, who later worked as the editor of Toriyama's manga.

In 1978 Toriyama made his debut in the manga industry when his story 'Wonder Island' got published in the 'Weekly Shōnen Jump.' In 1979, he created his next manga, 'Highlight Island.'

His 1980's comedy series 'Dr. Slump' brought him a lot of appreciation and fame. The series was published from 1980 to 1984 in 'Weekly Shōnen Jump.' The story illustrates exploits of a professor and his robot, 'Arale.' This manga earned him the 'Shogakukan Manga Award' in 1981. 'Dr. Slump' has sold more than 35 million copies in Japan. It was adapted into an anime series, which was aired on TV from 1981 to 1986 with great success. Its remake series was shown from 1997 to 1999.

Toriyama's manga series 'Dragon Ball' was first published in 1984 in the 'Weekly Shōnen Jump' and it immediately gained popularity and eminence. In Japan alone, its sale has crossed 156 million copies and is considered as the 'most influential Shōnen manga.' It boosted up the magazine's circulation to 6.53 million in 1995.

'Dragon Ball' was started as an adventure manga and then later it developed into a martial arts series. It ran successfully for 11 years from 1984 to 1995. Toriyama created altogether 519 chapters of the manga which were compiled in 42 volumes. This tremendously successful manga series was adapted into 5 anime and many animated movies as well as video games. (2 of these 5 anime were not based on the manga, but Toriyama himself had designed the characters.)

'Dragon Ball' became popular not only in Japan, but also in Europe and North America. 240 million copies of the manga were sold all over the world.

In 1986, Yuji Horii, designer and creator of video games, approached Toriyama for character design and art for 'Dragon Quest.' This game introduced computerized RPGs (Role Playing Games) to mainstream Japanese market. Toriyama has designed characters for many other video games such as – 'Dragon Warrior,' 'Super Famicom,' 'Chrono Trigger,' and the 'Tobal' series. However, in the world of video games, his most significant work is designing characters for the famous RPG series 'Dragon Quest.'

Continue Reading Below

After the 'Dragon Ball' series, Toriyama created shorter manga, which included 'Cowa!,' 'Kajika,' and 'Sand Land.' 'Shonen Jump,' the North American version of the 'Weekly Shōnen Jump,' was launched in December, 2002 at New York City. Toriyama's 'Dragon Bull' and 'Sand Land,' along with his interview, were included in the American magazine.

Toriyama designed a one-person (QVOLT) electric car, which was marketed by 'CQ Motors' in March 2005. It took him one year to design this car.

In 2006, he created 'Cross-Epoch,' a one-shot (a comic published as a single issue and not as part of a series) in collaboration with Elichiro Oda, who is famous for manga, 'One Piece.' It is a 'crossover,' which has characters from 'Dragon Ball' as well as 'One Piece.' Toriyama worked with his friend Masakazu Katsura in 2008, to create the Jump SQ one-shot, 'Sachie-Chan Good!!' and in 2009, they created 'Jiya' in 'Weekly Young Jump.'

In 2009, Toriyama worked on a manga, 'Delicious Island's Mr. U' for a non-profit environmental organization of Anjō. This manga explained the importance of nature and agriculture to children. Working with 'Shōnen Jump,' he created a video to garner support for the 2011 Tohoku earthquake and tsunami victims.

Toriyama developed the animation as well as screenwriting of the series' first film titled 'Dragon Ball Z: Battle of Gods,' which was released on March 30, 2013. He also worked on its sequel, 'Dragon Ball Z: Resurrection 'F',' which was released on April18, 2015.

In July 2013, he launched a new series, 'Jaco, the Galactic Patrolman,' to celebrate the 45th anniversary of 'Weekly Shōnen Jump.' At a point (around 2014) he grew tired of drawing manga with continuous violent fights, but he was always interested in the exchanges between less important characters. From 2015, he started working on 'Dragon Ball Super' anime and manga.

Toriyama draws inspiration from cartoonist Osamu Tezuka, Walt Disney's '101 Dalmatians,' and says that Jackie Chan's movie 'Drunken Master' was the inspiration behind his manga 'Dragon Ball.' His studio is called 'Bird Studio,' derived from his name 'Tori' which in Japanese means a bird. He does all the creative work by himself, occasionally taking an assistant to do the backgrounds.

Awards & Achievements

In 1981, he won 'Shogakukan Manga Award' for 'Best Shōnen or Shōja Manga Series of the Year' for his manga 'Dr. Slump.' In honor of his years of work, he was presented the 'Prix Special 40th Anniversary Festival Award' at France's 'Angoulōme International Comics Festival' in 2013.

In March 2013, an exhibit 'Akira Toriyama: The World of Dragon Ball' was opened at the 'Takashimaya Departmental Store' in Nihonbashi. The exhibit, divided into seven detailed areas, attracted thousands of visitors. It travelled to two more cities, Osaka and Nagoya.

Personal Life

Toriyama married Yoshimi Kato on May 2, 1982. Earlier she worked as a manga artist under pen name 'Nachi Mikami.' Occasionally she helped Toriyama with his manga work. Their son was born in March 1987 and daughter was born in October 1990.

He is an animal lover and has had many pets since his childhood. He has a great liking for plastic models and has created many for 'Fine Molds' brand.

Translate Wiki

to Spanish, French, Hindi, Portuguese

Article Title

- Akira Toriyama Biography

Author

- Editors, TheFamousPeople.com

Website

- TheFamousPeople.com

URL

-

https://www.thefamouspeople.com/profiles/akira-toriyama-36851.php

Last Updated

- June 07, 2018

---

---

---