A. J. Langer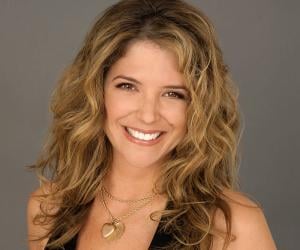 Quick Facts
Nationality: American
Famous: Actresses American Women
Age: 45 Years, 45 Year Old Females
Sun Sign: Gemini
Also Known As: Allison Joy Courtenay
Born in: Columbus, Ohio, United States
Famous as: American actress
Height: 5'1" (155 cm), 5'1" Females
Family:
Spouse/Ex-: Charles Courtenay
father: Deana
mother: Gary Langer
siblings: Kirk
children: Jack Haydon Langer Courtenay, Joscelyn Skye
U.S. State: Ohio
More Facts
education: Alfred B. Nobel Middle School
Continue Reading Below
A. J. Langer, styled 'Lady Courtenay', is an American television actress who achieved recognition from her famous role of 'Rayanne Graff' in 1994 in 'My So-Called Life'. It was a teen drama which dealt with teen issues like, child abuse, homophobia, teenage alcoholism, drug use, violence, etc. Her bold portrayal of wild, troubled, addicted and rebellious 'Rayanne Graff' became very famous on the American television at the time. Before 'My So-Called Life', Langer used to be regular on the television but only in small and recurring roles in television series like, 'The Wonder Years' and 'Drexell's Class'. She was only in the ninth grade when on her teacher's suggestion she pursued acting career and was coached and mentored by Ernie Lively, who also managed her. The otherwise tomboyish, baseball playing Langer showed the ability to portray variety of the roles on the television as well as on the silver screen. She has appeared in movies like, 'The Killing Box', 'Arcade', etc. and her recent appearance on the television has been in the famous American medical drama, 'Private Practice' and in films in 'Kristin's Christmas Past'.
Recommended Lists:
Recommended Lists:
Childhood & Early Life
Langer was born in Ohio to Deana and Gary Langer. Her father used to work in sales for Women formal wear for a Californian Wholesale fashion distributor and mother was an audiologist, who owned a hearing aid distribution company.

When she was five, Langer moved to Los Angeles with her father, mother and brother Kirk. She was a tomboy and acquired her masculine nickname 'A.J.' as she was the only girl in baseball little-league.

She was in the ninth grade and a student-body president, when her algebra teacher recommended her an acting career. Langer eventually met with her acting coach, manager and mentor, Ernie Lively, who helped her start an acting career.

Recommended Lists:

Recommended Lists:

Career

In 1991, Langer got her first big opportunity to appear on television with 'Drexell's Class', which was aired by Fox. In the show, she played one of the daughters, 'Melissa Drexell', of the main protagonist of the sitcom.

During the same time, she successfully bagged a recurring role in ABC's drama, 'The Wonder Years'. Although the show had been running for many years, Langer got a minor role to play from time to time, during the 90s.

In 1992, another minor but subsequent role that became Langer's route to recognition was her recurring role in 'In the Heat of the Night'. It was first broadcasted on NBC and then towards the later seasons CBS took over.

But it was not until her prominent role in the teen drama on ABC, 'My So-Called Life' in 1994 that Langer achieved her due fame. She played the character of 'Rayanne Graff', a wild and rebellious teenager.

Langer started getting small cameo offers in movies after the success of her first big television show. Some of these movies are, 'Between Mother and Daughter (1995)', 'Escape from L.A. (1996)', 'Meet the Deedles (1998)', etc.

In 1999, Langer got a series, broadcasted by ABC, 'It's Like, You Know…'. The series was based on the life in LA through the eyes of a New Yorker and the cast included, Jennifer Grey, Evan Handler, etc.

By the time 'It's Like, You Know…' ended, Langer was doing another sitcom on NBC, 'Three Sisters' in 2001. It ran for only two seasons and the cast included, Katherine LaNasa, David Alan Basche, Vicki Lewis, Dyan Cannon, etc.

In 2004, she appeared on 'I Love the '90s', a television mini-series by VH1, that consisted of musical and TV personalities taking about the culture that '90s represented. Langer appeared as herself on the series.

The following year, Langer did 'Eyes', an ABC television series, a drama based on crime and law. She played the main role of 'Meg Bardo'. Apart from ABC, TV2 of New Zealand also telecasted the series.

In 2011, Langer joined the cast of the successful American medical television series, 'Private Practice'. She played the recurring part of 'Erica Warner' and mainly appeared in the fifth season. The show is in its sixth season now.

Her most recent appearance has been in the movie 'Kristin's Christmas Past' in 2013, an American comedy movie, starring, besides Langer, Shiri Appleby, Elizabeth Mitchell, Will Kemp, Hannah Marks, etc.

Recommended Lists:

Recommended Lists:

Major Work

Langer's most memorable role is considered to be 'Rayanne Graff' in the teen drama, 'My So-Called Life' in 1994. Her bold and rebellious character in the series that portrayed issues like: child abuse, homophobia, etc. made her a TV favorite.

Personal Life & Legacy

Langer married to attorney Charles Courtenay, styled 'Lord Courtenay', in Los Angeles in 2004. He is the son of the Earl of Devon. The couple has two children together: The Hon. Joscelyn Skye and The Hon. Jack Haydon Langer Courtenay.

Trivia

Upon the death of Earl of Devon, Langer will become the Countess of Devon and will be relocated to the family seat at Powderham Castle.

She suffers from fibromyalgia and in her free time she raises awareness and money for its research and treatment.

She has appeared in guest roles in: 'Baywatch', 'Seinfeld', 'Poltergeist: The Legacy', 'Fame L.A.', 'The Drew Carey Show', 'Beverly Hills, 90210', etc.

1. The People Under the Stairs (1991)

(Thriller, Horror, Mystery, Comedy)

2. Escape from L.A. (1996)

(Thriller, Action, Sci-Fi, Adventure)

---

3. Meet the Deedles (1998)

(Comedy, Family)

Translate Wiki

to Spanish, French, Hindi, Portuguese

Article Title

- A. J. Langer Biography

Author

- Editors, TheFamousPeople.com

Website

- TheFamousPeople.com

URL

-

https://www.thefamouspeople.com/profiles/a-j-langer-4228.php

Last Updated

- November 03, 2017

---

---

---