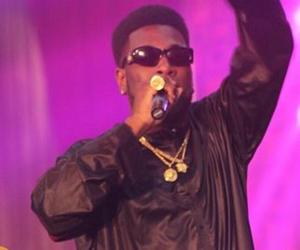 Birthdate: July 2, 1991
Sun Sign: Cancer
Birthplace: Port Harcourt, Rivers State, Nigeria
2
Fela Kuti
(Multi-Instrumentalist & the Creator of 'Afro-beat', a Genre that Fuses West African Music with American Funk & Jazz)
Birthdate: October 15, 1938
Sun Sign: Libra
Birthplace: Abeokuta, Nigeria
Died: August 2, 1997
Political activist and Afrobeat inventor Fela Kuti initially performed with his band Koola Lobitos and later renamed it Nigeria '70. He was inspired by the Black Power movement, which also gradually transformed his musical style. He married 27 women in 1978, to mark the anniversary of the Kalakuta Republic attack.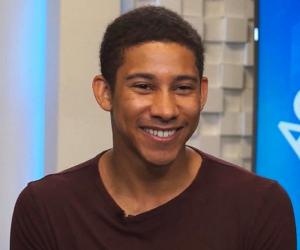 Birthdate: December 19, 1991
Sun Sign: Sagittarius
Birthplace: Sydney, New South Wales, Australia
Australian actor, dancer and singer-songwriter Keiynan Lonsdale is best-known for playing Wally West/Kid Flash in The CW series The Flash and Legends of Tomorrow. Other on-screen portrayals of Lonsdale includes Oliver Lloyd in the series Dance Academy and Uriah Pedrad in film The Divergent Series: Insurgent. He has also released the studio-album Rainbow Boy and worked as an MTV VJ.
Birthdate: July 16, 1990
Sun Sign: Cancer
Birthplace: Surulere, Lagos
Nigerian singer Wizkid soared to fame with chart-busting tracks such as Holla at Your Boy. A performer who has revolutionized the Afrobeats genre, Wizkid supported Nigeria's End SARS protests against police brutality, on social media. In 2011, he was part of a paternity scandal but denied having fathered a child.
5
Tiwa Savage
(Nigerian Singer and Actress Known for Her Album 'Once Upon a Time' and 'I Look to You')
Birthdate: February 5, 1980
Sun Sign: Aquarius
Birthplace: Lagos Island, Lagos, Nigeria
Tiwa Savage is a Nigerian singer, actress, and songwriter. After having created an opportunity to establish herself in the United Kingdom, Savage returned to Nigeria and played an important role in elevating the Nigerian music industry. In 2018, she became the first woman to win the MTV Europe Music Award under the Best African Act category.



Birthdate: May 1, 2000
Sun Sign: Taurus
Birthplace: Benin City, Nigeria
Birthdate: February 29, 1996
Sun Sign: Pisces
Birthplace: Lagos State
Nigerian singer Korede Bello was just 7 when he had started performing, using the pseudonym African Prince. His single Godwin later catapulted him to fame. Bello also boasts of a mass communication degree and has been associated with philanthropic activities such as cancer awareness programs.
Birthdate: January 11, 1978
Sun Sign: Capricorn
Birthplace: Brooklyn, New York (state) New York, U.S.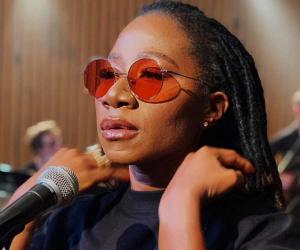 Birthdate: September 17, 1982
Sun Sign: Virgo
Birthplace: Paris, France
Birthdate: September 22, 1946
Sun Sign: Virgo
Birthplace: Ondo City, Ondo State, Nigeria
Birthdate: August 15, 1980
Sun Sign: Leo
Birthplace: Port Harcourt, Rivers State, Nigeria
12
Patrice Wilson
(Record producer, songwriter, and singer)
Birthdate: June 19, 1983
Sun Sign: Gemini
Birthplace: Nigeria
13
Nathaniel Bassey
(Trumpeter, Pastor)
Birthdate: August 27, 1978
Sun Sign: Virgo
Birthplace: Lagos, Nigeria
Birthdate: August 14, 1989
Sun Sign: Leo
Birthplace: Kaduna, Nigeria
Birthdate: January 1, 1980
Sun Sign: Capricorn
Birthplace: Tidène, Niger
16
Nneka
(Songwriter, Singer, Actor)
Birthdate: December 24, 1980
Sun Sign: Capricorn
Birthplace: Warri, Nigeria
Birthdate: September 14, 1980
Sun Sign: Virgo
Birthplace: Frechen, Germany
18
Timi Dakolo
(Singer-songwriter)
Birthdate: January 20, 1981
Sun Sign: Aquarius
Birthplace: Accra, Ghana
Birthdate: January 20, 1991
Sun Sign: Aquarius
Birthplace: Obalende, Lagos, Lagos State, Nigeria
Birthdate: August 9, 1989
Sun Sign: Leo
Birthplace: London, England
Birthdate: March 26, 1992
Sun Sign: Aries
Birthplace: Cameroon
Birthdate: December 19, 1980
Sun Sign: Sagittarius
Birthplace: Lagos, Nigeria
23
Adé Bantu
(Nigerian-German Music Producer, Musician, and Social Activist)
Birthdate: July 14, 1971
Sun Sign: Cancer
Birthplace: London, England
24
Eddy Wata
(Eurodance artist)
Birthdate: March 3, 1976
Sun Sign: Pisces
Birthplace: Kaduna, Nigeria
25
Princess Peters
(Singer, Songwriter)
Birthdate: October 1, 1986
Sun Sign: Libra
Birthplace: Edo State, Nigeria