Birthdate: January 28, 2007
Sun Sign: Aquarius
Birthplace: Houston, TX
Birthdate: April 30, 2003
Sun Sign: Taurus
Birthplace: Michigan, United States
Birthdate: June 2, 2002
Sun Sign: Gemini
Birthplace: Rome, Georgia, United States
Birthdate: May 12, 1998
Sun Sign: Taurus
Birthplace: Dallas, Texas, United States
American rapper and social media sensation Aaliyah Keef, better known to her fans as Cuban Doll, shot to fame with tracks such as Rat B*tch and the mixtapes Cuban Link and Aaliyah Keef. She has gained a huge fan base on platforms such as Twitter, YouTube, and Instagram.
Birthdate: December 4, 2004
Sun Sign: Sagittarius
Birthplace: United States
6
Queenie Mae
(Instagram Star & Singer)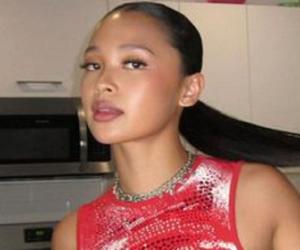 Birthdate: April 26, 2001
Sun Sign: Taurus
Birthplace: Manila, Philippines
Filipina Instagram sensation Queenie Mae Villaluz has shot to fame as part of the TikTok music and dance collective Boys World. She prefers R&B music and ASMR videos. She is openly bisexual. She began her YouTube channel in 2018, with a cover of Jhene Aiko's track While We're Young.
7
Molly O'Malia
(American Singer, Model, and Social Media Personality)
Birthdate: May 22, 2001
Sun Sign: Gemini
Birthplace: Wilmington, Delaware
Molly O'Malia is an American singer, model, and social media personality. She came into prominence after getting involved in a controversy surrounding her claims about world-renowned rapper Tyga. Molly O'Malia was still under 18 when she achieved popularity by claiming that Tyga contacted her through Instagram. She currently has thousands of followers on the platform.
Birthdate: March 11, 2000
Sun Sign: Pisces
Birthplace: Royal Oak, Michigan
Birthdate: October 19, 1994
Sun Sign: Libra
Birthplace: Austin, Texas
Birthdate: September 25, 1999
Sun Sign: Libra
Birthplace: United States
Birthdate: March 10, 1989
Sun Sign: Pisces
Birthplace: Seattle, Washington United States