1
Mithali Raj
(Indian Former Cricketer and Captain)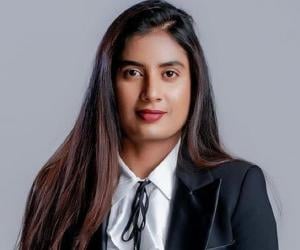 Birthdate: December 3, 1982
Sun Sign: Sagittarius
Birthplace: Jodhpur, Rajasthan, India
2
Ellyse Perry
(Australian Sportswoman Who Has Represented Her Country in Cricket and Football)
Birthdate: November 3, 1990
Sun Sign: Scorpio
Birthplace: Wahroonga, Australia
Ellyse Perry has represented Australia in both cricket and soccer. She became the youngest Australian sportsperson to play international cricket and the first to appear in both the FIFA and ICC World Cups. She later drifted to cricket and set records for the highest Test score by an Australian female.
3
Anjum Chopra
(Indian Cricket Commentator and Former Cricketer)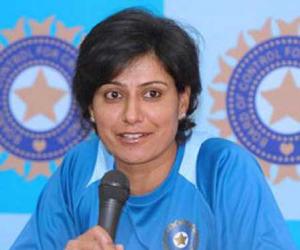 Birthdate: May 20, 1977
Sun Sign: Taurus
Birthplace: New Delhi, India
4
Nat Sciver-Brunt
(English Cricket All-rounder)
Birthdate: August 20, 1992
Sun Sign: Leo
Birthplace: Tokyo, Japan
5
Lisa Sthalekar
(Former Australian Cricketer and Captain of International Women's Cricket Team)
Birthdate: August 13, 1979
Sun Sign: Leo
Birthplace: Pune, Maharashtra, India
Australian cricket commentator and former cricketer, Lisa Sthalekar, was once the captain of Australia's international women's cricket team. Born in India and adopted by parents who lived in USA, she was introduced to cricket by her father. She started playing professionally as a young woman and went on to have an exemplary career. She retired in 2013.



6
Alyssa Healy
(Australian Cricket Player)
Birthdate: March 24, 1990
Sun Sign: Aries
Birthplace: Gold Coast, Australia
7
Katherine Sciver-Brunt
(Cricket Bowling All-rounder)
Birthdate: July 2, 1985
Sun Sign: Cancer
Birthplace: Barnsley, United Kingdom
8
Smriti Mandhana
(Indian Cricket Opening batter)
Birthdate: July 18, 1996
Sun Sign: Cancer
Birthplace: Mumbai, Maharashtra, India
9
Sarah Taylor
(English Wicketkeeper-batsman)
Birthdate: May 20, 1989
Sun Sign: Taurus
Birthplace: Whitechapel, London, United Kingdom
10
Meg Lanning
(Cricket Top-order Batter)
Birthdate: March 25, 1992
Sun Sign: Aries
Birthplace: Singapore
11
Hayley Matthews
(Barbadian Cricketer)
Birthdate: March 19, 1998
Sun Sign: Pisces
Birthplace: Barbados
12
Deandra Dottin
(Barbadian Cricketer and Former Track and Field Athlete)
Birthdate: June 21, 1991
Sun Sign: Gemini
Birthplace: Barbados
13
Charlotte Edwards
(English Former Cricket Batter)
Birthdate: December 17, 1979
Sun Sign: Sagittarius
Birthplace: Huntingdon, United Kingdom
14
Jhulan Goswami
(Indian Former Cricket Bowler)
Birthdate: November 25, 1983
Sun Sign: Sagittarius
Birthplace: Chakdaha, West Bengal, India
15
Harmanpreet Kaur
(All-rounder Indian Cricketer)
Birthdate: March 8, 1989
Sun Sign: Pisces
Birthplace: Moga, Punjab, India
16
Dane van Niekerk
(South African Cricket All-rounder)
Birthdate: May 14, 1993
Sun Sign: Taurus
Birthplace: Pretoria, South Africa
17
Amelia Kerr
(New Zealand Cricket All-rounder)
Birthdate: October 13, 2000
Sun Sign: Libra
Birthplace: Wellington, New Zealand
18
Salma Khatun
(Bangladeshi Cricketer Who Plays as Right-Handed Batter)
Birthdate: October 1, 1990
Sun Sign: Libra
Birthplace: Khulna, Bangladesh
19
Marizanne Kapp
(South African International Cricketer)
Birthdate: January 4, 1990
Sun Sign: Capricorn
Birthplace: Port Elizabeth, Eastern Cape, South Africa
20
Heather Knight
(English Cricket Batter)
Birthdate: December 26, 1990
Sun Sign: Capricorn
Birthplace: Rochdale, England
21
Tammy Beaumont
(English Cricketer as an Opening Batter)
Birthdate: March 11, 1991
Sun Sign: Pisces
Birthplace: Dover, Kent, England
22
Belinda Clark
(First Woman to Ever Score a Double Century in the ODI)
Birthdate: September 10, 1970
Sun Sign: Virgo
Birthplace: Newcastle, Australia
23
Anya Shrubsole
(English Cricket Bowler)
Birthdate: December 7, 1991
Sun Sign: Sagittarius
Birthplace: Bath, United Kingdom
24
Suzie Bates
(New Zealand Cricketer)
Birthdate: September 16, 1987
Sun Sign: Virgo
Birthplace: Dunedin, New Zealand
25
Beth Mooney
(Cricket Wicket-keeper-batter)
Birthdate: January 14, 1994
Sun Sign: Capricorn
Birthplace: Shepparton, Australia
26
Chamari Atapattu
(Sri Lankan Cricketer and the Current Captain of the Women's twenty20 International Team of Sri Lanka)
Birthdate: February 9, 1990
Sun Sign: Aquarius
Birthplace: Gokarella, Kurunegala, Sri Lanka
27
Megan Schutt
(Australian Cricket Fast-medium Bowler)
Birthdate: January 15, 1993
Sun Sign: Capricorn
Birthplace: Adelaide, Australia
28
Rachael Haynes
(Australian Former International Cricketer Who has Won Six World Championships)
Birthdate: December 26, 1986
Sun Sign: Capricorn
Birthplace: Carlton, Australia
29
Amy Satterthwaite
(New Zealand Former Cricket All-rounder)
Birthdate: October 7, 1986
Sun Sign: Libra
Birthplace: Christchurch, New Zealand
30
Cathryn Fitzpatrick
(Australian Former Cricketer Was World's Fastest Female Bowler)
Birthdate: March 4, 1968
Sun Sign: Pisces
Birthplace: Melbourne, Australia
31
Lizelle Lee
(South African Cricket Batter)
Birthdate: April 2, 1992
Sun Sign: Aries
Birthplace: Ermelo, South Africa
32
Laura Wolvaardt
(South African Cricket Batter)
Birthdate: April 26, 1999
Sun Sign: Taurus
Birthplace: Milnerton, Cape Town, South Africa
33
Alex Blackwell
(Australian Former Cricket Specialist Batsman)
Birthdate: August 31, 1983
Sun Sign: Virgo
Birthplace: Wagga Wagga, Australia
34
Sana Mir
(First Pakistani Women Cricketer to Rank Number 1 in ICC ODI Bowler Ranking)
Birthdate: January 5, 1986
Sun Sign: Capricorn
Birthplace: Abbottabad, Pakistan
35
Stafanie Taylor
(First Woman Cricketer to Score 1,000 Runs in ODIs for the West Indies)
Birthdate: June 11, 1991
Sun Sign: Gemini
Birthplace: Spanish Town, Jamaica
36
Mignon du Preez
(Former South African Cricket Batter)
Birthdate: June 13, 1989
Sun Sign: Gemini
Birthplace: Pretoria, South Africa
37
Lydia Greenway
(English Former Cricket Left-handed Batter and Tremendous Fielder)
Birthdate: August 6, 1985
Sun Sign: Leo
Birthplace: Farnborough, Orpington, United Kingdom
38
Rachael Heyhoe Flint
(English Cricketer, Businesswoman and Philanthropist Best Known for Being Captain of England From 1966 to 1978)
Birthdate: June 11, 1939
Sun Sign: Gemini
Birthplace: Wolverhampton, England
Died: January 18, 2017
39
Chamari Athapaththu
(First Sri Lankan Woman to Play in Franchise Cricket)
Birthdate: February 9, 1990
Sun Sign: Aquarius
Birthplace: Kurunegala, Sri Lanka
40
Isabelle Westbury
(English Sports Writer, Broadcaster, Lawyer and Former Cricketer)
Birthdate: March 8, 1990
Sun Sign: Pisces
Birthplace: Hammersmith, London, England
41
Anisa Mohammed
(Trinidadian Cricket Bowler)
Birthdate: November 7, 1988
Sun Sign: Scorpio
Birthplace: Sangre Grande, Trinidad and Tobago
42
Kim Garth
(Irish-Australian Cricketer)
Birthdate: April 25, 1996
Sun Sign: Taurus
Birthplace: Dublin, Ireland
43
Debbie Hockley
(First Woman to Become President of New Zealand Cricket)
Birthdate: November 7, 1962
Sun Sign: Scorpio
Birthplace: Christchurch, New Zealand
44
Karen Rolton
(Australian Former Cricket Batter)
Birthdate: November 21, 1974
Sun Sign: Scorpio
Birthplace: Adelaide, Australia
45
Trisha Chetty
(South African Cricket Wicket-keeper)
Birthdate: June 26, 1988
Sun Sign: Cancer
Birthplace: Durban, South Africa
46
Jenny Gunn
(English Former Cricket All-rounder)
Birthdate: May 9, 1986
Sun Sign: Taurus
Birthplace: Nottingham, United Kingdom
47
Anuradha Doddaballapur
(First female cricketer in the history of international cricket to take 4 wickets in 4 balls)
Birthdate: September 10, 1986
Sun Sign: Virgo
Birthplace: Davanagere, Karnataka, India
48
Betty Wilson
(Considered as One of the Greatest Woman Cricketer of All Time)
Birthdate: November 21, 1921
Sun Sign: Scorpio
Birthplace: Melbourne, Australia
Died: January 22, 2010
49
Diana Edulji
(Former Indian Test Cricketer)
Birthdate: January 26, 1956
Sun Sign: Aquarius
Birthplace: Mumbai, India
50
Enid Bakewell
(English Former Cricket All-rounder)
Birthdate: December 16, 1940
Sun Sign: Sagittarius
Birthplace: Newstead Village, United Kingdom