Virginia Hall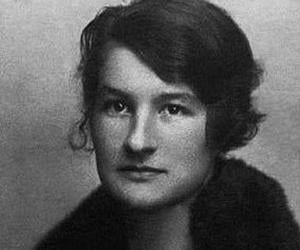 Quick Facts
Nationality: American
Famous: Spies American Women
Died At Age: 76
Sun Sign: Aries
Born in: Baltimore, Maryland, U.S.
Famous as: American Spy
Family:
Spouse/Ex-: Paul Gaston Goillot
U.S. State: Maryland
More Facts
education: Roland Park Country School, Radcliffe College
Continue Reading Below
Virginia Hall Goillot was an American spy and most wanted by the 'Geheime Staatspolizei' (Gestapo), the official secret police of Nazis. Her espionage started at the time of World War II with the British 'Special Operations Executive' following amputation of a portion of her left leg that deterred her from pursuing a career in the Foreign Service. Later she joined the 'Special Operations Branch' of the United States 'Office of Strategic Services'. Post war she worked as an intelligence analyst on French parliamentary affairs in the 'Special Activities Division' of the 'Central Intelligence Agency' (CIA) of America. She adopted several nicknames during her espionage including "Nicolas", "Marie of Lyon", "Marie Monin", "Camille", "Diane" and "Germaine". She was called 'Artemis' and "lady with the limp" by the Germans. She was an honorary 'Member of the Order of the British Empire'. On September 27, 1945, she received the 'Distinguished Service Cross' award from General William Joseph Donovan as the only civilian woman for her efforts in France at the time of World War II. Posthumously she was honoured by the British and French embassies in 2006. 'The Wolves at the Door: The True Story of America's Greatest Female Spy' by Judith L. Pearson and 'L'Espionne. Virginia Hall, une Américaine dans la guerre' by Vincent Nouzille narrate the adventurous life of Virginia Hall.
Recommended Lists:
Recommended Lists:
Continue Reading Below
Childhood & Early Life
She was born on April 6, 1906, in a well-to-do family of Edwin Hall in Baltimore, United States. Her father was the owner of a cinema in Baltimore.

She studied in the 'Roland Park Country School' and thereafter attended the renowned 'Radcliffe College', an only women liberal arts college in Cambridge, Massachusetts.

She also attended the prestigious 'Barnard College', a private women's liberal arts college in New York.

Virginia Hall moved across Europe with the support of her parents and studied in Germany, Austria and France. She was an enthusiast of modern languages and learned German, French and Italian.

In 1931 she joined the American Embassy as a Consular Service clerk in Warsaw, Poland. She aimed to work at the US State Department to pursue a career in Foreign Service.

In 1932 she met with an unfortunate accident when she mistakenly shot her left leg during a hunting expedition in Turkey. This led to amputation of a part of her left leg down the knee. She started wearing a wooden leg in the place and used to call it "Cuthbert'.

Though she did not allow the mishap to discourage her, it posed a hindrance in the path of her dream of continuing her career in the Foreign Service. In 1939 she was forced to resign from her job as a regulation of US State Department restricted employment of anyone with "any amputation of a portion of a limb".

She later studied in Washington, DC at the 'American University'.

Career

At the outbreak of the Second World War, while she was staying in Paris, she joined the 'Ambulance Service Unit' of France.

In May 1940 when the Nazis invaded France, she managed to escape to England.

In 1941 she was inducted as a special agent by the British 'Special Operations Executive' (SOE). Faking as a 'New York Post' reporter, using her codename "Mary", she went back to France in August that year. She aided in establishing a defiance network in Vichy for the next fifteen months.

After moving to Lyons in early 1942 she worked intently. During the end of the year around November 1942 the Germans captured France abruptly and as their suspicion against her grew, she escaped to Spain. Thereafter she worked for the British 'Special Operations Executive' (SOE) in Madrid for a while.

In July 1943 after she returned to London, she was conferred honorary 'Member of the Order of the British Empire' (MBE).

From March 1944 she began to serve 'Special Operations Branch' of the United States 'Office of Strategic Services' and on March 21 she was sent back to France. As her "Cuthbert" prevented her from using parachute, she was landed to Brittany Coast by a British MTB. This time she entered France with a fake French ID as Marcelle Montagne while her associates called her by the codename "Daine".

She dodged the 'Gestapo', who were by that time in know of her activities and called her "lady with the limp", to join the 'French Resistance' in the Haute-Loire region.

Continue Reading Below

She chalked out drop areas where commandos, money, weapons and other supplies can be sent from England. She arranged safe houses and when the Allied Forces disembarked at Normandy, she got in touch with a Jedburgh team.

Undeterred by the high alertness of the 'Gestapo' she managed to inform the Allies of the relocation of headquarters of the Germans from Lyons to Le Puy.

She aided in training three battalions of the resistance forces in conducting guerrilla war against the Germans.

After the war was over, she started working as an intelligence analyst on French parliamentary affairs in the 'Special Activities Division' of the 'Central Intelligence Agency' of America from 1951.

In 1966 she retired from CIA and stayed in a farm in Barnesville, Maryland.

Personal Life & Legacy

She married Paul Goillot, an agent of the 'Office of Strategic Services' in 1950.

On July 8, 1982 she died at the 'Shady Grove Adventist Hospital' in Rockville, Maryland and was interred in Pikesville, Maryland at the 'Druid Ridge Cemetery'.

Translate Wiki

to Spanish, French, Hindi, Portuguese

Article Title

- Virginia Hall Biography

Author

- Editors, TheFamousPeople.com

Website

- TheFamousPeople.com

URL

-

https://www.thefamouspeople.com/profiles/virginia-hall-6944.php

Last Updated

- November 12, 2017

---

---

---