Susan Dell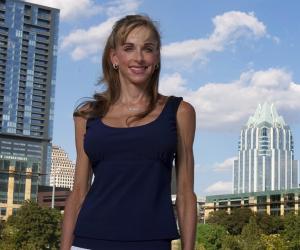 Quick Facts
Nationality: American
Famous: American Women
Also Known As: Susan Lynn Lieberman Dell
Born in: Dallas, Texas, USA
Famous as: Businesswoman/Philanthropist
Family:
Spouse/Ex-: Michael Dell
father: Zelig Zeck Lieberman
mother: Marilyn Ely Lieberman
siblings: Steve Lieberman (Brother) and Randy Lieberman
children: Alexa Dell (Daughter), Juliette Dell (Daughter) and Kira Dell, Zachary Dell (Son)
U.S. State: Texas
More Facts
education: W. T. White High School, Dallas, Texas; Arizona State University, Tempe, Arizona
Continue Reading Below
Susan Lynn Lieberman Dell is the wife of Michael S. Dell, the founder and CEO of Dell Inc., the leading information technology infrastructure providing company. Susan and Michael got married in 1989 and since then she has been actively involved in philanthropic activities. A former athlete, now mother of four, she is also an entrepreneur herself, having founded a fashion label, a business stemming from her passion. Prior to marriage, Susan was an avid sportswoman, proficient in marathons, triathlons and cycling. She has been one of the founder members of Michael and Susan Dell Foundation, a philanthropic institution propelled by Dell Inc. and its multi-billion dollar backing. Susan has been the backbone of the foundation and the projects undertaken by it mostly had her brainchild. Highly competitive and driven by nature, whatever Susan has achieved, it has all come through immense hard work and not just by virtue of marrying a business magnate.
Life, Pursuits & Achievements
Susan comes from a family of highly driven individuals. Her father Zelig Lieberman is a celebrated doctor at the Baylor Medical Centre in Dallas, Texas, and her brothers, Steve, and Randy, are successful in their respective business arenas which happens to be real estate and venture capitals respectively. Susan was the popular girl although her high school days and she actively took part in sports. Throughout school and in college Susan was a star athlete, securing titles in Triathlons.

After high school, she went on to study fashion merchandising and design at the Arizona State University in Tempe. After College, Susan moved to Austin, Texas, to work for Trammell Crow in real estate.

She was introduced to Michael Dell through a client in February, 1988. Dell had just started his computer hardware business, fresh out of school and it was called PC's Limited. He was a rising star, slightly socially awkward, nowhere near the brilliant businessman that he is today. They went for a date and Susan was immediately drawn to Michael's persona. She intuitively measured his brilliance and true to her prediction, Michael's company went public and the stock holdings soared to 100 million USD.The following spring Susan and Michael got engaged and they got married in October, 1989.

By 1991, Michael Dell was among America's hundred richest citizens and the spotlight suddenly trained on the couple and their lives. Every move of the company was being observed and Michael started making all the right choices. With arrival of their first son and a subsequent daughter, the family grew and with it grew, in Susan's mind, a drive to do something to set herself apart from her contemporaries.

Out of this drive was born 'the Michael and Susan Dell Foundation', a philanthropic organization, aimed at helping the society and give back some of the billions that the business have earned to the welfare of the people. The foundation started out by working on the children health and education issues in the state of Texas. Eventually, they have they expanded their program and partnered up with a number of organizations throughout USA.

The foundation works mainly in the Education and Health sector and concentrates mainly on children and young adults. There is the 'Dell Scholars program', that provides guidance and financial assistance to underprivileged but talented kids. There are funding programs for public schools and financial assistance for initiatives like Teach for America and Knowledge is Power Program.

In the health sector, the foundation has dedicated efforts to fight children centric health problems like child obesity. The foundation has funded awareness documentaries, donate funds to central bodies like President's Council on Physical Fitness (of which Susan was a member) and help establish better infrastructure in medical schools like at University of Texas at Austin. The foundation has also contributed to improve community health and establishment of new teaching hospitals.

As of 2017, total donation channeled into the Michael and Susan Dell Foundation has risen up to 1.32 billion USD and efforts have been extended towards developing nations like India and South Africa through partner organizations.

Susan has also gone the entrepreneur route by investing into a number of fashion labels and by launching her own fashion label called Phi in 2003. Susan's great flair for fashion was instrumental in establishing Phi as a sensational brand that featured great snappy, architectural and unabashedly hip clothing under the leadership of designer Andreas Melbostad. But sadly the brand closed operations in 2009, during financially difficult time but with a bang on spring summer collection.

Continue Reading Below

Personal Life & Family

Coming from a professionally driven family and sharing her life with an uber-successful business scion, Susan has shouldered a number of responsibilities throughout the years. The prime among which is to make right choices for business as well as for the family. She has managed to keep a very level head and not let success go into the head of the children.

She has instilled a deep sense of structure and routine into their family life, pushing them towards a healthy lifestyle and motivating them to keep fit. She is extremely fashion conscious and has the flair of picking up the perfectly coordinated outfits for both business meetings as wells as for parties.

She has established her family as the most successful in the state of Texas and through her philanthropic works, she has turned out to an inspiration to hundred around the world. Susan Dell is the perfect example of a millionaire wife who has successfully managed to make a name for herself by her own worth and not because of a name she adopted.

Translate Wiki

to Spanish, French, Hindi, Portuguese

Article Title

- Susan Dell Biography

Author

- Editors, TheFamousPeople.com

Website

- TheFamousPeople.com

URL

-

https://www.thefamouspeople.com/profiles/susan-dell-33007.php

Last Updated

- June 22, 2017

---

---

---