Selena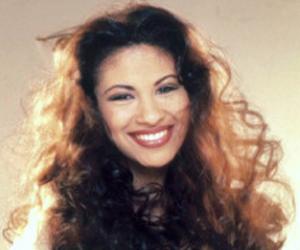 Quick Facts
Nick Name: La Reina de Tex-Mex
Nationality: American
Famous: Died Young Hispanic Women
Died At Age: 23
Sun Sign: Aries
Also Known As: Selena Quintanilla-Pérez, Selena Quintanilla
Born in: Lake Jackson
Famous as: Singer, Songwriter
Family:
Spouse/Ex-: Chris Pérez
father: Abraham Quintanilla Jr.
mother: Marcella Samora
siblings: A.B. Quintanilla, Suzette Quintanilla
place of death: Corpus Christi, Texas
Cause of Death: Assassination
U.S. State: Texas
More Facts
education: Oran M. Roberts Elementary School, West Oso Junior High School, 1989 - American School of Correspondence, California Miramar University
Continue Reading Below
Selena Quintanilla-Pérez, famously known as the 'Queen of Tejano music', was a Mexican-American singer, composer, actress, spokesperson and fashion designer. She was the best-selling Latin artist of the 90s and one of the most noted entertainers of the last century. She is accredited for her inclusion of the 'Tejano music' (a fusion of Columbian cumbia, pop, R&B sung in Spanish) genre into the mainstream music scene. She made her debut as a part of the family band, 'Selena y Los Dinos'. Her 'breakthrough' happened when the album 'Entre a Mi Mundo' peaked at the number 1 position on the U.S. Billboard Regional Mexican Albums chart for 19 weeks straight. Her very popular song 'Como La Flor' became one of the most celebrated signature songs. The album 'Live!' was the first Mexican album by a Tejano artist to win the 1994 Grammy Awards. She was also a spokesperson of Coca cola and donned sexy outfits with sensuous moves on stage. In the year 1995, she was shot dead by a previous employee of 'Selena Etc. Boutiques'. Her murder created a huge furor in the Latino community. After her death, George W. Bush announced her birthday as 'Selena Day' in Texas.
Recommended Lists:
Recommended Lists:
Continue Reading Below
Childhood & Early Life
Selena Quintanilla was born on April 16, 1971, in Lake Jackson, Texas to Marcella Ofelia Quintanilla and Abraham Quintanilla, Jr.

Her father was a former Mexican-American musician who formed a band 'Selena y Los Dinos'. Selena used to be the lead vocal and her two siblings played guitar and drums.

Selena graduated from the American School of Correspondence and got enrolled at the Pacific Western University, at the age of 17.

In 1984, she recorded her first LP record which was the name of the band. The compositions belonged to the Tejano music which was a male dominated genre.

In 1987, she was discovered by the founder of the 'Tejano Music Awards', Rick Trevi.

Selena had already recorded 5 more LP records like 'Alpha' (1986) and 'And the Winner is..' (1987) by 1988.

Recommended Lists:

Recommended Lists:

Career

On October 17, 1989, Selena released her debut album, 'Selena'. The album was recorded at AMEN studios in Texas and produced by EMI Latin Records. The song 'Sukiyaki' and the album debuted on the US Billboard Regional Mexican Albums chart.

The same year, she became a spokesperson for Coca-Cola. The first two jingles that she sang were composed by her brother Quintanilla III and Chris Pérez, the new guitarist of the band.

In 1990, Selena released her second studio album, 'Ven Conmigo'. One of its singles 'Baila Esta Cumbia' became one of Selena's most popular songs.

Her 1991 album 'Nada Se Compara Contigo' featured a duet, 'Buenos Amigos' by Selena and Álvaro Torres. This song was not only her first number one single on the U.S. Billboard Top Latin Songs chart, but also increased her airplay on popular radio channels.

In 1992, she released her 'breakthrough album', 'Entre a Mi Mundo'. It stayed at the number 1 position on the Billboard chart for 19 weeks.

In 1993, she released 'Live!', her Grammy Award winning album. By this time, she had started appearing in cameo roles in telenovelas like 'Dos Mujeres, Un Camino'.

In 1994, she started her own line of clothing. 'Selena Etc.', which was opened at Corpus Christi and San Antonio.

Continue Reading Below

The year 1994 saw the release of her fourth album 'Amor Prohibido' which became one of the best-selling Latin Albums in the US.

Recommended Lists:

Recommended Lists:

Major Works

All her albums were commercially successful. 'Ven conmigo' was qualified platinum by the (AMPROFON), denoting sales of 150,000 units. 'Entre a Mi Mundo' became the first Tejano album by a female artist to sell over 300,000 copies while 'Amor Prohibido' became the second Tejano album to sell 500,000 copies. Her 1993 album 'Live!' was given the Album of the Year title by the 'Billboard Latin Music Awards'.

Recommended Lists:

Recommended Lists:

Awards & Achievements

In 1994, the singer won the 'Regional Mexican Female Artist' award and the title of the 'Female Vocalist of the Year' for her debut album 'Selena'.

The same year, Selena Quintanilla won the Grammy Award for 'Live!' which was titled the Best Mexican/American Album at the 36th Grammy Awards.

'Amor Prohibido' won Record of the Year at the 1995 Tejano Music Awards and Regional/Mexican Album of the Year at the 1995 Lo Nuestro Awards.

She also won a host of 'Billboard Latin Music Awards' for tracks like 'Tú Sólo Tú' and albums like 'Selena' and 'Amor Prohibido'.

In 1995, Selena was included into the 'Billboard Latin Music Hall of Fame', the Hard Rock Cafe's Hall of Fame and the South Texas Music Hall of Fame.

Continue Reading Below

'Orange County Register'ranks her fifth in the "100 most influential Latin musicians of the 20th century".

Recommended Lists:

Recommended Lists:

Humanitarian Works

Selena had been active in her support for the 'Congressional Hispanic Caucus', the victims of Hurricane Andrew. She performed for free at fund raising concerts for organizations like 'D.A.R.E', 'Dep Corporation', 'Teach the Children festival'. She recorded pro-education videos like 'My Music' and 'Selena Agrees'. Selena always reached out to victims in abusive relationships and homeless people.

Recommended Lists:

Recommended Lists:

Personal Life & Legacy

She was in a relationship with with Chris Pérez, which was disapproved by her father. So, on April 2, 1992, they eloped and got married. The couple was married for 3 years till Selena's death.

Yolanda Saldívar, the president of Selena's fan club and the manager of her boutiques was about to be fired for embezzling money worth $60,000. On March 31, 1995, she shot Selena, in an act of supposed vengeance. The bullet hit her right lower shoulder. She died of blood loss and cardiac arrest.

Selena was buried at the Seaside Memorial Park in Texas.

Her posthumous album 'Dreaming of You' (1995) created a record by selling 175,000 copies on its day of release.

Selena Quintanilla's life has been the subject of the movie 'Selena' (1997), starring Jenefer Lopez in the title role.

Recommended Lists:

Recommended Lists:

ASCAP Film And Television Music Awards

| | | |
| --- | --- | --- |
| 1995 | Most Performed Song | Winner |

| | | |
| --- | --- | --- |
| 1994 | Best Mexican/Mexican-American Album | Winner |
| 1994 | Best Mexican-American Album | Winner |

Translate Wiki

to Spanish, French, Hindi, Portuguese

Article Title

- Selena Biography

Author

- Editors, TheFamousPeople.com

Website

- TheFamousPeople.com

URL

-

https://www.thefamouspeople.com/profiles/selena-6747.php

Last Updated

- January 09, 2018

---

---

---