Sebastian Stan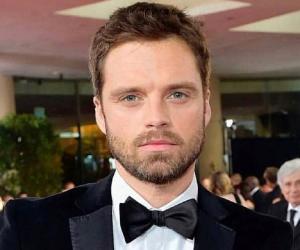 Quick Facts
Nationality: Romanian, American
Famous: Actors Romanian Men
Age: 36 Years, 36 Year Old Males
Sun Sign: Leo
Born Country: Romania
Born in: Constanța, Romania
Famous as: Actor
Height: 1.83 m
Family:
father: Anthony Fruhauf (step-father)
mother: Georgeta Orlovschi
More Facts
education: Rutgers University, Rockland Country Day School, Mason Gross School of the Arts
Continue Reading Below
Sebastian Stan is a Romanian-American film and television actor. He started performing at an early age, starring in school productions of 'West Side Story', 'Over Here!', 'Harvey', 'Cyrano de Bergerac', and 'Little Shop of Horrors'. He spent a year in England studying acting at 'Shakespeare Globe Theatre' in London. His first role on television came about in 2003, when he played Justin Capshaw in the 'Law & Order' episode, 'Sheltered'. He debuted on Broadway with 'Talk Radio' in 2007 with Liev Schreiber, Stephanie March, and Peter Hermann as his co-stars. From 2007 to 2010 he portrayed the recurring character Carter Baizen on the 'CW' teen drama 'Gossip Girl'. In season one and two of ABC's 'Once Upon a Time', he played Jefferson/Mad Hatter. In 2010, he signed a nine-picture contract with Marvel to portray James Buchanan "Bucky" Barnes. 'Captain America: The first Avenger', his first outing as the character, was released in July 2011. He was cast as T. J. Hammond in the 2012 miniseries 'Political Animals'. In 2013, he received a 'Critics Choice Television Awards' nomination for the role.
Recommended Lists:
Recommended Lists:
Continue Reading Below
Career
Sebastian Stan's debut in cinema occurred all the way back in 1994 when he was cast in the Austrian drama '71 Fragments of a Chronology of Chance'. In 2004, he played Johnny Nunzio in the film adaptation of the "environmental/immersive theatre" event 'Tony n' Tina's Wedding'. He was involved in Georgia Lee's directorial venture 'Red Doors', released in 2005. The movie was the winner of the best narrative feature prize at the 2005 'Tribeca Film Festival'. In 2006, he did two films, Matt Tauber's drama 'The Architect' and Renny Harlin's supernatural horror thriller 'The Covenant'. 'Limp Bizkit' frontman Fred Durst cast him as Leo Reilly in his 2007 drama 'The Education of Mr. Charlie' alongside Jesse Eisenberg, Jason Ritter, and Eva Amurri. The movie premiered at Tribeca, winning the 'Made in NY Narrative Award'.

Stan's breakthrough TV role, Carter Baizen, made his first appearance in the episode 'Bad News Blair' and the last in 'The Unblairable Lightness of Being', totalling 11 episodes distributed throughout the first three seasons of the series 'Gossip Girl.' A rival to Nate and Chuck, the male protagonists of the show, Carter is self-reliant, but has a serious gambling problem, and is involved in an on-again, off again relationship with Serena van der Woodsen, portrayed by Blake Lively.

He portrayed Jack Benjamin in the short-lived NBC drama 'Kings'. In 2010 he got the chance to work with Darren Aronofsky in his Oscar-winning film 'Black Swan'.

He hit a jackpot when he got the chance to work with 'Marvel Cinematic Universe,' the most successful media franchise of the 21st century that has grossed more than $11 billion worldwide across all its features. Though initially reported of being considered for the role of Steve Rogers himself in 'Captain America: The First Avenger,' Stan was cast as Bucky Barnes in April 2010. Filming began on June 28, 2010, and the movie was released on July 22, 2011 in the United States. According to the very first sketch made by Joe Simon, the creator of the comic on which the movie was based, Bucky was the exemplary young sidekick to Captain America until he is killed off. In 2005, Ed Brubaker revived the character as the covert operative Winter Soldier during his run as the series writer.

Stan also portrayed this new version. In an interview to 'Collider' he commented, "Bucky to me was always interesting because he was a little bit more…he stood out more clearly in terms of someone who, you know, had flaws". He reprised the role in the two direct sequels of the film, 'Captain America: The Winter Soldier' (2014) and 'Captain America: Civil War' (2016), and is set to appear in the upcoming films 'Avengers: Infinity War' and its yet untitled sequel. He also lent his voice for Bucky in the video game version of 'Captain America: Super Soldier' (2011).

Besides the Captain America franchise, he has also appeared in films such as 'Gone' (2012), 'The Bronze' (2015), and 'The Martian' (2015). He was a part of the 2013 Broadway production of William Inge's 'Picnic' as well. His upcoming film projects include Steven Soderbergh's 'Logan Lucky', Craig Gillespie's 'I, Tonya', and Todd Robinson's 'The Last Full Measure'.

Recommended Lists:

Recommended Lists:

Continue Reading Below

Personal Life

Sebastian Stan was born on August 13, 1982 in Constanța, a city on the shores of the Black Sea, in south-eastern Romania. When he was two years old, his parents got divorced. After the 1989 Romanian Revolution, he and his mother, Georgeta Orlovschi, moved to Vienna, Austria. He was around eight then. Four years later, they immigrated to America, and started to live in Rockland County, New York. Georgeta married Anthony Fruhauf, the headmaster of Rockland Country Day School, from where Stan received his high school degree. Following his graduation, he enrolled in 'Mason Gross School of the Arts', which is the arts conservatory at Rutgers University in New Brunswick, New Jersey. He was granted US citizenship in 2002.

1. Avengers: Infinity War (2018)

(Action, Sci-Fi, Adventure, Fantasy)

2. Captain America: Civil War (2016)

(Sci-Fi, Action, Adventure)

---

3. Captain America: The Winter Soldier (2014)

(Adventure, Thriller, Action, Sci-Fi)

4. The Martian (2015)

(Adventure, Drama, Sci-Fi)

---

---

5. Black Swan (2010)

(Thriller, Drama)

6. I, Tonya (2017)

(Comedy, Drama, Biography, Sport)

---

---

---

7. Captain America: The First Avenger (2011)

(Adventure, Action, Sci-Fi)

8. Ant-Man (2015)

(Action, Adventure, Comedy, Sci-Fi)

---

---

---

---

Translate Wiki

to Spanish, French, Hindi, Portuguese

Article Title

- Sebastian Stan Biography

Author

- Editors, TheFamousPeople.com

Website

- TheFamousPeople.com

URL

-

https://www.thefamouspeople.com/profiles/sebastian-stan-14387.php

Last Updated

- June 27, 2017

---

---

---