Bob Geldof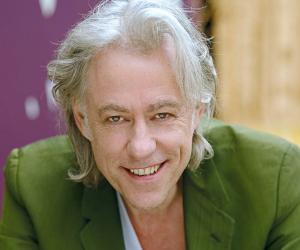 Quick Facts
Nationality: Irish
Famous: Pop Singers Rock Singers
Age: 67 Years, 67 Year Old Males
Sun Sign: Libra
Also Known As: Bob Geldorf, Sir Robert 'Bob' Geldof, bob_geldof, Robert Frederick Zenon
Born in: Dún Laoghaire
Famous as: Singer
Height: 1.88 m
Family:
Spouse/Ex-: Jeanne Marine, Paula Yates
father: Robert
mother: Evelyn Geldof
children: Fifi Trixibelle Geldof, Peaches Geldof, Pixie Geldof
Founder/Co-Founder: Band Aid
More Facts
education: Blackrock College
Continue Reading Below
'It's a rat trap Judy, and we've been caught…' The lines from the famous song Rat Trap made Bob Geldof quite a persona in the late 1970s and mid 1980s. Geldof is an Irish singer-songwriter, author, a political activist and an occasional actor. He is also the frontman of an Irish punk rock band named the Boomtown Rats. Along with his musician friend Midge Ure of Ultravox, he co-wrote as well as conceived "Do They Know It's Christmas"—the charity supergroup 'Band Aid's' song, which became one of the most loved as well as one of the best-selling singles of all times. He was quite popular in the Irish and British rock circles not because of his insightful song writing or soulful singing but for his abrasive and brash behaviour. However, once he formed the pop charity called Band Aid for providing famine relief in Africa, he became famous for his philanthropic nature. His trust raised as much as $8 million for the famine-stricken people of Africa by releasing the record of "Do They Know It's Christmas". His anti-poverty efforts for the people of Africa made him widely recognised as an activist. He is also a doting, single father and has been a strong advocate for the father's rights movement as well.
Recommended Lists:
Recommended Lists:
Continue Reading Below
Childhood & Early Life
Bob Geldof was born on 5 October 1951, in Dún Laoghaire, Ireland, to Robert and Evelyn Geldof. His original name was Robert Frederick Zenon Geldof.

At a very young age of six, Geldof lost his mother due to cerebral haemorrhage. His childhood became tougher when he got continuously bullied by his classmates for being a poor rugby player as well as for his middle name, Zenon.

He attended the Blackrock College and after doing some odd jobs, he got the job of a music journalist in in Vancouver, British Columbia for the Canadian weekly newspaper 'The Georgia Straight'. Geldof also hosted the children's program called Switchback in CBC for a brief period of time.

Continue Reading Below

Recommended Lists:

Recommended Lists:

Career

Bob Geldof returned to Ireland in 1975 and formed a rock group called the 'Boomtown Rats' which was very closely linked to the punk movement.

In 1978, The Boomtown Rats came up with the single "Rat Trap", which became their first No. 1 single in the UK.

In 1979, the band came up with its second UK No. 1 single "I Don't Like Mondays"; it gained them huge international attention and at the same time the song courted controversy as it was written in the aftermath of Brenda Ann Spencer's attempted massacre at an elementary school in San Diego, California.

In 1980, The Boomtown Rats came up with their album ' Mondo Bongo' and its single 'Up All Night' became a huge hit in the U.S.

During this time, Geldorf became one of the most talked-about interview subjects and in the first appearance of the Boomtown Rats in 'The Late Late Show' in Ireland, he attacked the Catholic Church and Irish Politicians and blamed them for various problems in the country.

In 1986, Geldof left the Boomtown Rats and launched his solo career. Some of his hit singles are: "This Is The World Calling" and "The Great Song of Indifference". In 1986, he also published his autobiography 'Is That It?'; the book was a UK best-seller.

After launching solo career, he also occasionally performed with other artists. His most memorable performance in partnership with other artists was in 1992, at the Freddie Mercury Tribute Concert with the surviving members of the British rock band Queen at the old Wembley Stadium.

Continue Reading Below

In 1998, Geldof also worked as a DJ for XFM Radio and announced the death of Ian Dury from cancer; the news was not true and was. This led a music paper named NME to call Geldof 'the world's worst DJ'.

From 2000 he became quite busy in campaigning for the debt relief for few developing countries which kept him away from producing any other musical album since 'Sex, Age & Death', released in 2001.

Recommended Lists:

Recommended Lists:

Major Works

Geldof wrote "Do They Know it's Christmas'' in 1984 with Midge Ure after viewing television reports of the famine in Ethiopia. It became the number one song in the UK singles chart and stayed the same for five long weeks. It also became the best song for Christmas of the year and the largest selling single in the UK with almost a million copies being sold in the very first week.

Recommended Lists:

Recommended Lists:

Philanthropic Works

In 1981, he performed as a solo artist for Amnesty International's benefit show The Secret Policeman's Other Ball.

In 1984, when he came to know about famine in Ethiopia, he formed a charity supergroup 'Band Aid' featuring British and Irish musicians. The group came up with the single "Do They Know It's Christmas?", which became a huge hit and all the proceeds from the songs were utilised for the relief efforts in Ethiopia.

In 2005, he launched the 'Live 8' project, in order to raise awareness about problems afflicting Africa such as government debt, trade barriers, hunger, and AIDS.

Awards & Achievements

In 1986, in recognition of his fund raising efforts, he was honoured with the Order of the British Empire.

Continue Reading Below

In 2005, he received a Man of Peace award for his contribution to international social justice and peace. .

Personal Life & Legacy

Bob Geldof got married to Paula Yates, a British Television presenter in 1986. The two had been in a relationship since 1976 and had a daughter Fifi Trixibelle Geldof before marriage (born in 1983). The couple had two more daughters after marriage, namely, Peaches Honeyblossom Geldof-Cohen and Little Pixie Geldof. Geldof and Yates divorced in 1986.

Paula Yates died of drug and alcohol overdose in 2000 and Bob Geldof lost his second daughter Peaches in 2014, at the age of 25, due to heroin overdose.

He now lives in Battersea in South London with his second wife Jeanne Marine, a French actress, whom he married on 28th April 2005 in France.

Net Worth.

As of 2015, Bob Geldof has an estimated net worth of 150 million.

Trivia

He stated the reason behind his joining the pop band Boomtown Rats as, "To get rich, to get famous and to get laid".

He is affectionately known as 'Sir Bob' after being knighted in 1986.

He has been a very strong advocate of the father's rights and also gained the custody of his three daughters.

Translate Wiki

to Spanish, French, Hindi, Portuguese

Article Title

- Bob Geldof Biography

Author

- Editors, TheFamousPeople.com

Website

- TheFamousPeople.com

URL

-

https://www.thefamouspeople.com/profiles/robert-frederick-zenon-geldof-888.php

Last Updated

- October 09, 2017

---

---

---