Philippe Petit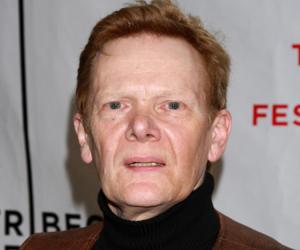 Quick Facts
Nationality: French
Famous: French Men Leo Men
Age: 70 Years, 70 Year Old Males
Sun Sign: Leo
Also Known As: Philippe
Born in: Nemours, France
Famous as: French Tightrope Walker
Height: 1.7 m
Family:
father: Edmond Petit
siblings: Alain Petit
children: Cordia Gypsy
More Facts
awards: James Parks Morton Interfaith Award
Continue Reading Below
Philippe Petit is a French born tightrope walker who became famous for making an unauthorised walk on a steel cable between the twin towers of the World Trade Centre in Manhattan August 7, 1974. He did not do too well in his studies and found his forte in juggling and performing magic at a young age. He was influenced by the Czech tightrope walker, Rudy Omankowsky, and decided to take up tightrope walking. Besides his walk between the twin towers, he has made several public performances including a walk between the towers of a French cathedral and the pylons of the Sydney Harbour Bridge. He has re-enacted a French tightrope walker's walk across the Niagara Falls for a film and was invited to walk on an inclined wire from the ground to the second level of the Eiffel Tower, crossing the Seine River, to mark the 200th anniversary of the French Revolution. He has briefly worked with the Ringling Brothers Circus but prefers to give solo performances. He has conducted several workshops on a variety of subjects and written a number of books. His unfinished dream is to walk on a steal cable across the Grand Canyon.
Childhood & Early Life
Philippe Petit was born on 13 August 1949 in Nemours, Seine - et - Marne, France. His father, Edmond Petit, was an Army pilot and author. Young Petit was influenced by his father and took to outdoor activities. He loved rock climbing and learnt how to juggle and perform magic by the age of six.

At the age of 16 he was influenced by the Czech aerialist, Rudy Omankowsky, from whom he learnt how to rig a wire and started tightrope walking. He did not take long to learn how to do a somersault and ride a cycle on a wire. He was not good in academics and had to drop out of school at the age of 18. However, his talent was enough to get him an audience on the streets of his hometown.

He mastered a few other stunts and one fine day in Jun 1971, he secretly erected a cable between two towers in the cathedral of Notre Dame de Paris at a height of 223 feet and walked on it juggling balls while he covered the distance between the two towers. A crowd gathered below and applauded his effort, while a church service was in progress inside the cathedral.

He was 18 years old when he learnt about the Twin Towers of the World Trade Centre in Manhattan and made it his dream walk on a cable between the two towers. He started gathering information about the towers and began preparing himself for the feat.

Career

Petit started by doing tightrope walking performances and magic shows in the parks of New York. He became a known personality to New Yorkers for his shows in the Washington Square Park.

While he planned for his dream of walking the tight rope between the twin towers, he continued making several other performances. In 1973, he walked on a wire between the two North pylons of the Sydney Harbour Bridge in Australia.

Petit's dream came true on August 7, 1974 when he walked on a cable between the towers of the World Trade Centre. He performed for 45 minutes, almost quarter of a mile above the ground. He made a total of eight passes over the cable during which he walked, danced, lay down and saluted from a kneeling position.

His performance has been called the artistic crime of the century. He was arrested for criminal trespassing and disorderly conduct after his performance but later he was set free by the mayor of New York, since he proclaimed to be an artist and not a daredevil stunt man.

His achievement received wide media coverage and brought the twin towers into the lime light. Charges of trespassing were dropped against him in exchange for a free performance for children at the Central Park.

In 1986, he re-enacted the French tightrope walker, Blondin's walk across the Niagara River for a film. Due to his celebrity status, he was invited to walk on an inclined wire from the ground at the Place du Trocadero to the second level of the Eiffel Tower, crossing the Seine River, to mark the 200th anniversary of the French Revolution.

He briefly worked with the Ringling Brothers Circus but preferred to give his solo performances. He has conducted a number of workshops on a variety of subjects and written a number of books. His unfinished dream is to walk on a steel cable across the Grand Canyon. However, it has not yet fructified due to the large distance involved.

Major Works

Petit is best known for tightrope walking between the twin towers of the World Trade Centre.

He has also written a number of books including 'A Square Peg' and the e'book, 'Cheating the Impossible: Ideas and Recipes from a Rebellious High – Wire Artist'.

Awards & Achievements

Petit has been honoured with several awards. Some of these are The James Park Morton Interfaith Award, Streb Action Maverick Award and the Byrcliffe Award.

Personal Life & Legacy

He divides his time between New York City, where he is an artist in residence at the Cathedral of Saint John the Divine and a hideaway in the Catskill Mountains, where he lives with his partner, Kathy O'Donnell. He has a daughter named Cordia Gypsy.

Trivia

Walking between the twin towers involved gaining entry into the towers and rigging a 200 feet steel cable across a 138 feet gap at a height of 1.368 feet. For this he hired a helicopter to carry out an aerial survey and later gained entry by posing as a journalist to take interviews of the workers working at those heights.

In order to get the cable across the gap between the two buildings, they first put a fishing line across using a bow and arrow and then pulled a thicker rope followed by the 450 pound steel cable. The cable initially sagged and took a long time to tighten.

Petit has autographed the steel beam close to the point from where he started his walk between the twin towers. The Port Authority of New York and New Jersey gave him a life time entry pass as the Centre gained popularity after his feat.

His memoir has been made into a biographical drama called 'The Walk' directed by Robert Zemeckis, in which Joseph Gordon Levitt plays the role of Petit.

The children's book called 'The Man Who Walked Between The Towers' by Mordicai Gestein won a Caldecott Medal and was adapted as an animated short film. A documentary film titled 'Man on Wire' directed by James Marsh features Petit's walk between the twin towers. The film won the Sundance Film Festival Award, 2008 and the Academy Award for Best Documentary Film in 2009.

After the September 11, 2001 terrorist attack that brought down the twin towers, Petit said that he was pained by the incident and would like to perform his feat again, if the towers were reconstructed.

The only time he has fallen off a wire was when he was working with Ringling Circus. He had multiple injuries from which he recovered and continued with his passion for tightrope walking.

Translate Wiki

to Spanish, French, Hindi, Portuguese

Article Title

- Philippe Petit Biography

Author

- Editors, TheFamousPeople.com

Website

- TheFamousPeople.com

URL

-

https://www.thefamouspeople.com/profiles/philippe-petit-12531.php

Last Updated

- August 08, 2017

---

---

---