Nolan Bushnell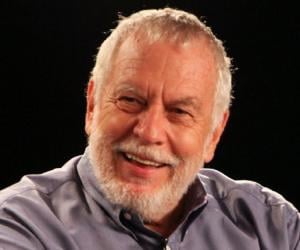 Quick Facts
Birthday: February 5, 1943
Nationality: American
Famous: Millionaires American Men
Age: 76 Years, 76 Year Old Males
Sun Sign: Aquarius
Also Known As: Nolan Key Bushnell
Born in: Clearfield
Famous as: Entrepreneur
Height: 5'11" (180 cm), 5'11" Males
Family:
Spouse/Ex-: Nancy Bushnell
children: Alissa Bushnell
Founder/Co-Founder: Atari, Chuck E. Cheese's, Catalyst Technologies, Atari, Inc., Kee Games, Sente Technologies, uWink
More Facts
education: University of Utah, Stanford University, University of Utah College of Engineering
awards: BAFTA Fellowship
Continue Reading Below
The man behind the company 'Atari' and 'Chuck E' Cheese' is the business mogul Nolan Bushnell. He had an inclination towards arcade games during his youth and was one of the few students during the 1960s to have played the game 'Spacewar'. He was born in California and during his youth he was employed at the 'Lagoon Amusement Park' where he saw people enjoying coin-op games and later, he ventured into the business world as a pioneer of video games. He completed his graduation in electrical engineering and later established companies such as 'Atari' which heralded new concepts in the world of video games. He later, purchased the 'Pizza Time Theatre' from 'Warner Communications' which was an amusement restaurant. His vision behind this business venture was to propagate his games through the restaurant by offering them inside the restaurant. He has been associated with many companies as their advisory member and has helped them better their productivity. His most recent initiative is the 'BrainRush' company which is devised to make education interesting by incorporating it with video games and he is confident about this venture being an overwhelming success as well as helpful for the students as well the educators.
Recommended Lists:
Recommended Lists:
Continue Reading Below
Childhood & Early Life
He was born in Clearfield, Utah on 5th February, 1943. He grew up in the 'The Church of Jesus Christ of Latter-day Saints'.

During his high school and college days he was employed at the 'Lagoon Amusement Park'. It was at the recreation centre that he first saw the interest people had for gaming.

He then joined the 'University Of Utah College Of Engineering' and in 1968, he earned a BS degree in electrical engineering from the institute. He was also associated with the frat group named 'Pi Kappa Alpha'.

The 'University of Utah' carried on research on computer graphics programme and Nolan was one among the few students who played the 'Spacewar!' game during that period of time. The university developed many versions of the Spacewar game.

Continue Reading Below

Recommended Lists:

Recommended Lists:

Career

Nolan, along with his associate Ted Dabney, co-founded the company 'Syzygy' in 1969, and built a similar game as 'Spacewar' and named it 'Computer Space'. While the development was in process, Bushnell and Dabney repaired pinball machines in order to support their company.

While Dabney developed the prototype of the gaming machine, Nolan negotiated with the manufacturer 'Nutting Associates' to launch their machine in the market. The machine was launched but did not receive much success. Nolan then resolved to collaborate with a different company to launch his other games.

The developer-duo figured out that the name 'Syzygy' was already in use and renamed their company in 1972, as 'Atari'. Their office was set in Sunnyvale, California and also appointed Allan Alcorn who was an engineer, and also the first employee of their company 'Atari'.

They collaborated with the company 'Bally Manufacturing'. Eventually, he parted ways with his business partner Ted Dabney and was solely responsible for managing the company.

After learning about the game 'Magnavox Odyssey', he asked his company's engineer Allan Alcorn to create an arcade game based on the 'Magnavox' game. Thus, the game 'Pong' was built with many new features like sound and score tally. The game gained immense popularity among gamers and the company continued to produce it for the following few years.

Bushnell ventured into the consumer electronics market in 1974 when, he initiated the development of a home version of the 'Pong' game on the suggestion of engineers Bob Brown and Harold Lee.

The following year, the home version of the game was launched into the market, and the company 'Sears' was engaged in the distribution and marketing of the game.

Continue Reading Below

The construction of the gaming console 'Atari VCS' (which later came to be known as 'Atari 2600') was in progress in the year 1976, and during that time Nolan realised the need for funds. At the same time, the stock market was dwindling and so he sought to sell his company and looked out for prospective buyers for the company.

Subsequently, 'Atari' was acquired by the American company 'Warner Communication' and this helped him amass the required amount for the launch of 'Atari VCS'. In 1977, the VCS was available in the market.

The same year, the 'Pizza Time Theatre' was bought by Nolan from 'Warner Communication', with a vision to use it as a means of distributing the games produced by 'Atari'. The 'Pizza Time Theatre' was later known as 'Chuck E. Cheese'.

Bushnell had to leave 'Atari, Inc.' owing to some disagreement he had with the 'Warner Communication', in 1978.

In 1981, a new technological venture 'Catalyst Technologies' was established by this astute entrepreneur in Sunnyvale, California, with the cooperation of Alcorn. This was one of the first ventures into business incubators and included companies such as 'Etak', Axlon', 'Androbot' and 'Cumma'.

During the same time, he was also engaged in the companies 'Kadabrascope' and 'Sente Technologies'.

Even though his subsidiary companies were running well, he had to sell these companies in 1983, in order to meet with loses his restaurant business was suffering. 'Kadabrascope' was bought by 'Lucas' and 'Sente Technologies' was acquired by 'Bally'.

Continue Reading Below

'Chuck E. Cheese' suffered huge monetary difficulties and in 1983, the president of the company Joe Keenan resigned, the following year, Bushnell also resigned from his post and the company landed in bankruptcy the same year.

A competitor, 'ShowBiz Pizza', acquired the company along with its outstanding debts.

In 2007, he was appointed as the chairperson of the company 'NeoEdge Networks', and the same year, became associated to the company 'GAMEWAGER', as a member of the advisory board.

The following year, he was made a Board of Directors of the company 'AirPatrol Corporation'.

He was the chairman of the company 'Borta, Inc.' and after the company was acquired by 'Aristo International', he was appointed as a senior consultant to the company. He was the co-founder of the company 'uWink' along with Loni Reeder.

In 2010, Nolan Bushnell, after a hiatus of several years, joined 'Atari' as one of the company's Board of Directors along with Tim Virden.

He founded the company 'BrainRush' and is presently the Chairperson and CEO of the company. The company uses the means of video games for the purpose of teaching. During the period 2010-12, an experimental test regarding the success of 'BrainRush' was conducted and the results were overwhelming.

Continue Reading Below

He is presently associated with the 'Anti-Aging Games' as a member of their advisory board.

Major Works

He is the co-founder of the company 'Atari, Inc.' which revolutionized the arcade gaming world with its game 'Pong'. Bushnell was the brain behind the operations of this company and this avid gamer is also involved with many revolutionary gaming concepts such as the anti-aging games and an educational gaming platform 'BrainRush'.

Awards & Achievements

He was inducted into the 'Video Game Hall of Fame' as well as the 'Consumer Electronics Association Hall of Fame'.

He was also bestowed with the 'BAFTA' Fellowship and also listed among the '50 Men Who Changed America' by the magazine 'Newsweek'.

Personal Life & Legacy

Nolan married Paula Rochelle Nielson and the couple was blessed with three children. He later married a lady named Nancy and this couple had five children.

Net Worth

According to Celebrity NetWorth, this business magnate is estimated to have a net worth of $50 million.

Trivia

He turned down Steve Jobs offer to invest in the company 'Apple' and obtain a stake in the company

Translate Wiki

to Spanish, French, Hindi, Portuguese

Article Title

- Nolan Bushnell Biography

Author

- Editors, TheFamousPeople.com

Website

- TheFamousPeople.com

URL

-

https://www.thefamouspeople.com/profiles/nolan-bushnell-6310.php

Last Updated

- November 10, 2017

---

---

---