Neil Young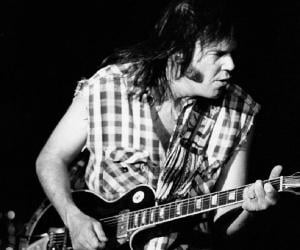 Quick Facts
Birthday: November 12, 1945
Nationality: Canadian
Famous: Rock Singers Rock Musicians
Age: 73 Years, 73 Year Old Males
Sun Sign: Scorpio
Also Known As: Neil Percival Young
Born in: Toronto, Ontario, Canada
Famous as: Singer-Songwriter and Musician
Height: 1.82 m
Family:
Spouse/Ex-: Pegi Young (m. 1977)
father: Scott Alexander Young (1918–2005)
mother: Edna Blow Ragland
children: Amber Jean Young, Ben Young, Zeke Young
Diseases & Disabilities: Polio
City: Toronto, Canada
More Facts
education: Kelvin High School
Continue Reading Below
Neil Percival Young is a Canadian artist, one of rock and roll's greatest songwriters and performers of all time. He is an influential guitarist in addition to being a screenwriter, producer and director. He was drawn towards music at an early age which developed into his passion over the years. He has been part of many famous bands and has sung countless rocking numbers in his career. He has a gift of captivating the music lovers with his unique rock style and inventive songwriting. His songs, mostly of rock genre, create a sense of rawness and resonate with the young generation all over the world. Even though he faced a lot of problems in his personal life concerning his children, he never stopped loving his music. Armed with an optimistic nature and a fighting spirit he is an advocate for environmental and disability issues, which is quite commendable. His work over the years has been consistently appreciated and rewarded by the people around the globe. He has demonstrated the fact that reinventing oneself is the greatest factor in constantly creating new and exemplary pieces of work. His name is entrenched in the hearts of people as a result of his significant and praiseworthy achievements in the music industry.
Recommended Lists:
Recommended Lists:
Continue Reading Below
Childhood & Early Life
He was born on November 12, 1945 in Toronto, Ontario, Canada to Scott Alexander Young, a sports journalist and Edna Blow Ragland "Rassy" Young, member of the 'Daughters of the American Revolution'. He has an elder brother, Robert 'Bob' Young.

In his early childhood, he was diagnosed with type 1 diabetes and in 1951 suffered from a bout of polio. But he recovered from the diseases and the family settled in north Toronto after residing at various places.

At the age of 10, he was attracted to the music genres such as rock and roll, country and western pop. He was influenced by a number of musical bands and began playing a ukulele; this was his first step towards becoming a musician.

When he was 12, his mother filed for divorce because of his father's extra marital affairs and they got divorced in 1960. After the divorce, he went to live with his mother at Winnipeg, Manitoba, Canada while his brother stayed with his father in Toronto.

In Winnipeg, he was enrolled at the Earl Grey Junior High School where he formed his first band, The Jades, with Ken Koblun, John Daniel, David Gregg, and Jim Atkin.

In 1963, he formed his first stable band in Kelvin High School, The Squires, with Ken Koblun, Jeff Wuckert and Bill Edmondson. He left his school and used to perform at Fort William with his band where he first met Stephen Stills, a member of a folk-rock band, with whom he collaborated in later years.

Continue Reading Below

Recommended Lists:

Recommended Lists:

Career

In mid-1960s, he left his band, The Squires, and continued to work in folk clubs where he met Joni Mitchell, musician and songwriter. At the same time, he recorded his first hit song 'Flying on the Ground is Wrong' with a Winnipeg band, The Guess Who.

In 1966, he joined a band led by singer Rick James, The Mynah Birds, and the band sealed a deal with the Motown label. But, when Rick was arrested and band broke up, he went to Los Angeles along with the band's bass player, Bruce Palmer, to find work.

In Los Angeles, they met Stephen Stills and formed a band, called Buffalo Springfield along with guitarist Richie Furay and drummer Dewey Martin. They released their first album, 'Buffalo Springfield' in 1966, which was a commercial success. The band released two more albums before splitting-up in 1968.

In early 1969, he collaborated with a band 'Crazy Horse' and released his famous album, 'Everybody Knows This Is Nowhere'. He left the band after some time but recorded some of his hits with them in the later years.

In late 1969, he reunited with Stephen Stills but in a different band called CSN&Y. The band won the "Best New Artist" Grammy Award in 1969. Even though Young left the band in early 1970s, the band continued to perform with the remaining three members and reunited several times with him for recording albums.

He has released numerous successful albums over the years such as 'On the Beach' (1974), 'Long May You Run' (1976), 'Rust Never Sleeps' (1979), 'Trans' (1982), 'American Dreams' (1988), 'Freedom' (1989) and the 2003 album 'Greendale'.

He also directed or co-directed several films such as 'Journey Through the Past' (1979), 'Human Highway' (1982) and 'CSNY D�j� Vu' (2008) using the pseudonym Bernard Shakey and acted in various documentaries and concert films.

Continue Reading Below

He has over 30 studio albums till date, the latest one being 'A Letter Home' released in April 2014. He has performed in various live albums, tours and concerts around the globe in his career. He has collaborated with many bands in his career and delivered various hits, which achieved critical and commercial success.

Recommended Lists:

Recommended Lists:

Major Works

In 1966, he was introduced to the music industry through his first successful album 'Buffalo Springfield', which became a huge hit with the audience. His band was praised for its innovative writing and incredible music sense.

In 1972 album, 'Harvest', he delivered his only No.1 song of his career to date, "Heart of Gold", with 'The Crazy Horse' band.

In 1985, he co-founded the benefit concert 'Farm Aid' for the welfare of small farmers which is still held every year to raise money for the family of farmers in the U.S.A.

He along with his ex-wife, Pegi, founded an educational organization for serving the needs of children with severe physical and speech impairments, The Bridge School, in 1986.

Recommended Lists:

Recommended Lists:

Awards & Achievements

In 1982, he was inducted in the Canadian Music Hall of Fame for his outstanding contribution to the world of music.

Continue Reading Below

In 1995, he was inducted in the Rock and Roll Hall of Fame for his solo work and again as a member of Buffalo Springfield in 1997.

In 2006, he received the Manitoba's highest civilian honor, Order of Manitoba and in 2009, he was appointed to Canada's second highest civilian honor, an Officer of the Order of Canada.

In 2010, he won the Grammy Award for Best Art Direction on A Boxed/Special Limited Edition Package for Neil Young Archives Vol. 1 (1963–1972).

In 2011, he won another Grammy Award for Best Rock Song for "Angry World".

Personal Life & Legacy

He was married to Pegi Young for 36 years until he filed for divorce from her in July 2014.

He has a boy from his relationship with the actress Carrie Snodgress, Zeke, diagnosed with cerebral palsy.

He has two children with his ex-wife; a boy, Ben, who is also diagnosed with cerebral palsy and a daughter, Amber Jean, who is diagnosed with epilepsy, like him.

| | | |
| --- | --- | --- |
| 2011 | Best Rock Song | Winner |

| | | |
| --- | --- | --- |
| 1989 | Video of the Year | Neil Young: This Note's for You (1988) |

Translate Wiki

to Spanish, French, Hindi, Portuguese

Article Title

- Neil Young Biography

Author

- Editors, TheFamousPeople.com

Website

- TheFamousPeople.com

URL

-

https://www.thefamouspeople.com/profiles/neil-percival-young-2432.php

Last Updated

- July 25, 2017

---

---

---