Monica Lewinsky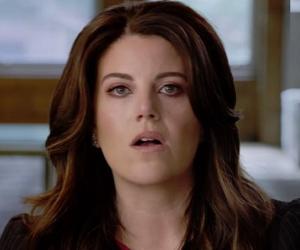 Quick Facts
Nationality: American
Famous: Quotes By Monica Lewinsky American Women
Age: 45 Years, 45 Year Old Females
Sun Sign: Cancer
Also Known As: Monica Samille Lewinsky
Born in: San Francisco, California, U.S.
Famous as: American television personality
Height: 1.67 m
Family:
father: Bernard Lewinsky
mother: Marcia Kaye Vilensky
U.S. State: California
City: San Francisco, California
Founder/Co-Founder: The Real Monica, Inc.
More Facts
education: Sinai Akiba Academy, John Thomas Dye School, Beverly Hills High School, Bel Air Prep Patrick Stewart,, Santa Monica College, Lewis & Clark College
Continue Reading Below
Monica Lewinsky, a young White House intern, made headlines for her affair with the then President, Bill Clinton. One of the most controversial high-profile political sex scandals in the history of America, 'The Lewinsky Scandal', created shock waves across the country. After a series of public denials of the affair, Clinton finally admitted to have had 'an illicit physical relationship' with Lewinsky. He was later charged with 'perjury' and was impeached. He was, however, acquitted following a 21-day trial. Lewinsky received immense media glare and publicity after the scandal - she appeared on many TV shows, commercials, and interviews and even made an appearance on a comic sketch, on 'Saturday Night Live'. She also came out with her own line of handbags called the 'The Real Monica, Inc.'. The label sold in many countries across the world. After a certain period of time, she could not handle the media frenzy and found it immensely difficult to lead a private life in America. Hence, she moved to London, where she obtained a degree in psychology from the London School of Economics.
Recommended Lists:
Recommended Lists:
Continue Reading Below
Childhood & Early Life
Monica Samille Lewinsky was born to Bernard Lewinsky, an affluent and established photographer and doctor, and Marcia Kaye Vilensky in San Francisco, California.

She attended the Sinai Akiba Academy in Los Angeles. It was a religious academy that taught Judaism. Her family regularly attended the 'Sinai Temple', a conservative Judaist temple located in Los Angeles, California.

She finished her primary education at the John Thomas Dye School in Bel-Air and later attended her senior year at the Beverly Hills High School.

In 1991, she graduated from the Pacific Hills School after which she attended the Santa Monica Community College. In 1995, she graduated with a degree in psychology from the Lewis & Clark College in Portland, Oregon.

Recommended Lists:

Recommended Lists:

Career

In July 1995, she moved to Washington D.C, where she got a job as an unpaid summer intern at the White House Office. Here, she worked under the White House Chief of Staff, Leon Panetta.

In December 1995, she was offered a paid position at the White House Office and she gladly accepted the offer.

In April 1996, she was transferred to The Pentagon, the headquarters of the United States Department of Defence located in Arlington Country, Virginia.

In 1999, she gave an interview on ABC networks show '20/20'. This programme was hosted by Barbara Walters and was watched by 70 Million Americans.

On May 8, 1999, she appeared on 'Saturday Night Live', in which she portrayed herself, on two sketches for the show that ridiculed her relationship with Bill Clinton.

In September 1999, she started her own line of handbags under the label 'The Real Monica, Inc.', that was sold in New York, California and London initially.

In early 2000, she started appearing in television commercials of 'Jenny Craig', a weight management and nutrition company. She signed a $1 million endorsement deal with the company, which required her to lose more than 40 pounds in six months.

Continue Reading Below

In February 2000, she appeared on an episode of 'The Tom Green Show', which showed her travelling to her hometown along with the host of the show in search of fabrics for her new business.

In April 2000, she concluded her contract with 'Jenny Craig', when the company stopped airing her ad as it got controversial.

In late 2000, she worked as a correspondent for the British Channel 5 for 'Monica's Postcards', a show that reported on culture and trends.

In March 2002, she appeared on a HBO special 'Monica in Black and White', which was a part of the 'America Undercover' series, a collection of documentaries.

In 2003, she hosted a Fox television Network reality dating show titled 'Mr Personality'.

She made a series of guest appearances on shows like 'V Graham Norton' in the UK, 'High Chaparall' in Sweden, and 'The View and Jimmy Kimmel Live!'

In 2006, she graduated from the London School of Economics with a Master's degree in 'social psychology'. Her thesis was titled 'In Search of the Impartial Juror: An Exploration of the Third-person effect and Pre-Trial Publicity'.

Continue Reading Below

Personal Life

She claimed that between November 1995 and March 1997, she had nine sexual encounters with the then-President Bill Clinton at the Oval Office, the office of the President of the United States.

She told her co-worker Linda Tripp about her relationship with Bill Clinton, after which Tripp began discreetly recording the phone conversations between Lewinsky and Bill Clinton.

Linda Tripp submitted the phone tapes to Independent Counsel Kenneth Starr. Tripp further investigated the case and persuaded Lewinsky to save all the gifts that Clinton had given her.

In January 1998, news about the illicit relationship between her and Bill Clinton came out in the media and on January 26, Clinton claimed that he did not have any sexual relations with her on a nationally televised White House News conference.

On August 17, 1998, he finally admitted that had an 'illicit physical relationship'. This statement was broadcast on national television.

On February 1, 1999 her authorised biography, written by Andrew Morton, titled 'Monica's Story' was published by St. Martin's Press. She made $500,000 from the book.

In 2005, she moved to London as she could not deal with the media frenzy, which affected her personal and professional life.

Trivia

This infamous White House intern and fashion designer apparently stated that she survived the intense media attention she received following a sex scandal by 'knitting'.

This infamous White House intern, who gained immense publicity after a sex scandal, was, once, asked to sign an autograph that said 'I'm kind of known for something that's not so great to be known for'.

Translate Wiki

to Spanish, French, Hindi, Portuguese

Article Title

- Monica Lewinsky Biography

Author

- Editors, TheFamousPeople.com

Website

- TheFamousPeople.com

URL

-

https://www.thefamouspeople.com/profiles/monica-samille-lewinsky-2399.php

Last Updated

- November 27, 2017

---

---

---