Martie Maguire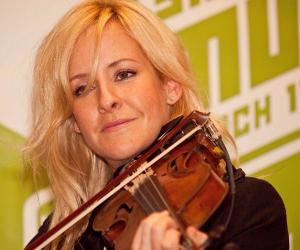 Quick Facts
Birthday: October 12, 1969
Nationality: American
Famous: Country Musicians American Women
Age: 49 Years, 49 Year Old Females
Sun Sign: Libra
Also Known As: Martha Martie Elenor Erwin
Born in: York, Pennsylvania
Famous as: Country Musician
Height: 1.72 m
Family:
Spouse/Ex-: Gareth Maguire (m. 2001–2013), Ted Seidel (m. 1995–1999)
father: Paul Erwin
mother: Barbara Trask
siblings: Emily Robison, Julia Erwin
children: Eva Ruth Maguire
U.S. State: Pennsylvania
Net worth: $45 million as of Oct 31, 2017
Continue Reading Below
Martie Maguire is an American musician best known for being one of the founding members of the 'alternative country' music band Dixie Chicks. She is also acclaimed for setting up a Bluegrass band Court Yard Hounds with her younger sister Emily Robison Strayer. Martie was instinctively drawn towards music as a child and started taking violin lessons when she was only five. Receiving fiddle lessons as a gift on her 12th birth anniversary, she attempted to master several stringed instruments including acoustic guitar, double bass, viola, and the mandolin with Emily. She even tried her hand in composing songs, setting the score for her composed tracks, and lending her vocals to them. She participated in a string of national fiddle competitions as a teenager and won numerous awards as well. While she was in school, she created a bluegrass band, 'Blue Night Express' with her classmates, Sharon and Troy Gilchrist, and Emily, and the group performed for more than five years. Martie and Emily teamed up with Robin Lynn Macy and Laura Lynch to create an alternative country and bluegrass crew, 'Dixie Chicks'. After the departure of Macy and Lynch, Emily and Martie established the folk and country music duo, 'Court Yard Hounds'. She has won countless awards as a Dixie Chick member, including the most coveted 'Grammy'.
Recommended Lists:
Recommended Lists:
Continue Reading Below
Childhood & Early Life
Martie Maguire was born on 12th October 1969 as Martha Elenor Erwin in York City, Pennsylvania to Paul Erwin and Barbara Trask. She spent her early years in Addison, a suburban town in Dallas County, Texas. She has two sisters, one elder than her and another younger to her.

When Martie's parents, both of whom were employed as instructors in private schools, observed her instinctive penchant for music, they inspired her to pursue her passion. She started taking lessons in classical violin when she was just five and by the time she was 12, began experimenting with 'fiddling' different stringed instruments.

As a prominent member of her school's orchestra, she fiddled with the mandolin, violin, acoustic guitar, double bass, and viola. Emily, her younger sister, was equally passionate about music, demonstrating her innate flair as a kid. Both the sisters jointly nurtured and honed their instrumental and vocal skills.

Over the years, Maguire mastered the 'fiddling style' as well as became remarkably adept as a backing vocalist. At the peak of her career, she exclusively focused on composing songs and arranging the musical score for the same during studio recordings and live concerts, using stringed instruments.

Recommended Lists:

Recommended Lists:

Early Professional Career

In 1983 Martie, as a 14-year-old teen, took to 'busking' or performing on the streets together with Emily and her schoolmates, Sharon and Troy Gilchrist. The foursome also attended numerous bluegrass concerts and festivals, and eventually they teamed up to form 'Blue Night Express', a teenage bluegrass band.

Martie, as a founding member of 'Blue Nigh Express,' performed with the band from 1984 till 1989; five years in total. While she was studying in Greenhill School along with Emily, she participated in the 'National Fiddle Championship' organized annually in Winfield, Kansas and stood 2nd in 1987.

She cleared high school in 1988 and went to Southwestern University in Georgetown, Texas, attending courses for just one year. She was also an active member of the university's orchestra. During her time at the academy, she again took part in national level fiddle competition in 1988, wresting the 3rd spot.

Recommended Lists:

Recommended Lists:

Formation of Dixie Chicks

It was in 1989 that Martie Maguire and Emily teamed with double bassist, Laura Lynch and singer-cum-guitarist Robin Lynn Macy to create an all-women's country music and bluegrass band, 'Dixie Chicks'.

Martie concentrated on playing the viola, mandolin and the fiddle. Emily Strayer contributed as a vocalist and was often supported by Martie who also performed as a backing singer, besides excelling on the stringed instruments.

Dixie Chicks' debut album, 'Thank Heavens for Dale Evans,' recorded and produced independently, was released in December 1990. The title for the bluegrass band's debut record was inspired by Dale Evans, a multifaceted performer. Martie contributed to the first album by writing and recording a number of tracks.

The band's sophomore album, 'Little Ol' Cowgirl,' that was up for sale in 1992, comprised of tracks that eschewed bluegrass and were more representative of contemporary country. Maguire went on record by commenting that drums were heavily used in all the tracks.

Continue Reading Below

Robin Lynn Macy did not appreciate this sudden development and walked out of the group to focus on a career devoted solely to bluegrass. She was replaced by Natalie Maines, an accomplished singer and guitarist. Dixie Chicks came out with their major label debut studio album, 'Wide Open Spaces' in 1998 endorsed by Sony Music.

The album 'Wide Open Spaces' made it to the top 5 on the country and pop charts, and created music history by notching up sales of 12 million copies in the US alone. The record-breaking sales of this studio album ensured that it became the highest selling group album in the history of country music.

The record became the group's first album to win a string of prestigious awards including the 'Academy of Country Music Awards', 'Billboard Music Awards', and the most coveted 'Grammy Awards'.

Their next album, 'Fly' was released in 1999 on 31st August; it opened at the top position on the 'Billboard 200' charts, and notched up sales of more than 10 million copies. The song 'Ready to Run' peaked at the 2nd spot of the Billboard Hot Country Singles & Tracks chart.

Unprecedented sales of the two back-to-back studio albums earned Dixie Chicks the distinction of being the only female and also the lone country band to have two successive RIAA-backed diamond albums.

'Cowboy Take Me Away' a single from 'Fly' was co-written by Martie for Emily; it eulogized the latter's romance with country music singer and songwriter, Charlie Robison. Martie was honored with 'Songwriter of the Year' award for scripting/co-scripting the tracks 'You Were Mine', 'Ready to Run' and 'Cowboy Take Me Away.'

The 1999 Hollywood movie 'Runaway Bride' starring Richard Gere and Julia Roberts in the lead featured two tracks performed by Dixie Chicks. One of the tracks, 'You Can't Hurry Love' was a reprised version of the original while the other 'Ready to Run' had been co-composed by Martie and Marcus Hummon, a well-known country singer.

Continue Reading Below

Following Dixie Chicks' first two major label albums' stupendous success, the crew got entangled in a feud with their record company, Sony Music, regarding unscrupulous accounting procedures. Sony sued the band when the band members walked away without completing the contract and they hit back by filing a lawsuit against the record label.

The group's dispute with Sony was ultimately settled out of court. It ultimately led to the trio gaining greater control and leeway over their recordings as well as a higher reimbursement of their outstanding royalties.

Creation of Court Yard Hounds with Emily Strayer

Natalie Maines, the lead vocalist of Dixie Chicks, decided to take a sabbatical in early 2010. Martie and Emily then declared that they were working on the sidelines to give shape to a duo country bluegrass band, 'Court Yard Hounds'.

Martie Maguire performed as an instrumentalist on the band while Emily Strayer fulfilled the role of a vocalist. Court Yard Hounds performed live for the first time at the 'South by Southwest' in March 2010. 'South by Southwest,' informally known as 'South By,' is a music festival held yearly in Austin, Texas.

Martie and Emily came out with their first Court Yard Hounds album in May 2010.

Awards & Nominations

Martie Maguire, along with other founding members of the Dixie Chicks band, has been nominated for a total of 137 awards, bagging 57 of those nominations. The bluegrass and country music group have won numerous Academy of Country Music, American Music, Billboard Music, Blockbuster Entertainment, British Country Music, and Canadian Country Music Awards.

The all-female band has been nominated 23 times for the Grammy Awards, eventually winning 13 of them. The music group has also been honored with Country Music Association, Critics' Choice, French Country Music, People's Choice, and Radio Music Awards and a host of other felicitations.

Personal Life

Martie adopted the surname Seidel after she got married to Ted Seidel, a pharmaceutical executive in 1995 on 17th June. Through her marriage she became the stepmother of Carter—Seidel's son from his previous marriage. However, after enjoying four years of nuptial bliss, the couple split up in 1999.

Following her divorce, she started dating Gareth Maguire, an actor and instructor in a Roman Catholic school, hailing from Northern Ireland. Gareth and Martie got married in 2001 on 10th August, following their betrothal in June of that year. The couple has three daughters, Eva Ruth, Kathleen Emilie, and Harper, all conceived via IVF. The couple divorced in 2013.

| | | |
| --- | --- | --- |
| 2007 | Song of the Year | Winner |

Translate Wiki

to Spanish, French, Hindi, Portuguese

Article Title

- Martie Maguire Biography

Author

- Editors, TheFamousPeople.com

Website

- TheFamousPeople.com

URL

-

https://www.thefamouspeople.com/profiles/martie-maguire-9263.php

Last Updated

- February 13, 2019

---

---

---