Markiplier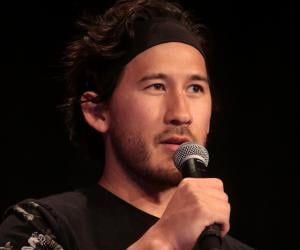 Quick Facts
Nationality: American
Age: 29 Years, 29 Year Old Males
Sun Sign: Cancer
Also Known As: Mark Edward Fischbach
Born in: O'ahu, Hawaii
Famous as: YouTube Personality
Height: 1.79 m
Family:
siblings: Thomas Jason Fischbach
U.S. State: Hawaii
Net worth: $10 million
More Facts
education: College dropout
Continue Reading Below
Mark Edward Fischbach is a renowned American YouTube star, entertainer, social media personality, and a 'Let's Play' star, better known by his pseudonym Markiplier. He has garnered tremendous fame through his YouTube account 'markiplierGAME' where he posts action video games, indie games and gameplay commentary videos. He is predominantly renowned for the different playthroughs of horror and indie games like 'Slender: The Eight Pages,' 'Five Nights at Freddy's' series, 'Garry's Mod,' and 'Amnesia: The Dark Descent' and its sequel among others. His best known alter ego or 'the other self' is Wilford Warfstache, who was borne out of one of his sketch comedy videos in which he usually collaborated with Cyndago. Warfstache has become a representative of his YouTube channel that is marked as the 22nd most subscribed to channel on this video-sharing website with an incredible subscription base of over 19 million. His huge fan following is also evident from over 6.4 million followers on his Instagram account and over 11 million followers on his Twitter account as well. He was ranked 6th in a list of 20 most influential celebrities among teenagers in the United States in 2015.
Recommended Lists:
Recommended Lists:
Continue Reading Below
The Meteoric Rise to Stardom
This famous YouTuber, who once aspired to become a voice actor, first joined this video-sharing website creating a channel titled 'Markiplier' on May 26, 2012. He started off with a playthrough of the video game 'Amnesia: The Dark Descent' and then went on with many other game series like 'Dead Space' and 'Penumbra.' At this time however he faced a ban of his AdSense account by YouTube which forced him to create a new channel. His new channel, titled 'MarkiplierGAME', as of today is counted among the most popular channels of YouTube.

Recommended Lists:

Recommended Lists:

He collaborated with YouTube channel 'Cyndago' that was created by fellow YouTubers Daniel Kyre and Ryan Magee in December 2012 and later joined by Matt Watson from Maker Studios. The channel that disbanded following the untimely demise of Kyre in September 2015 was known for its music videos and predominantly for its sketches that had comical and satirical tone. Many of the original songs of the channel featured Fischbach. With time 'MarkiplierGAME' became hugely popular and by October 2015 his channel has garnered 10 million subscribers.

Recommended Lists:

Recommended Lists:

In November 2014 he joined the board of 'Red Giant Entertainment', a comic book publisher and transmedia entertainment company. He remained a co-host along with voice actor Janet Varney at the 2015 South by Southwest (SXSW) Gaming Awards. Throughout his career he has collaborated with many including fellow YouTubers like PewDiePie, Jacksepticeye and LordMinion777; and celebrities like Jimmy Kimmel and Jack Black.

He also delved into acting with Alex Winter directed American science fiction comedy film 'Smosh: The Movie' (2015) and other television and web series like 'Table Flip' (2013, 2014), 'Grumpcade' (2015) and 'Gamer's Guide to Pretty Much Everything' (2016) among others portraying himself. Fischbach also featured in the video series YouTube Rewind 2015.

His popularity can be gauged from the response received by the three videos he posted from his hospital bed in March 2015 related to an emergency surgery he underwent to remove a blockage in intestine, a sudden exigency that cropped up while he visited his hometown. The videos containing his announcement and updates on the surgery garnered over an incredible 5 million views!

Continue Reading Below

What Makes Markiplier So Special

This YouTuber who often gets hyper while gaming, exhibiting different kinds of emotions like disgust, anger, screaming, shouting and even crying, is renowned for his utter love and care for his umpteen fans. Through many of his vlogs he communicates and connects with the community on varied subjects. He is a regular attendee of conventions like ComicCon, VidCon and PAX and participates in their meet and greets and other events.

He also meets his fans through 'Make-A-Wish Foundation'. The more humane side of Fischbach comes to fore from his efforts in collecting donations for several charities like 'Depression and Bipolar Support Alliance', 'Cincinnati Children's Hospital Medical Center' and 'Best Friends Animal Society' through gaming. He informs that as of July 2016, he and his numerous viewers have been able to raise $1,118,645.14 for charity.

Behind The Curtains

He was born on June 28, 1989, in O'ahu, Hawaii, in an air force base. His father was in the military. He dropped out from the University of Cincinnati where he was pursuing a course in biomedical engineering so as to start a career as a YouTuber.

Last Updated : March 06, 2018

Translate Wiki

to Spanish, French, Hindi, Portuguese

---

---

---

Markiplier Fans Also Viewed