Lisa Schwartz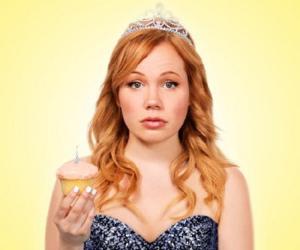 Quick Facts
Nick Name: Lisbug
Nationality: American
Age: 36 Years, 36 Year Old Females
Sun Sign: Aries
Born in: Tarzana, California
Famous as: YouTube Personality, Actress
Height: 1.66 m
Family:
father: Glen Howard Schwartz
mother: Jennifer Lynn Schwartz
siblings: Adam Schwartz
U.S. State: California
Net worth: $1.5 million as on Mar 7, 2017
Continue Reading Below
Lisa Schwartz is an American YouTube personality, comedian and actress. Her YouTube channel, Lisbug, has over 2 million subscribers. She has won the hearts of people solely by means of her wit, charm and comic timing. She began with her YouTube channel 'Lisbug' from where she went on to starring in independent big and small screen comedy projects. She has spent a major part of her time on her channel the success of which gave her the courage to make a career in comedy.

She has starred in central role in a lot of films as well as TV project. From there she went on to doing voice acting and ultimately stepped in to the hugely competitive arena of digital media. Her channel is one of the most popular comedy destinations in YouTube and she is one of the few female comedians who have been successful in grabbing and retaining the attention of the viewers for more than an few seconds.
Recommended Lists:
Recommended Lists:
Continue Reading Below
Rise to Stardom
Lisa's journey to comedic fame wasn't exactly planned. She started out as any other average American kid. The point that set her apart from her peers is her growing interest in theatre acting which stemmed from the children's play Peter Pan. After that it was clear to her that she wanted to be in entertainment. She participated in all the plays and dance performances in school and put her heart and soul into each one of the characters she played. She continued her passion for acting even while she was in college.

Recommended Lists:

Recommended Lists:

She finished college and moved back home, where tensions in the family drove her to depression. To get a new start, Lisa moved to Los Angeles and started auditioning. It is while auditioning for the Fine Brothers Entertainment for a comedy show, that the idea to create her own YouTube channel occurred to her.

Recommended Lists:

Recommended Lists:

She started her YouTube channel, lisbug, in 2007 but uploaded videos sparingly. From July 2009 onwards, she started to put more efforts into her YouTube channel and its subscriber count started rising. The content she posts on her channel is mainly vlogs, comedy videos, skits, sketches and some girly gaming as well. If one has to describe them in a single word, then it would be random, as she has tried creating videos on a wide range of topics, from current sensational news to theme parks.

Recommended Lists:

Recommended Lists:

She made a habit of saying the phrase 'You're Cute' and even sported t-shirts with the phrase on them. She has a recurring series on her channel 'Dare Wednesday' where she takes up challenges provided to her by her viewers either in the comment section or via twitter.

She has also done quite a few parodies of popular songs in collaboration with other popular YouTubers. Currently, the number of subscribers on her channel stands at over 2 million with more than 370 million in total views. Her popularity on other social media platforms is also impressive with over 600 K followers in Instagram and 395K in twitter.

She made her foray into on-screen acting with several projects with online entertainment platforms like Seventeen and Yahoo. She has also appeared in several comedy specials under Disney's Maker Studio banner.

In 2014, Lisa appeared in her first movie titled 'Not Cool' directed by Shane Dawson. She has also lent her voice for the character of Talking Angela in the animated series 'Talking Tom and Friends'.

In 2015, she collaborated with Disney's Maker Studios and New Form Productions to co-create and act in the original series 'Party Girl'.

Since late 2016, she is associated with ABC Digital's original show 'This isn't working' as both writer and actor.

Continue Reading Below

What Makes Lisa Schwartz So Special

Lisa is not your run of the mill internet celebrity who lives only for the popularity and adoration of the vague online admirers. She radiates a rare substance that is probably built out of bitter life experiences and failures to come up to your own expectation. She takes on even serious subjects and puts them in a naturally funny contexts that allows her viewers to see the world in a much different light, albeit a bit not too serious.

Lisa is honest and has always come forward to talk about the most difficult situations of her life with a hope to spread positivity. She preaches to hold on to one's sanity by doing something that gives them joy and says that by doing so one would never feel aloof or desperate. She has also used her platform well in speaking up about sensitive issues like cyber-bullying.

Behind The Curtains

Lisa was born and brought up in the suburbs of Los Angeles. Since her childhood, she has been drawn to acting. All through high school she has been the target of ridicule and bullying due to her weight, especially during her days in prep school. She coped with all of it by immersing herself in acting and theatre projects.

Adding to pressures in school, she had to cope with growing tensions within her family. Her parents were fighting and it affected Lisa deeply, she would often avoid going home during the holidays and would work odd jobs during that time. During her final years of college, her parents separated and her mother moved out with her brother. After college, she came back to live with her dad but very soon the whole situation drove her deep into depression. She eventually moved out and decided to start her career in Hollywood.

As of now, Lisa is living in Los Angeles. In 2015, she started dating co-actor, director and fellow YouTuber, Shane Dawson. Dawson has appeared in a number of Lisa's videos on her channel and the couple is still going strong although there is no news of settling down on the horizon.

Last Updated : February 26, 2018

Translate Wiki

to Spanish, French, Hindi, Portuguese

---

---

---

Lisa Schwartz Fans Also Viewed